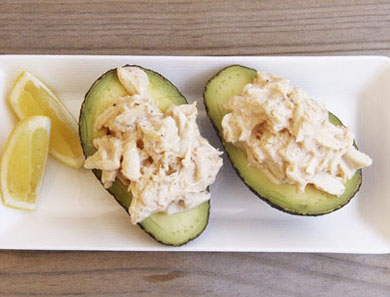 Avocado & Crab with Marie Rose Sauce
Admittedly kitschy, but so delicious. Crab and avocado is a wonderful combination, a bit luxurious but worth it for a special meal. Marie Rose Sauce (sometimes called 'Mary Rose'), very similar to Russian dressing, is said to have Irish origins.
In a medium bowl, squeeze the juice from one half of the lemon over the crab and stir to combine with a large pinch of salt and a few grinds of black pepper. Whisk the Veganaise, ketchup and shallot together in a large bowl and fold in the crab, being sure not to break it up too much. Fill each avocado half with a quarter of the crab salad. Cut the remaining lemon into wedges and serve alongside the stuffed avocados.
Originally featured in Summer Salads