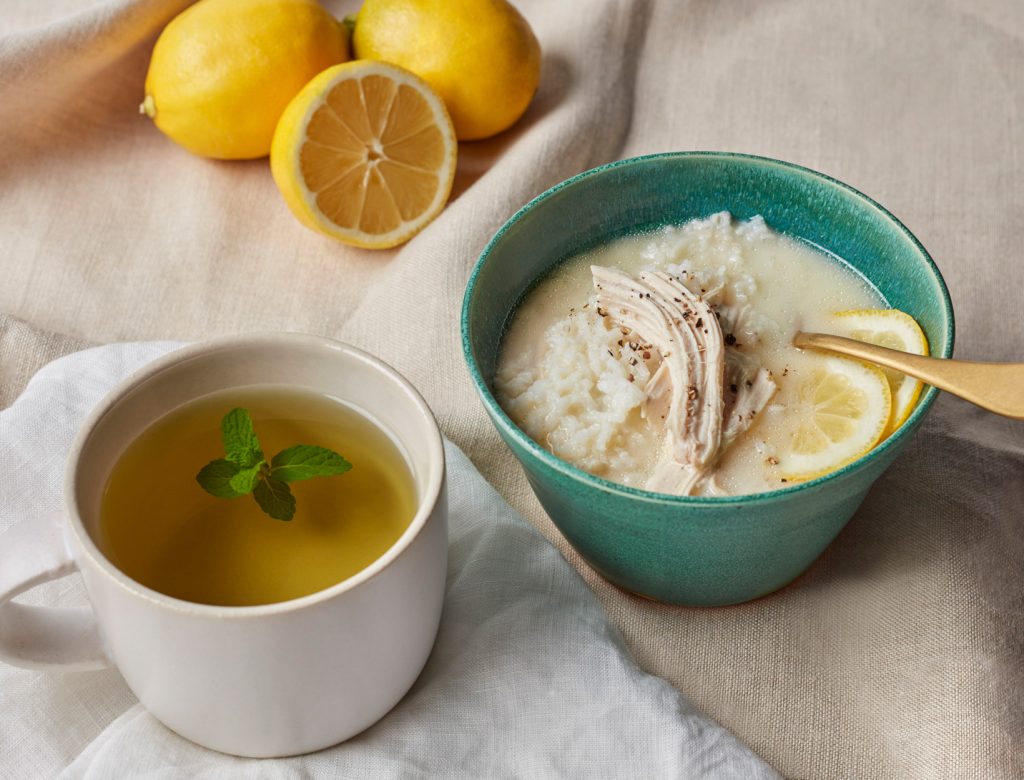 A classic Greek take on chicken soup, this velvety dish comes together with a few simple ingredients—egg yolks, chicken broth, and lemons—to create a wholly comforting meal.
1. Put the chicken in a very large pot, and fill with water, covering the chicken by at least 5 inches of water. Bring the pot slowly to a boil, skimming the surface of any white foam. Once the water starts to boil, reduce the heat, and continue to cook for 45 minutes. By this point, the chicken will have floated to the top. Add the salt. Cover the pot, and remove from heat. Leave the chicken to cool in the water for at least 1 hour or longer. By this time the chicken will have sunk again.
2. Remove the chicken from the pot and set aside.
3. Strain the stock through a sieve lined with paper towel. Wash the pot and return 10 cups of the chicken stock back to the pot. Reserve any remaining chicken stock for later use.
4. Return the pot of stock to the heat and add the rice. Bring to a boil, stirring frequently, and cook for 20 minutes. Meanwhile, remove and discard the chicken skin; remove all the meat and shred.
5. Once the rice is almost tender, return the shredded chicken to the pot and stir to heat through. Remove the pot from heat.
6. In a large bowl, whisk the eggs and lemon juice until frothy. Gradually add 2-3 ladlefuls of the hot soup liquid to the egg mixture, stirring constantly (you are now tempering the egg mixture so that when added to the hot soup, it does not curdle). Once the bowl feels hot on the outside, stir the egg mixture into the pot of soup. Stir well, it will instantly thicken and turn a soft lemon color. Stir for 30 seconds, letting the egg mixture distribute and thicken the soup. Serve.
Originally featured in Feel-Better Foods from Around the World