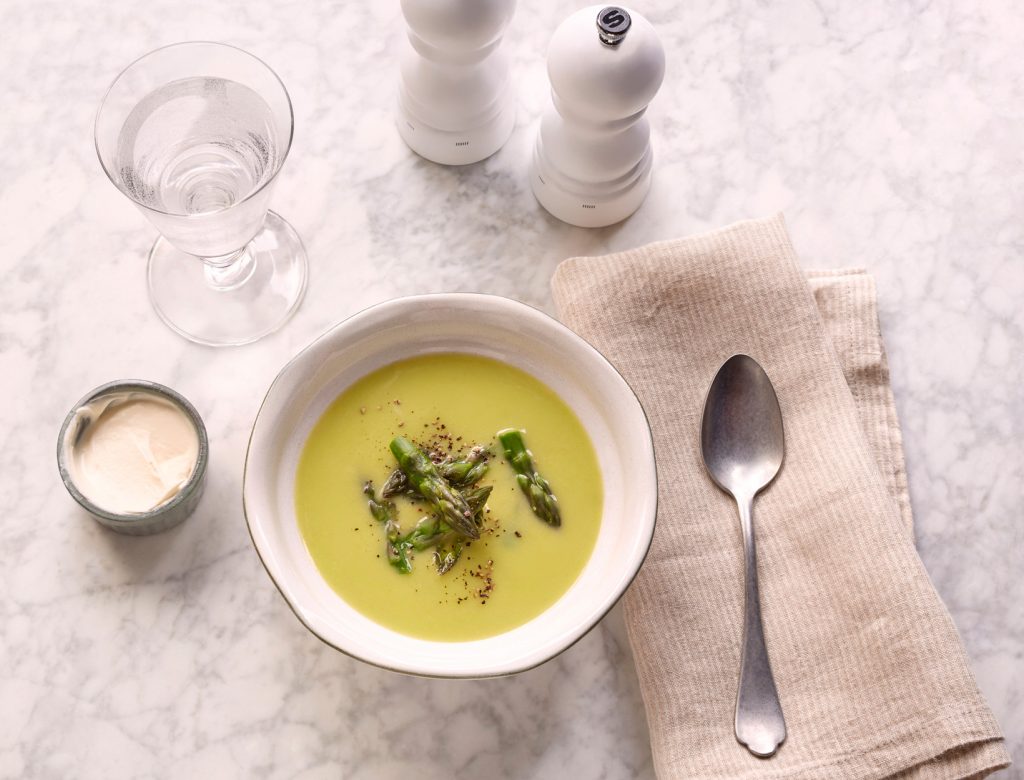 A bright green soup that's great hot for a spring lunch or cold for a picnic at the beach.
1. Rinse the asparagus, cut and discard the ends of the spears. Remove the asparagus tips and reserve. Cut the stalk of each asparagus into irregular pieces.
2. Bring 1 quart of water to a boil in a soup pot and add the asparagus, the onion studded with a clove, and the peeled carrot. Simmer for 15 to 20 minutes, until asparagus are really tender.
3. Bring a separate small pot of water to boil, add the asparagus tips, and cook for approximately 4 minutes. Don't overcook; watch the color—they should be bright green and crunchy.
4. When the tips are ready, rinse immediately under cold running water and reserve. Separate onion and carrot from broth and discard.
5. Put the broth and cooked asparagus stalks in a blender and process until smooth.
6. Pass the mixture through a fine-mesh strainer, then put it back in the soup pot and simmer.
7. In a small bowl, mix the cornstarch with 2 tablespoons of the processed stalks and slowly add the heavy cream.
8. Add the mixture to the soup and stir with a wooden spoon until the soup takes on the consistency of heavy cream.
9. Add the nutmeg and salt and pepper to taste.
10. Put the soup in a bowl and garnish with 2 or 3 asparagus tips. The soup is good hot or cold depending on the weather.
Contributed by Nathalie Sann, the author of Fresh from the Farm.