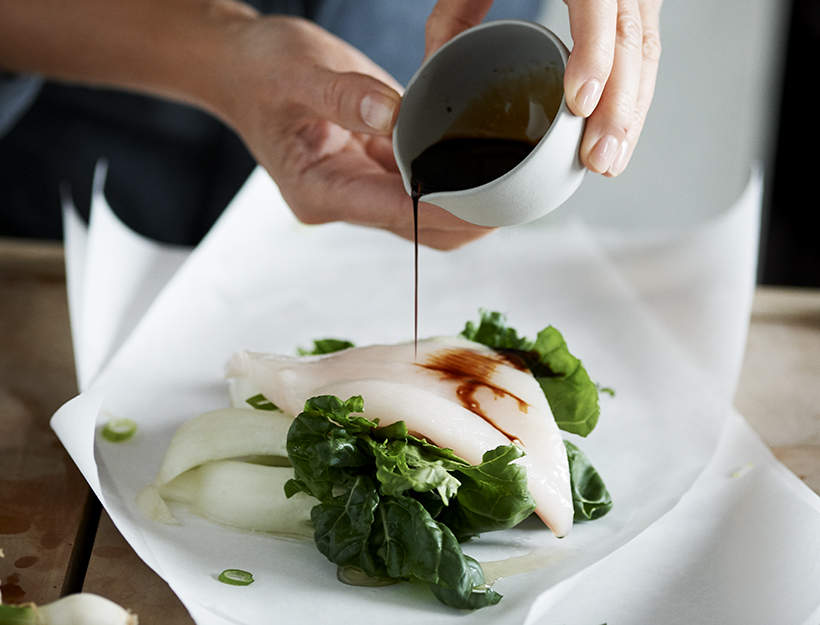 Asian-Steamed Halibut with Scallions & Bok Choy
This is one of 3 variations of fish en papillote we do in the book, but the possibilities really are endless. It may seem complicated, but once you master the folding technique, it's actually one of the easiest and most elegant dinners to make. Added bonus: since everything is contained in a nice little packet, cleanup is a breeze.
1. Preheat the oven to 400°F.
2. Lay out four 9 x 11-inch pieces of parchment paper on a flat surface, and place one-quarter of the sliced scallions, 1 bok choy, and one-eighth of the sliced ginger in the lower third section of each piece. Place 1 halibut fillet on each bed of veggies and season the fish with salt and pepper. Arrange the remaining sliced ginger on top of the fish and pour 1 teaspoon each of the sesame oil, mirin, and tamari over each fillet.
3. Carefully fold the top half of the parchment paper over the fish to make a rectangle; then, starting with one edge, tightly roll up the parchment paper until no liquid can escape. Repeat with the other two edges, then place the parcels on a baking sheet and bake for 15 to 20 minutes, depending on how thick your fillets are.
4. Transfer the parcels to plates so diners can tear open the packages.
Originally featured in It's All Easy is Here—and GP Answers Some Q's