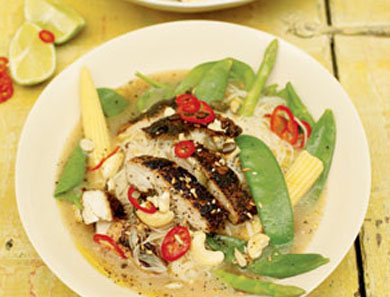 Asian Chicken Noodle Broth
You can make this recipe using any white fish or salmon fillets and either a mixture of beans and peas or just one variety.
1 tablespoon mixed seeds (pumpkin, poppy, sun flower)
a small handful of raw cashew nuts
1 quart chicken broth, preferably organic
2 skinless chicken breast fillets, preferably free-range or organic
2 teaspoons five-spice powder
sea salt and freshly ground black pepper
a thumb-sized piece of fresh root ginger
olive oil
½ to 1 fresh red chili, to your taste
4 ounces rice sticks or vermicelli
a handful of snow peas
6 thin asparagus spears or 4 regular-sized spears
6 fresh baby corn or 1/2 cup fresh corn kernels
soy sauce
juice of 1 lime
a small handful of spinach leaves
1. Put a medium frying pan or wok on a high heat and add the seeds and cashew nuts to it straight away, while it's heating up.
2. Put a large saucepan on a high heat. Fill the saucepan with the chicken broth, heat until very hot, and put a lid on it.
3. Toss the seeds and nuts around until heated through nicely — this will take a couple of minutes.
4. While this is happening, slice your chicken breasts lengthways into 3 pieces and put them into a bowl. Sprinkle the chicken with the five-spice powder and a good pinch of salt and pepper and stir.
5. When the seeds and nuts are done, transfer them to a plate.
6. Put the empty pan back on a high heat. Add a little olive oil to your hot pan with your slices of chicken and cook for 5 minutes, until golden, tossing and turning every now and again.
7. While the chicken's cooking, peel and finely slice your ginger and slice your chili.
8. Take the lid off the pan with the chicken broth and add half the chili, all the ginger, your rice sticks (or vermicelli), snow peas, asparagus, and corn, with 2 tablespoons of soy sauce. Bring to a boil and cook for 2 to 3 minutes, stirring. Halve the lime and squeeze in the juice. By the time the rice sticks (or vermicelli) and veggies are done, the chicken will be cooked.
9. Take a piece of chicken out and slice it lengthways to check if it's cooked all the way through — when done, remove all the chicken from the pan and slice each piece in half to expose the juicy chicken inside (please don't be tempted to overcook it).
10. To serve, divide the spinach leaves between your bowls and pour over the broth, rice sticks (or vermicelli), and vegetables. Divide the chicken pieces over and scatter with the toasted seeds, cashews, and remaining chili.
Contributed by Jamie Oliver.
Originally featured in Jamie Oliver's Food Revolution