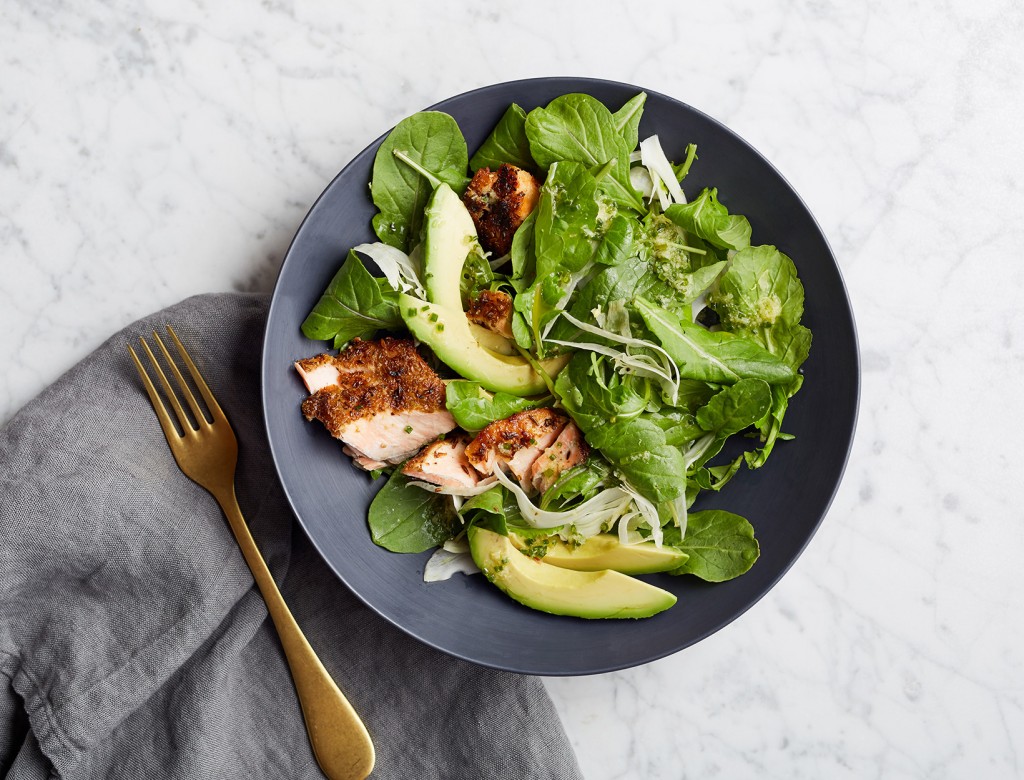 Arugula Salad with Fennel-Crusted Salmon and Avocado
This is exactly what you want to eat while you're detoxing. It's mostly greens with a bright, tangy dressing and super filling avocado and salmon (which also happen to be packed with good-for-you fats).
1 8-ounce fillet of salmon
2 teaspoons fennel seeds
2 cups baby arugula
1 bulb fennel, thinly sliced on a mandoline
1 avocado, sliced
for the dressing
1 tablespoon grated ginger
¼ cup lime juice
2 tablespoons grapefruit juice
6 tablespoons olive oil
2 tablespoons minced chives
salt and pepper to taste
1. Crush the fennel seeds with a mortar and pestle or in a spice grinder until they're the consistency of a coarse powder. Then sprinkle the fennel seed powder all over the salmon fillet along with a generous pinch of salt and pepper. Grill it over medium-high heat on a grill pan for a few minutes on each side.
2. While the salmon cooks, prepare the salad dressing. Whisk all the ingredients together in a small bowl and set aside.
3. Once the salmon is cooked, let it rest a minute off the heat. While it rests, assemble the salad, tossing the arugula, fennel, and avocado with the dressing. Then flake the salmon on top. Finish with an extra squeeze of grapefruit juice and a pinch of flaky sea salt.
Originally featured in The 3-Day, Anti-Bloat Summer Reset