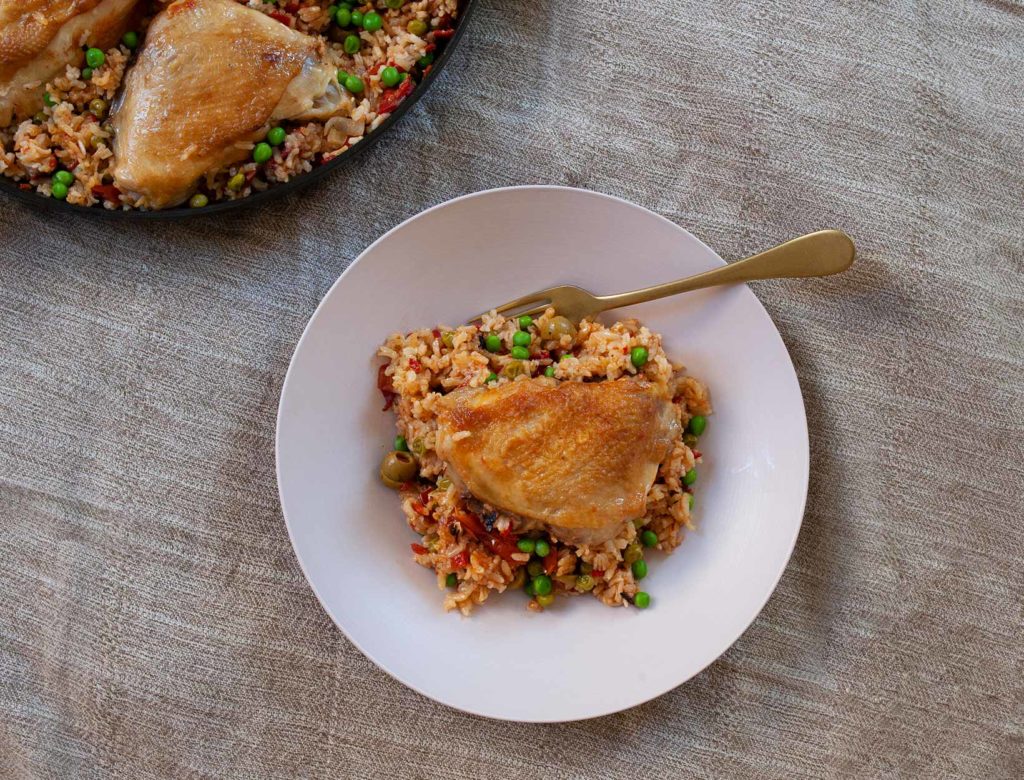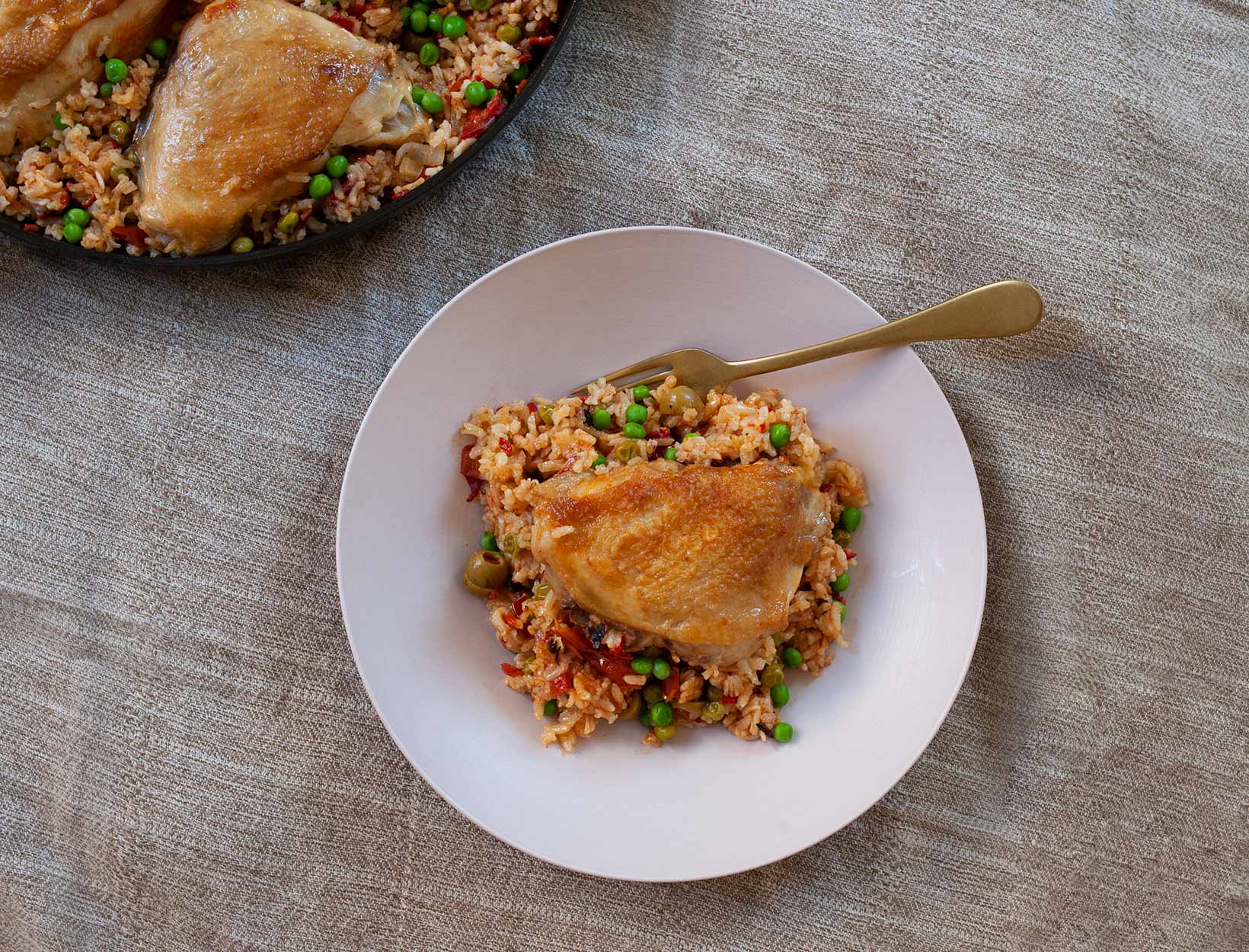 Arroz con pollo is a traditional dish you'll find variations of throughout Spain and Latin America. While the rice and chicken are constants, the ingredients and preparation styles can vary from country to country and region to region. Peruvian versions, like this delicious one from Adrianna Adarme (creator of A Cozy Kitchen), are often prepared with a vibrant green cilantro sauce instead of a bell pepper and tomato base. And Spanish versions tend to be closer to paella, calling for bomba or Valencia-style rice and saffron. Many Puerto Rican versions are cooked in aluminum Dutch ovens called calderos and seasoned with a deeply flavorful sofrito and annatto, which adds that orange-yellow color in lieu of saffron.
We were inspired by all of these different iterations and created a slightly pared-down version that relies on most of the traditional pantry-friendly ingredients. We used frozen peas and even opted for jarred piquillo or roasted red peppers (which we recommend always having on hand), so the only fresh produce you'll need is onions and garlic.
1. Heat a heavy-bottomed pan with a lid over medium-high heat (this 3.5-quart braiser works great). Add a few tablespoons of a neutral oil to the pan and let it fully heat before adding the chicken.
2. While the oil heats, pat the chicken pieces dry with a paper towel and season generously with salt on all sides. Then add the chicken to the pan skin side down. It should all fit, but if it seems too crowded, you can do it in 2 batches.
3. Brown the chicken well on both sides, 5 to 6 minutes per side. Then set aside on a separate plate and turn off the heat.
4. There will be some extra rendered fat from the chicken in the pan; carefully drain off all but about 2 tablespoons. Return the pan to the stove and turn the heat to medium. Add the onions and garlic and cook until very fragrant and translucent, 7 to 8 minutes. Add the adobo seasoning and piquillo peppers and cook for another 3 minutes. Taste and season with salt if needed (adobo seasoning can vary in saltiness), then add the rice and cook for about 5 minutes, until the rice gets slightly toasted and takes on some of those flavors.
5. Turn the heat up to high and add the tomatoes, chicken broth, and reserved chicken. Once it comes to a boil, cover and reduce the heat to medium-low. Cook for 25 to 30 minutes, resisting to the urge to lift the lid before at least the 20-minute mark (otherwise the steam that helps properly cook the rice will escape). Scatter the frozen peas and olives over the top and let it cook, covered, for another 5 minutes, just until the peas are fully warmed through. Fluff the rice before serving, and good luck not fighting over the slightly charred, crispy rice bits at the bottom of the pan.
Originally featured in 3 Inspired Pantry Dinners