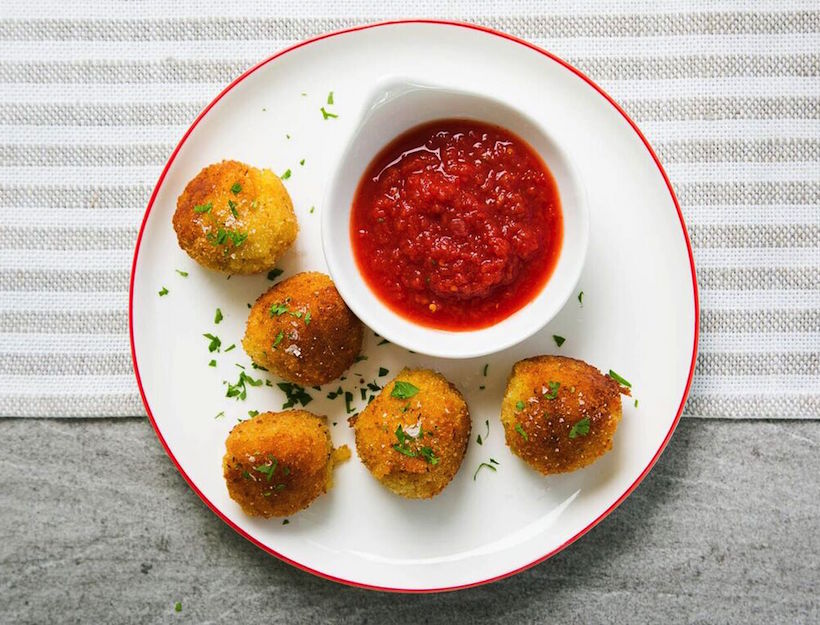 Arancini
Who wouldn't like a fried risotto ball stuffed with mozzarella? The answer is no one. Just warn your guests that they're hot!
2 tablespoons butter
1 tablespoon olive oil
⅓ cup minced yellow onion
¾ cup Arborio rice
3 cups chicken stock
pinch saffron
salt to taste
½ cup Italian bread crumbs
¼ cup Parmesan cheese, finely grated
2 ounces fresh mozzarella
olive oil for frying
tomato sauce for serving
1. Heat butter and olive oil over medium-low heat in a 2- to 3-quart saucepan. When the butter is melted and starting to foam, add the onion and sauté 3 to 5 minutes or until translucent and starting to brown. Add the rice, turn heat to medium-high, and cook 1 minute just to toast the kernels.
2. Add chicken stock, a generous pinch of salt, and a pinch of saffron. Bring to a boil, then lower heat to maintain a simmer and cook 20 minutes, or until all of the liquid is absorbed and the rice is tender. Add salt and pepper to taste and transfer the rice to a baking sheet to cool.
3. Once the rice has cooled to room temperature, add ¼ cup Italian bread crumbs and ¼ cup finely grated Parmesan cheese; mix well.
4. Cut the mozzarella into 18 pieces (about ½ inch each) and place remaining ¼ cup bread crumbs in a bowl. Wet your hands with water (so the rice mixture doesn't stick to them) and divide the rice mixture into 3. Divide each portion into 6 smaller pieces. Take 1 piece, press a piece of mozzarella into the center, wet your hands again, and roll into a smooth ball so that the cheese is completely concealed. Roll in bread crumbs to lightly coat and place on a plate or baking sheet while you make the remaining 17 rice balls. At this point, the arancini can be covered in plastic wrap and stored in the fridge until ready to fry.
5. When ready to fry, fill a high-sided sauté pan or Dutch oven with enough oil to come about ½ inch up the sides. Turn the heat up to medium-high, and when the oil is hot but not smoking, add the rice balls. Fry for 3 minutes, then turn over and fry another 2 to 3 minutes, or until both sides are nicely browned. Remove to a paper-towel-lined plate and season with a pinch of salt.
6. Serve immediately (with your favorite marinara sauce on the side) or keep warm in a 300°F oven.