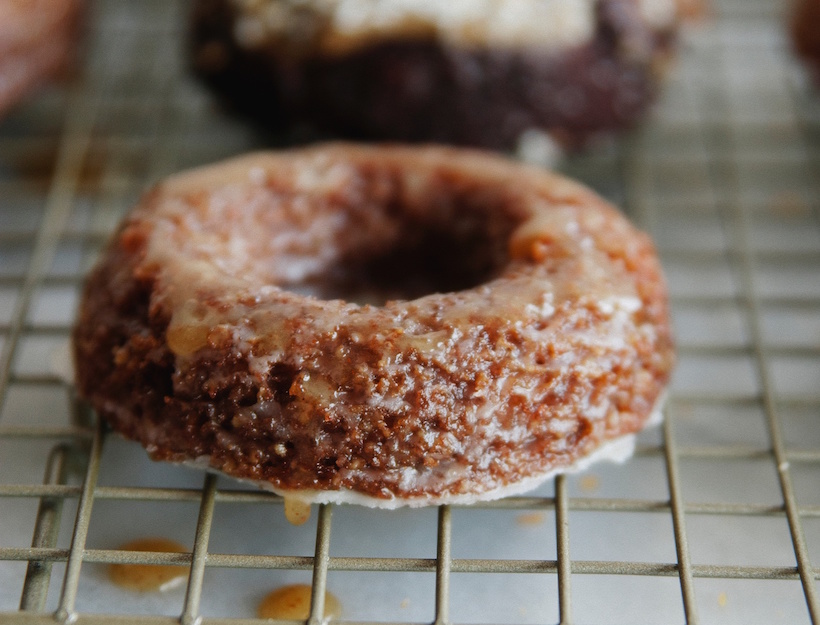 Apple Spice Donuts with Maple Glaze
We thought the only donuts worth eating were deep-fried and coated in a sugar coma-inducing glaze, but these gluten-free ones, sweetened with applesauce and maple syrup and baked in the oven, proved us wrong. We know what we'll be making when National Donut Day rolls around next year…
1. Preheat oven to 350°F.
2. Generously grease a 6-cavity donut tin with oil and set aside.
3. In a small bowl, stir together the blanched almond flour, cinnamon, ginger, baking soda, and salt.
4. In a large mixing bowl, whisk together the egg, egg white, coconut milk, applesauce, melted coconut oil, vanilla and coconut flour until well combined.
5. Add the dry ingredients to the wet and use a wooden spoon to thoroughly combine.
6. Carefully spoon batter into the prepared pan and bake for 16-18 minutes, until donut springs back when touched.
7. Remove from oven and allow the donuts to cool in the pan for 1-2 minutes.
8. To make the glaze, whisk all ingredients together until a smooth paste is formed.
9. Dip each donut into the glaze then allow to rest on the counter for about 5 minutes. Dip again if desired .
Originally featured in The Best New Gluten-Free Bakery: Sweet Laurel