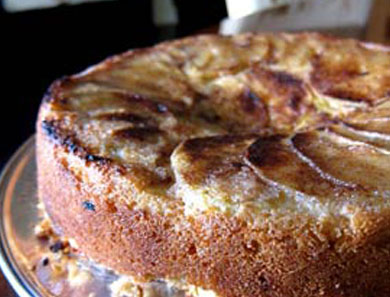 Apple & Honey Cake
From a book wholly dedicated to recipes made with honey, this apple and honey cake is a delightful end to any meal.
melted butter for greasing the pan
3 teaspoons cinnamon
¼ teaspoon nutmeg
¼ teaspoon ground cloves
2 apples (I used tart Granny Smiths, but any firm crunchy apple will do), peeled, cored, sliced thin
2 cups self-rising flour (For each cup of all-purpose flour, add 1 1/2 teaspoons of baking powder and 1/2 teaspoon of salt.)
1 ½ sticks sweet butter
3 ounces honey (Use a full flavored honey packed in a jar with honeycomb for more intense honey flavor.)
3 eggs beaten at room temperature
½ cup milk
½ cup sugar
1. Heat oven to 350 degrees.
2. Grease a deep 8" diameter cake pan with the melted butter.
3. Combine ½ teaspoon cinnamon with 1 tablespoon of the sugar and sprinkle over the bottom and sides of the pan.
4. Line the base of the pan with the apple slices, overlapping them so there are no gaps for the cake mixture to seep through.
5. Sift the flour with the remaining cinnamon, nutmeg and cloves.
6. Cream the butter with the sugar until it is light and fluffy. Gradually pour in the honey in a stream, beating continuously.
7. Add the eggs, one at a time, to prevent curdling.
8. On low speed or by hand, add 1/3 of the flour, ½ the milk , another 1/3 of flour, the rest of the milk, finish with the flour.
9. Pour the mixture into the greased and sugared pan and bake for 40 to 45 minutes, depending on your oven, until a cake tester comes out clean and dry. (Bake at least 40 minutes to caramelize the apples)
10. Allow to cool for 15 minutes, then turn cake out onto a cooling rack. The apples should be caramelized and the cake a rich golden brown.
From A Taste of Honey: Honey for Health, Beauty and Cookery – Recipes and Traditions.
Originally featured in In the Kitchen with Chozen