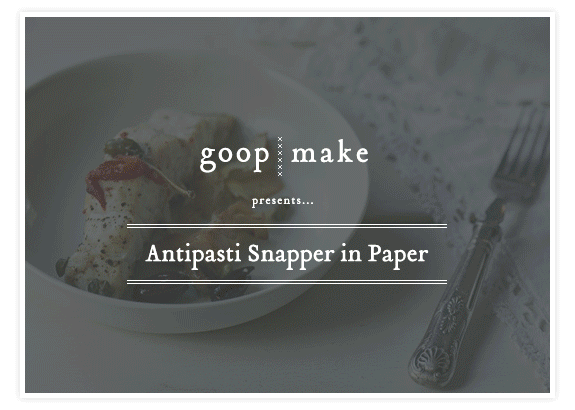 Antipasti Snapper in Paper
This dish is all about ease and taste. Head to your local antipasti bar (Whole Foods has a consistently good one) and pick out whatever 3-4 items are looking good to you. We use snapper in this dish, but feel free to use whatever white, mild fish looks freshest at the market.
1. Pre-heat oven to 400°F.
2. Lay parchment paper on baking sheet or dish. Lay filets on paper. Season with salt, pepper, olive oil and a drizzle of lemon. Sprinkle antipasti items on top. (If you're using anchovies, place one on top of each filet so it melts into fish). Fold paper over fish to make a little package (this doesn't have to be perfect, just fold and secure the best you can).
3. Bake for about 10 minutes, until fish is cooked throughout, but still moist. Let rest for about 5 minutes before serving.
Originally featured in One Pan Meals