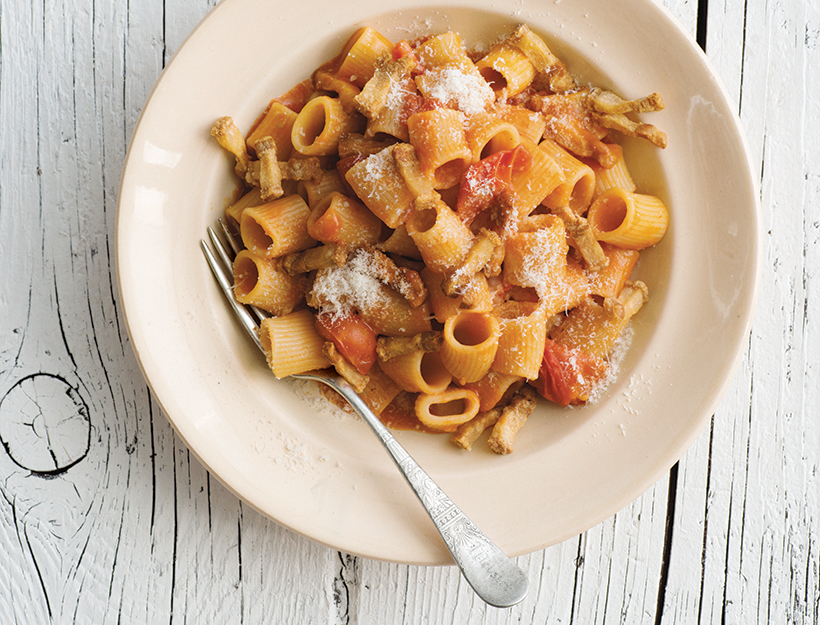 Amatriciana estiva, or summer amatriciana, is a phrase that has been popping up on trattoria menus all over town for a few years now. Some claim their version of the dish is lighter than the classic because they use less guanciale or drain off some of the rendered fat. Others don't reduce the fat at all, and just replace canned tomatoes with seasonal summer ones. We like a version somewhere between the two, and recommend using thin pieces of guanciale and, of course, incorporating fresh summer tomatoes instead of canned.
1. Heat the olive oil in a large skillet over low heat. When the oil begins to simmer, add the guanciale. Cook, stirring, until golden brown and very crisp, about 10 minutes. Using a slotted spoon, transfer to a paper towel to drain.
2. Remove half the rendered fat from the pan and discard or reserve for another use (like Vodka al Guanciale). Add the garlic to the pan. Cook until the garlic just turns golden, about 10 minutes, then add the tomatoes. Increase the heat to medium and cook until the tomatoes lose their shape, about 10 minutes, then stir in the basil.
3. Meanwhile, bring a large pot of water to a rolling boil over high heat. Salt the water. When the salt has dissolved, add the pasta. Cook until very al dente, then drain, reserving the cooking water.
4. Add the pasta to the sauce in the skillet and stir to coat. Add enough reserved pasta cooking water to nearly cover the pasta. Simmer, adding more cooking water as needed. When the pasta is al dente, remove the skillet from the heat.
5. Add ¼ cup of the Pecorino Romano and mix well. Add half the guanciale and stir well. Season to taste.
6. Plate and sprinkle each portion with some of the remaining Pecorino Romano and guanciale. Serve immediately.
Reprinted from Tasting Rome: Fresh Flavors and Forgotten Recipes from an Ancient City. Copyright © 2016 by Katie Parla and Kristina Gill. Photographs copyright © 2016 by Kristina Gill. Published by Clarkson Potter/Publishers, an imprint of Penguin Random House LLC.