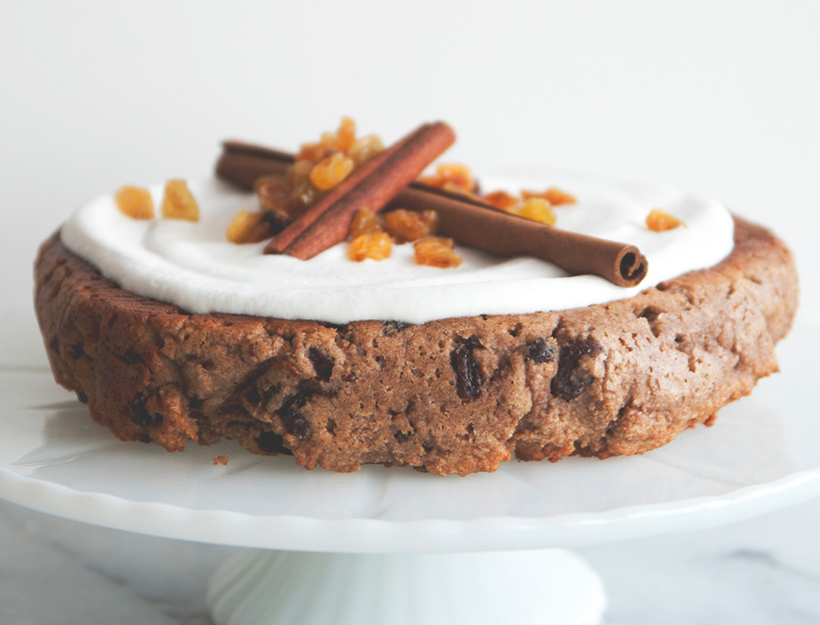 Coconut cream frosting is deceptively easy to make but it does take some planning, as the cream needs to be very cold in order to achieve the right texture. We place cans in the fridge overnight to insure that the cream separates from the liquid. When you're ready to make the frosting, simply scoop off the solidified cream from the top of the can and save the coconut water for smoothies.
1. Preheat oven 350°F.
2. Line an 8 or 9-inch pan with parchment paper.
3. In a large bowl, stir together almond flour, salt, baking soda, and cinnamon.
4. In a separate bowl whisk together oil, maple syrup, eggs, and almond extract. Pour into flour mixture, stir well, then fold in raisins and nuts if desired.
5. Pour into prepared pan and bake for 20-25 minutes, or until a toothpick inserted in the center comes out clean.
7. To make the frosting, beat coconut cream on high speed until firm, then slowly stir in the maple syrup.
8. Allow the cake to cool completely before frosting. Garnish with raisins and cinnamon sticks, if desired.
Originally featured in Gluten-Free Baking Recipes