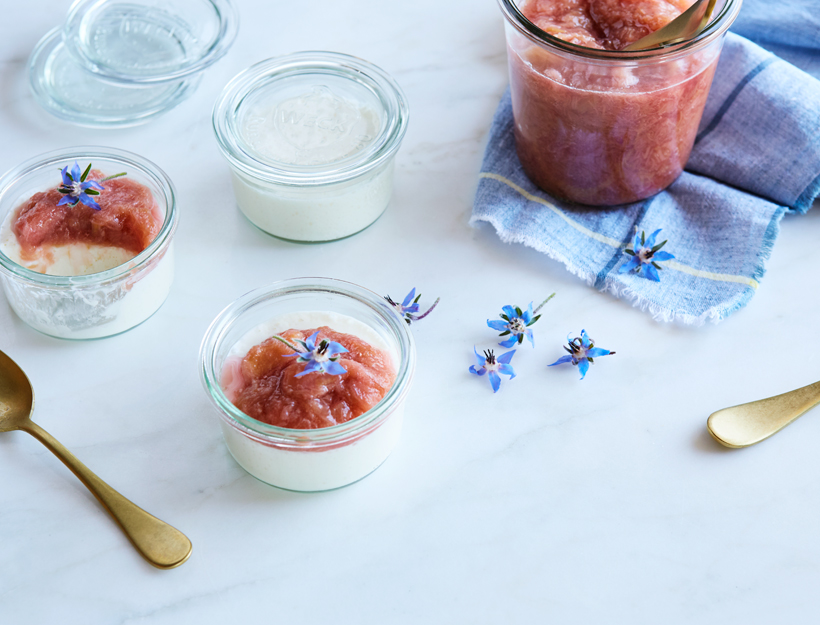 Almond and Buttermilk Panna Cotta with Rhubarb Compote
The hint of almond extract brings together the flavors of tangy buttermilk and tart-sweet rhubarb in this easy spring dessert.
1. Place 2 tablespoons cold water in the bottom of a large mixing bowl. Sprinkle the gelatin over it and let sit for 10 minutes.
2. Meanwhile, heat the heavy cream and sugar in a small saucepan over medium heat until the sugar has dissolved and the cream is just shy of a simmer.
3. Pour the cream over the gelatin-water mixture and whisk to combine. Add the almond extract and let the mixture cool for 10 minutes.
4. Whisk in the buttermilk and transfer to 4 ramekins.
5. Put in the fridge and chill for at least 6 hours.
6. To make the rhubarb compote, combine the rhubarb, sugar, and water in a small saucepan. Bring the mixture to a boil, stir, reduce the heat to maintain a gentle simmer, and cook, stirring every couple of minutes, for 20 minutes. Cool to room temperature then store in the fridge until ready to use.
7. To serve, top each panna cotta with a generous dollop of rhubarb compote.
Originally featured in Easy Crowd-Pleasing Desserts