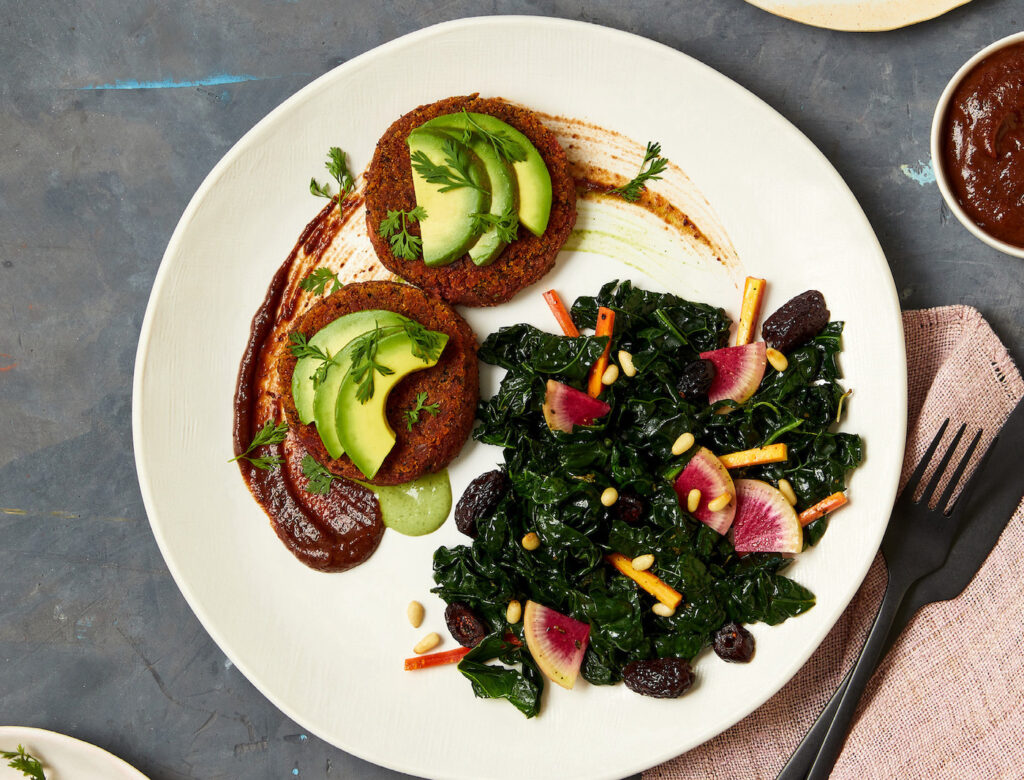 Adzuki Bean and Red Lentil Patties
As part of our Ayurvedic nutrition and culinary training, Annie Mymokhod created this tasty recipe for her final project. It may seem time-consuming, but you could stage the steps over a few hours, have the mix ready, and panfry right before mealtime. The patties go well with a sauce and a nice salad on the side. You could also use them as party food by shaping smaller patties (1½ to 2 inches in diameter), topping them with a sauce, and arranging them on a platter or using them in a slider sandwich. You can even prepare them as travel food.
1. Place the adzuki beans in a small saucepan, add enough water to cover them by 1 inch, and bring to a boil over high heat. Cover with a tight-fitting lid, lower the heat to low, and simmer for about 1 hour, until the beans are tender and fully cooked. Drain and set aside to cool.
2. Meanwhile, place the red lentils and beets in another small saucepan and add 1½ cups of water. Bring to a boil over high heat. Cover with a tight-fitting lid, lower the heat to low, and simmer for about 10 minutes, until the lentils start to break down and most of the water has been absorbed. Drain and set aside to cool, uncovered.
3. Using a spice grinder, grind the coriander seeds, cumin seeds, peppercorns, and asafetida to a fine powder.
4. Heat the ghee in a medium skillet over medium-low heat. Add the ginger-and-spice blend; toast for about 10 seconds, then stir in the zucchini. Sauté for 5 minutes, or until the zucchini softens and mixes well with the spices. Set aside uncovered.
5. To make the patty mixture: Add the cooked adzuki beans, red lentils and beets, spiced zucchini, quinoa flakes, parsley, dill, lime juice, and salt to a food processor. Pulse for 1 to 2 minutes, until all the ingredients are mixed well. The mixture should be fairly soft but not runny. If it is runny, add a little more of the quinoa flakes to firm it up. Keep in mind that the mixture will continue to thicken as it resets on the counter or in the refrigerator.
6. Heat a large cast-iron griddle over medium heat; brush the surface of the pan with a thin layer of ghee. Fill a ¼-cup measuring cup or scoop with the patty mixture, quickly flop it onto the hot skillet, and shape it into a burger patty. Repeat with the remaining patty mixture, fitting 3 or 4 patties on the griddle at a time and adding more ghee as needed. Watch the ghee to make sure it does not smoke; if it does, lower the heat or turn it off for a few seconds to cool down the pan a bit. Panfry the patties until their bottom sides turn golden and crusty, 2 to 3 minutes. Brush the top, uncooked sides with a thin layer of ghee, then flip them and cook until their second sides are golden and firm, another 1 to 2 minutes. The patties should be soft yet holding together. They will firm up as they cool down.
7. Transfer the cooked patties onto a platter (do not stack them to ensure they keep their crispy exterior). Serve hot, with a side of sliced avocado, some cilantro leaves, and a sauce.
Recipe extracted from Joy of Balance by Divya Alter, published by Rizzoli International Publications, Inc. Photography © Rachel Vanni. Food stylist © Caitlin Haught-Brown.
Originally featured in Comforting Fall Recipes to Balance Your Dosha