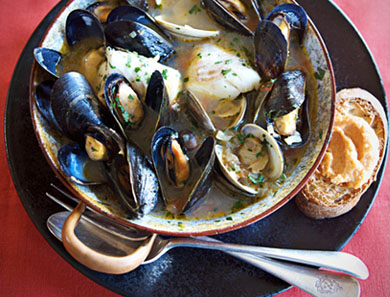 A New England Bouillabaisse
"This mock bouillabaisse is so scrumptious that you would never know it had anything 'left over' in it. You do have to stop and pick up a dozen or so fresh mussels and a few clams the day you're making it, but otherwise everything else is at hand, and you can put this together in half an hour. I am assuming, of course, that you have a good fish stock in your freezer; if not, plan to make this after you've had a lobster or a supper of steamed mussels and have some of that intense lobster or mussel broth left. Otherwise use clam juice, diluted by half with water because it is quite strong."
1. Heat the oil in a medium pot, and sauté the onion and garlic gently until softened.
2. Add the tomato, sauté another minute, then pour in the fish stock and seasonings, tasting to judge how much salt and pepper you need. Simmer for about 20 minutes, and add the clams (if you are using fresh fish, slip that into the pot now); clams always take longer than mussels, so give the clams a few minutes before adding the mussels along with the piece of leftover fish.
3. Sprinkle parsley over, and have alongside a couple of slices of toasted French bread with pistou on top.
Excerpted from The Pleasures of Cooking for One by Judith Jones. Copyright © 2009 by Judith Jones. Excerpted by permission of Knopf, a division of Random House, Inc. All rights reserved. No part of this excerpt may be reproduced or reprinted without permission in writing from the publisher.
Originally featured in Cooking For One