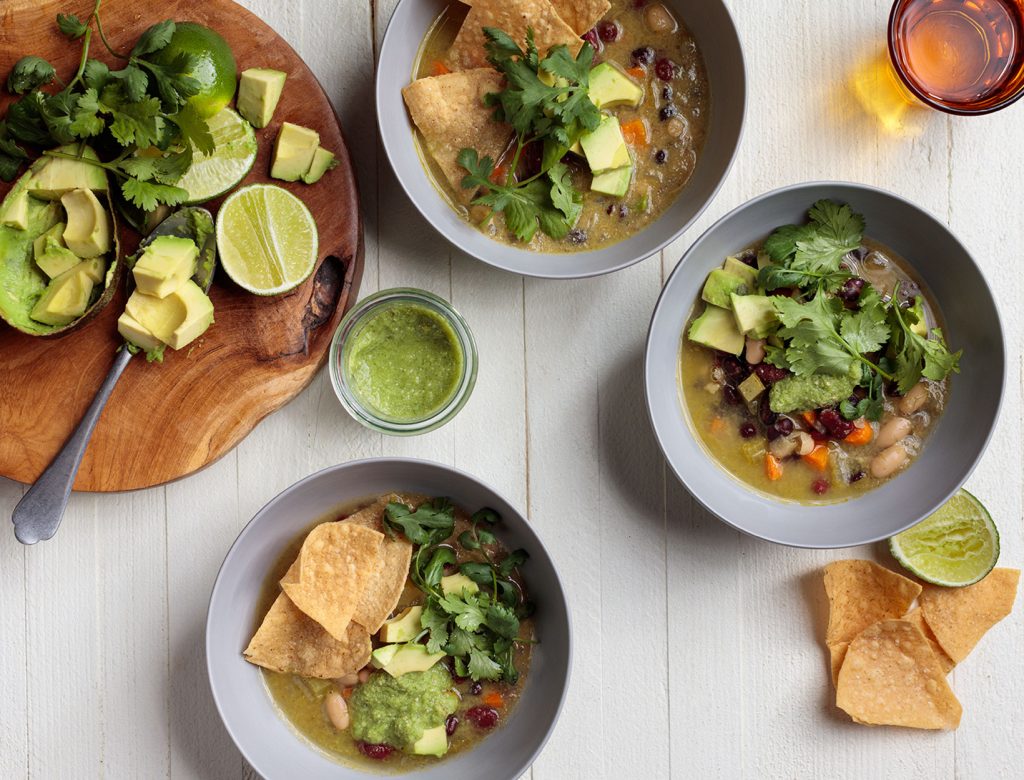 3-Bean Vegan Tortilla Soup
"This Yucatan-inspired sauce uses the healthy fats of pumpkin seeds to create a base for a hearty yet super bright sauce. It's a great dip for sure, but I also love to use it as a flavor base for a warming bean soup." —Alison Cayne
1. Heat olive oil in a large pot over medium-high heat.
2. Add onions and a pinch of salt and sauté 2 minutes, stirring constantly.
3. Add celery and carrots and sauté 2 to 3 minutes, stirring constantly.
4. While that cooks, make the Pepita Salsa Verde: Place the pepitas in a small pan over medium heat. Toast until light golden, tossing every couple of minutes. Add the cumin, toss, and place in a blender. Add tomatillos, jalapeño, onion, garlic, cilantro, and lime juice. Blend on high until smooth. Season with salt, pepper, and more lime to taste.
5. Add beans, salsa, and enough water to cover to the pot with the onions, celery, and carrots.
6. Cover with a lid and simmer over medium-low heat for 7 to 10 minutes.
7. Spoon into bowls and garnish with avocado, cilantro, tortilla chips, and lime wedges.
Originally featured in Secret Sauce: 3 Cozy Vegan Dinners