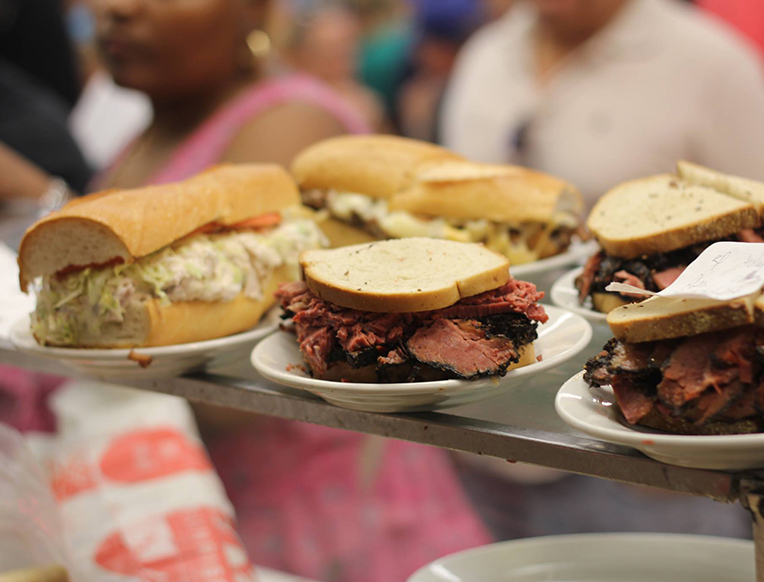 Katz's Delicatessen
205 E Houston St., Lower East Side
NEIGHBORHOOD: Lower East Side
Category: Food & Grocery Delivery
COVID-19 update: Open for pickup, delivery, and nationwide shipping.
Katz has dinner covered with its famous brisket, roast chicken or turkey, stuffed cabbage and creamy kugel, and other delicious, comforting dishes for delivery in Brooklyn and Manhattan. Those craving Katz's never-too-salty matzo ball soup from further afield can order a full dinner package (including brisket) that serves up to four people for $125 with two days' notice for nationwide shipping. Meanwhile, you can get the deli's pastrami sandwiches and warming soups on all the usual delivery platforms (Seamless, Caviar, DoorDash) alongside some convenient fridge and freezer staples like sour pickles, hand-carved meats, and liters of broth.
COVID-19 disclaimer: We are working hard to keep our listings as up to date as possible (deliveries, outdoor dining, etc.), but given the evolving nature of local COVID-19 restrictions, we recommend double-checking the information in this guide with any business you plan on visiting. Also, please note that we have not vetted any businesses listed within our guides for their compliance with applicable safety regulations.