In goop Health:
The Tune-Up
In partnership with our friends at

Every year, the ferocity of fall surprises us. Our lives seem to pick up a chaotic speed, thanks to fast-approaching holidays, the demands of work and school in full swing, and, we imagine, some kind of intemperate cosmic tug.
So if January is for big changes and new resolutions, November is for the kinds of meaningful shifts we can actually manage. The ones that lighten your load, resolve an acute pain point, or bring you a little closer to optimal well-being.
Some of the choices that are most additive, powerful, and expanding start with small suggestions. Sometimes all we need is a seed—one action to start with—to discover transformation over time.
We've collected five of those seeds here for Samsung Galaxy Z Premier, courtesy of the experts who know best.
And if you're new to goop: Hello, and welcome. We hope we bring more beauty into your world—whether it's in your inbox or through some of the tools below.
PART 1:
MOVE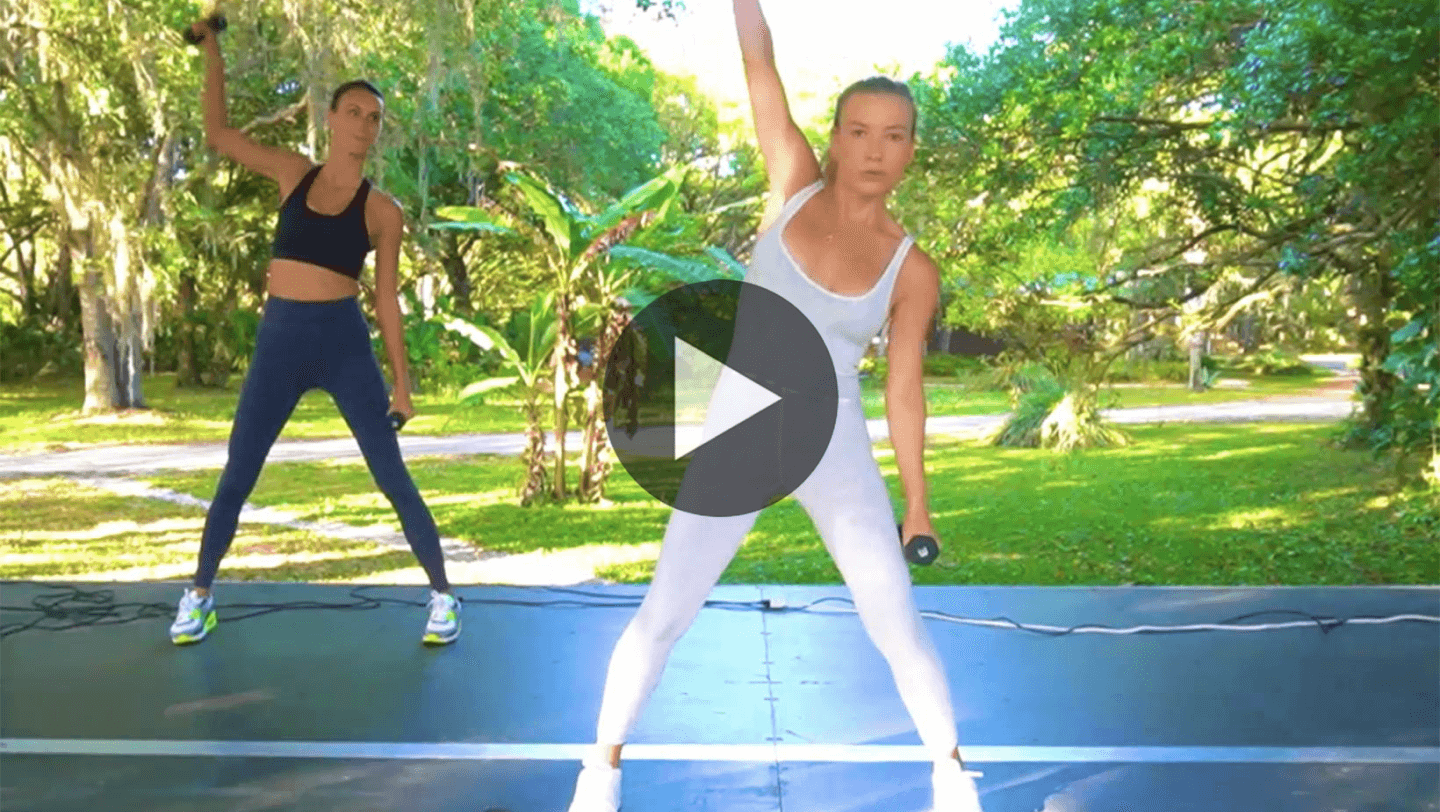 Tracy Anderson's 15-Minute
Full-Body Workout
Exercising is one way to feel stress melt off your shoulders, to connect to ineffable joy, and to find your way out of your head and into your body. And there's no one we'd rather sweat with than Tracy Anderson, who has been kicking the asses of goop staffers (and GP) for a decade.
It's the kind of workout that you really feel after only fifteen minutes. All you need to do is stand up, press play, and follow her lead.
PART 2:
NOURISH
The One Thing You Need to Know to Practice Ayurveda (It's Not Your Dosha)
When it comes to food, no one knows what you need more than you. And yet figuring out how to optimize and balance the whole foods that make us feel best physically—and to some degree, spiritually (who hasn't had a religious moment with the perfect french fry?)—can be challenging. It's a journey clouded by a lot of marketing and noise and sometimes shame.
The everyday practice of Ayurveda is compelling in part because it's intuitive. It mostly involves asking ourselves simple questions: What do my symptoms feel like? Hot or cold? Oily or dry? How do my choices—on bedtime, breathwork, marathon running, or particular foods—feel to me? And then tuning in to our bodies for the answers. Here, Avanti Kumar-Singh, MD, helps guide us toward the practice's basic wisdom.
Our food director, Caitlin, picked three classic goop recipes to try this month. They're easy to make, they're filling, and they steer away from common allergens and inflammatory ingredients.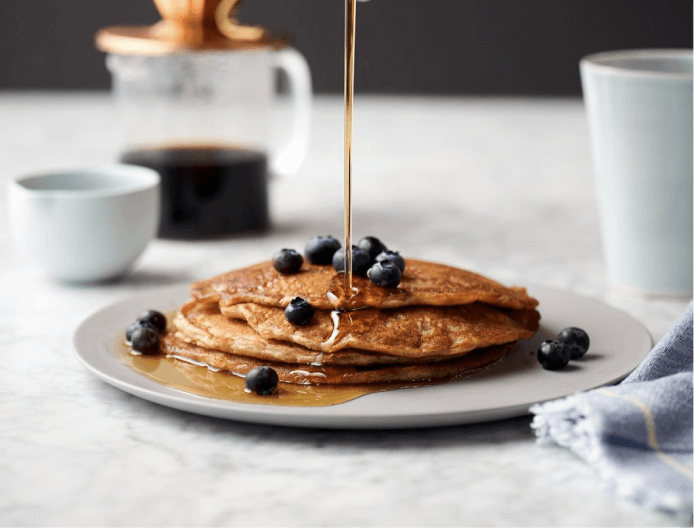 Cassava Flour Pancakes
Cassava root flour is the new "it" alt flour, and for good reason: The starchy nature of the cassava root almost perfectly mimics the texture of gluten. These pancakes are fluffy, chewy, and delightfully crispy around the edges.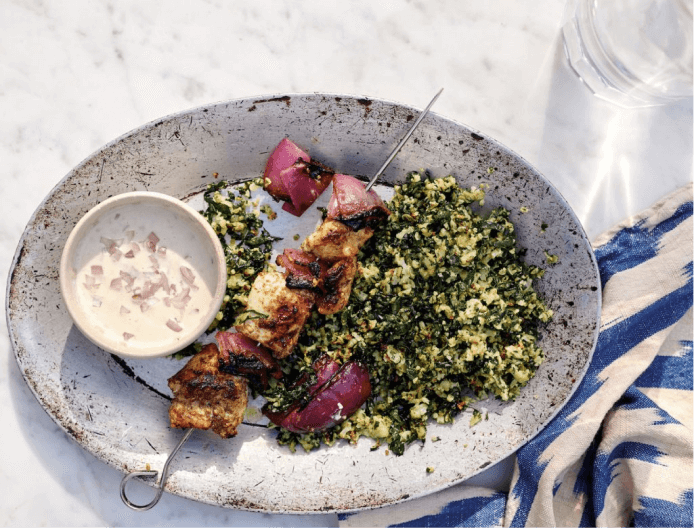 Za'atar Chicken Bowl
This bowl combines some of our favorite things from Middle Eastern cuisine: grilled meat on a stick, tons of herbs and citrus, and a creamy, savory sauce to tie it all together.
PART 3:
GLOW
The Fall Skin Reset—at Home
It's been many months of trying to stay home as much as possible. Maybe you've managed to trim your own hair at some point or perhaps even DIY a pedicure. Maybe your skin, like ours, could use something. With nonessential treatments on hold, our beauty editors gathered ten smoothing, skin-enlivening steps you can take now, at home.
Do all of them for a skin boot camp of sorts, or take what you need and leave the rest—each step will make a difference.
PART 4:
PAUSE
Try Brené Brown's Simple Gratitude Practice
When was the last time you felt joy?
Over the years, researchers, therapists, authors, and even Oprah have reminded us how essential it is to divest from a general concept of happiness—and instead, focus on embracing and cultivating moments of joy. One of those very wise people is Brené Brown, who was surprised by an answer she found in her research: Practicing gratitude is the key to joy.
You don't need to buy a journal or invest more than a minute of your time to access that power—a gratitude practice, she says, can come down to repeating four simple words. If the gear helps you, by all means go for it.
PART 5:
LISTEN
Find the Beauty in Breaking
We love the transformative power of self-care. And we know that our bodies aren't hermetically sealed entities ruled entirely by autonomous choices: They are also ruled by our relationship to the earth and the systems constructed around us. It's why we look to doctors, scientists, and culture-changers to lead us to a more beautiful, interconnected world.
A podcast conversation with emergency room physician Michele Harper, MD, reaffirms both aspects. She shares how she manages the emotional strain of being witness to so much suffering, what she's learned from her patients about healing, and why she sees her commitment to positive change as a form of meditation. "It is all so depleting—all of it," she says. "But I've always turned my grief, my pain, my suffering into action."