GOOPGIFT LIFT TERMS & CONDITIONS ("CONDITIONS OF ENTRY")
Promotion:
#goopGIFT Lift Claw Machine ("claw machine")
Provided by goop, Inc. ("promoter")
Locations ("goop Gift location"):
goop Gift Americana Manhasset (2100A Northern Blvd. Manhasset, NY 11030)
Entry Dates:
Entry is open to all visitors of the two specified goop Gift location November 15th 2018 through December 24th 2018 during their operating hours which can be found here: https://goop.com/goop-retail-store-locations/
Eligible Entrants:
Entry is open to visitors over 18 years of age of the goop Gift location specified (11/15/2018-12/24/2018).
How to Enter:
To enter the Promotion, an entrant must, during the Promotional Period, visit the a goop Gift location at 2100A Northern Blvd. Manhasset, NY 11030 and speak to a goop Gift employee ("goop staffer") for a token. The goop staffer will collect name and email address and an optional donation to Donors Choose (more information available here: https://goop.com/faqs/#donorschoose). Information on the usage of your email address listed in the email subscription section below.

The entrant must then stand in line for the claw machine (if a line has formed) and once they have reached the start of the queue, play the claw game as instructed. If the entrant is successful, they will win the prize they have successfully collected with the claw. Details of each available prize to be won are listed in the prize section below.

If the entrant acts in a disorderly manner, attempts to skip their position in the queue, or is physically or verbally abusive or is disruptive to the peaceful implementation of the claw game activity, they may at any goop staff member's discretion be asked to leave and may forfeit their chance to participate in the game and/or their right to a prize.

The Promotion will end as soon as all prizes available have be won via the claw game or at the end of the promotion period (December 24, 2018 at close of business).
Game Plays Permitted:
Only one (1) claw game play permitted per person. The entrant is eligible to win a maximum of one (1) prize.
Total Prize Pool:
Total Starting Prize Offering: $29,331

Promoter will be adding additional prizes as they become available including Travel Rollers & Signed books from Lauren Roxburgh, Four Sigmatic Adaptogen Drink Mixes, and assorted quantities of face oil, cream blush and lipsticks from Kosas.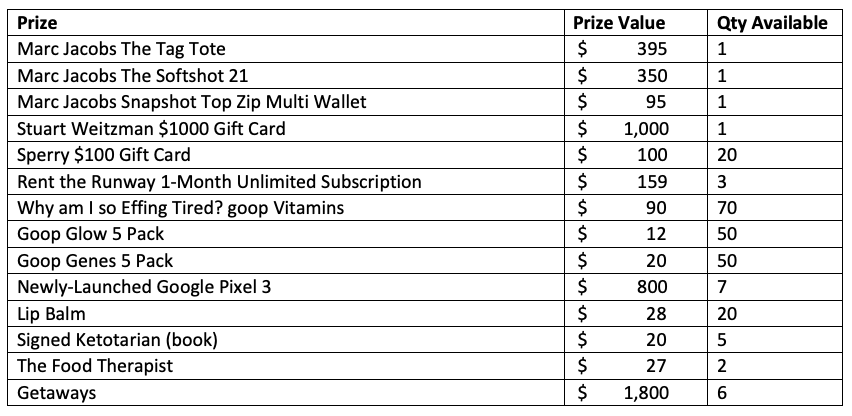 Prize Conditions:
No part of a prize is exchangeable, transferable or redeemable for cash or any other prize.
Terms:
1. The entrant agrees and acknowledges that they have read these Conditions of Entry and that entry into the Promotion is deemed to be acceptance of these Conditions of Entry.

2. The claw game will only be able to be played during the Entry Dates specified above, and only while stock of gift are available.

3. Employees (and the immediate family members) of agencies/companies directly associated with the conduct of this Promotion, the Promoter, its distributors, suppliers, subsidiary companies/businesses and associated companies and agencies are not eligible to enter. "Immediate family member" means any of the following: spouse, ex-spouse, de-facto spouse, child or step-child (whether natural or by adoption), parent, step-parent, grandparent, step-grandparent, uncle, aunt, niece, nephew, brother, sister, step-brother, step-sister or 1st cousin.

4. No prize may be won by an entrant under the age of 18. Should a player under the age of 18 win a prize, the prize will be forfeited and the Promoter is not obliged to substitute the prize.

5. No part of a prize is exchangeable, redeemable for cash or any other prize or transferable.

6. By the end of the Promotional Period, all prizes from the advertised prize pool will be distributed and all existing claims, unless due to fraud or ineligibility, for prizes and entitlements will be met notwithstanding that the advertised prize pool has been exceeded and printing errors and other quality control matters will not be used as a reason for refusing payment of prizes. Winners of an instant win prize are determined by chance.

7. All reasonable attempts will be made to contact each winner.

8. If any winner chooses not to take their prize (or is unable to),or does not take or claim a prize by the time specified by the Promoter, or is unavailable, they forfeit the prize and the Promoter is not obliged to substitute the prize.

9. The value of the prizes is accurate and based upon the recommended retail value of the prizes (inclusive of GST) at the date of printing. The Promoter accepts no responsibility for any variation in the value of the prizes after that date.

10. If a prize (or portion of a prize) is unavailable the Promoter reserves the right to substitute the prize (or that portion of the prize) to a prize of equal or greater value and/or specification, subject to any written directions of a regulatory authority.

11. No entry fee is charged by the Promoter to enter the Promotion.

12. If there is a dispute as to the identity of an entrant or winner, the Promoter reserves the right, in its sole discretion, to determine the identity of the entrant or winner.

13. The Promoter reserves the right to refuse to allow a winner to take part in any or all aspects of a prize, if the Promoter determines in their absolute discretion, that a winner is not in the physical or mental condition necessary to be able to safely participate in or accept the prize. It is a condition of accepting the prize that a winner may be required to sign a legal release as determined by the Promoter in its absolute discretion, prior to receiving a prize.

14. Any guarantee or warranty given is in addition to any relevant statutory guarantees and warranties and nothing in these Conditions of Entry restricts, excludes or modifies or purports to restrict, exclude or modify any statutory consumer rights under any applicable law.

15. If for any reason any aspect of this Promotion is not capable of running as planned, including communications network failure, bugs, tampering, unauthorized intervention, fraud, technical failure or any cause beyond the control of the Promoter, the Promoter may in its sole discretion cancel, terminate, modify suspend the Promotion and invalidate any affected entrants, or suspend or modify a prize.

16. The Promoter reserves the right, at any time, to validate and check the authenticity of entrant's details and claw game plays (including an entrant's identity, age and place of residence). In the event that a winner cannot provide suitable proof as required by the Promoter to validate their entry, the winner will forfeit the prize in whole and no substitute will be offered

17. The Promoter reserves the right to disqualify entrants in the event of non-compliance with these Conditions of Entry. In the event that there is a dispute concerning the conduct of the Promotion, the decision of the Promoter is final and binding on each entrant and no correspondence will be entered into.

18. The Promoter and its associated agencies and companies will not be liable for any loss (including, without limitation, indirect, special or consequential loss or loss of profits), expense, damage, personal injury or death which is suffered or sustained (whether or not arising from any person's negligence or willful misconduct) in connection with this Promotion or accepting or using any prize (or recommendation) or participating in the claw game, except for any liability which cannot be excluded by law (in which case that liability is limited to the minimum allowable by law).

19. The entrant will participate in and co-operate as required with all reasonable marketing and editorial activities relating to the Promotion, including (but not limited to) being recorded, photographed, filmed or interviewed and acknowledges that the Promoter may use any such marketing and editorial material without further reference or compensation to them.

20. The Promoter accepts no responsibility for any tax implications and the entrant must seek their own independent financial advice in regard to the tax implications relating to the prize or acceptance of the prize.

21. Failure by the Promoter to enforce any of its rights at any stage does not constitute a waiver of these rights.
Email Usage:
By submitting your email in return for a token used in play, you are opting in to receive emails from goop and the claw machine partners. These partners include: Marc Jacobs, Escada, Rent the Runway, Stuart Weitzman, Bonpoit and Sperry. You may opt out at any time using the available unsubscribe link in each of the promoter and partner email sends. goop's Privacy and Communications policy can be found here: https://goop.com/web-terms-of-use/#terms_Privacy.