G. Label: Holiday '22
We're not ones to shy away from tradition—and that holds true for festive attire. For this year's holiday collection, we took on the demure elegance of a full skirt, the sly sexiness of the tuxedo, and the unapologetic glamour of faux fur, sequins, and velvet with gusto. But not before animating these classics with a bit of modern magic: breathtaking necklines, striking proportions, and updates of G. Label jewelry bestsellers frosted with pavé diamonds. 'Tis the season, after all.
Isabella Sequin Dress G. Label, $945
How do you reinterpret head-to-toe sequins in a way that's cool and current? With a sleek silhouette and
midnight-black sheen.
Jarvis Puff-Sleeve Top G. Label, $425
The jewel (tone) in the collection's crown, Jarvis is done in matte satin with strategically placed pleats for an exaggerated puff sleeve that'll be your
day-to-night go-to.
Rose Tuxedo Jacket G. Label, $725
Looking to the timeless Le Smoking for inspiration, Rose has a short fit and rounded hip that are just right over any evening piece, from a cocktail dress to the matching Boyt pants.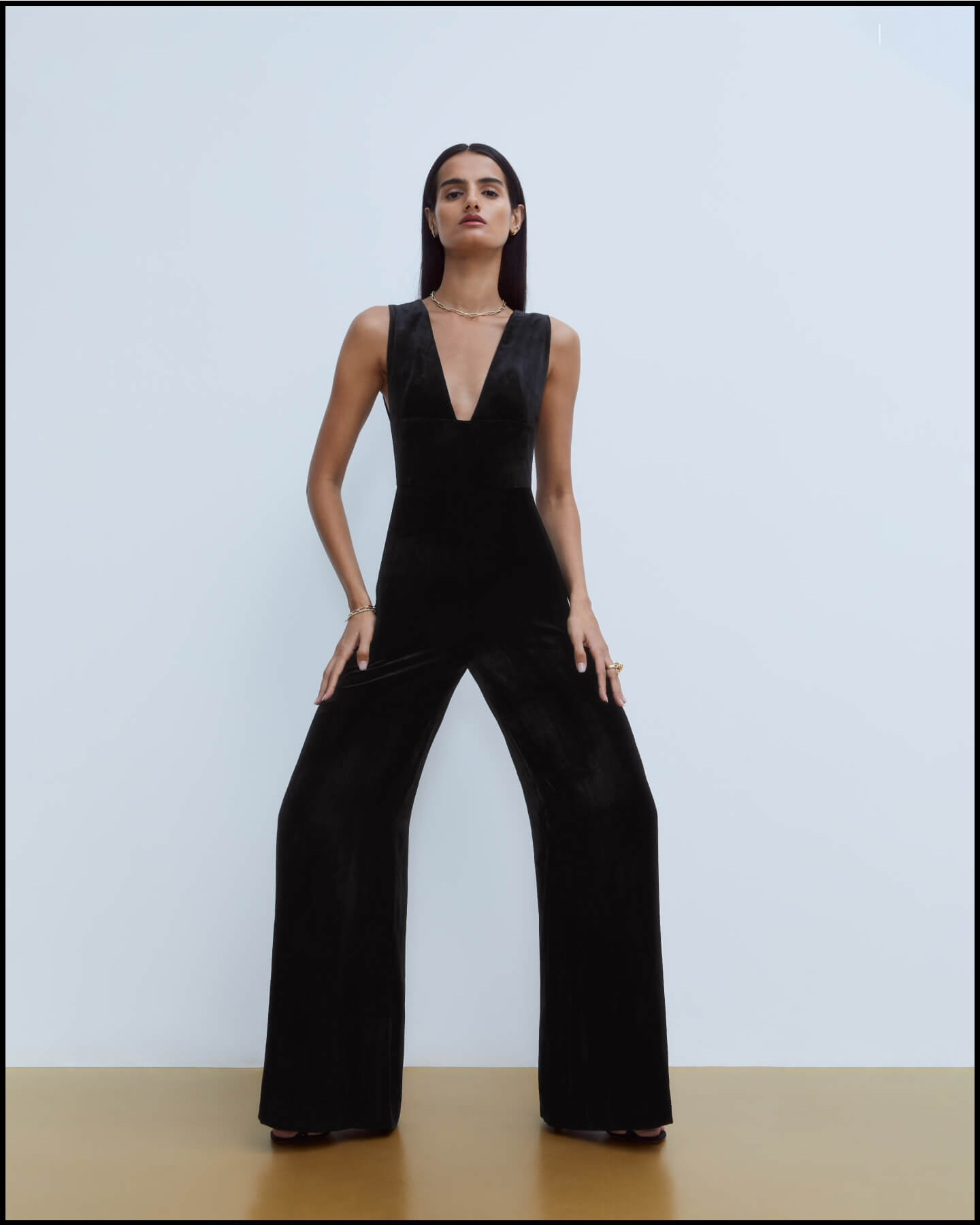 STYLED WITH: ENGELBERT RING (worn throughout), goop, $6,100
Arielle Velvet Jumpsuit G. Label, $795
Rich velvet, a fitted bodice, and a plunging square neckline make this the ultimate party one-and-done (whether you're hosting or attending is beside the point).
Chae Full-Length Skirt G. Label, $525
Go ahead and make it an evening skirt suit by adding the Rose tux jacket. Or take our fashion director's suggestion and tuck a skimpy knit into the ultrahigh waist.
Cabalo Faux-Fur Cape G. Label, $745
Last year's pink number, reimagined in moody navy. The faux fur is soft to the touch and pleasing to the eye.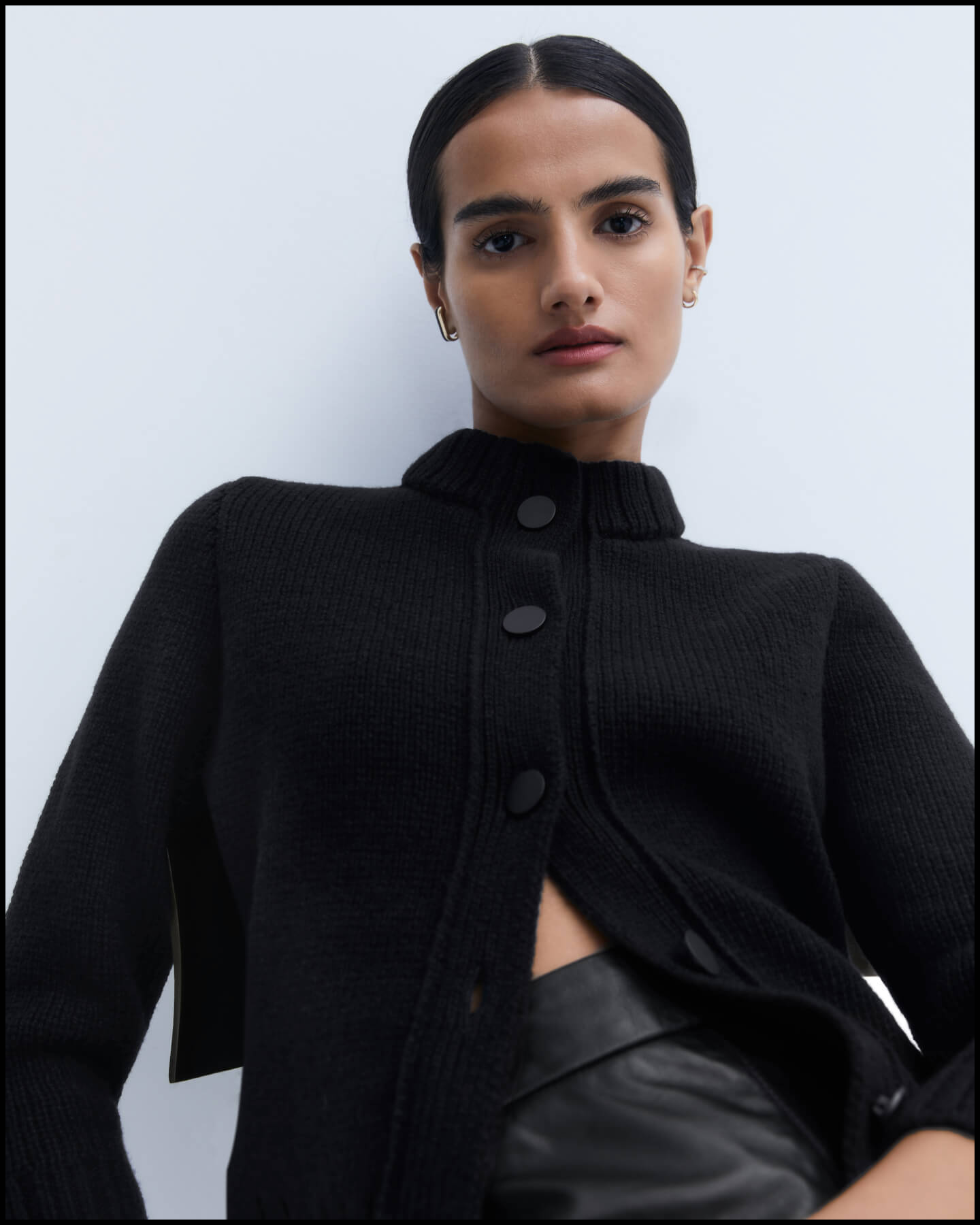 STYLED WITH: G. LABEL ARLO STRAIGHT LEATHER SKIRT, goop, $945
Black Evening Cardigan G. Label, $595
The high neckline, cropped fit, and satin-covered buttons are all strategic design decisions that make this ladylike evening cardigan a worthy addition to our interchangeable tuxedo suite.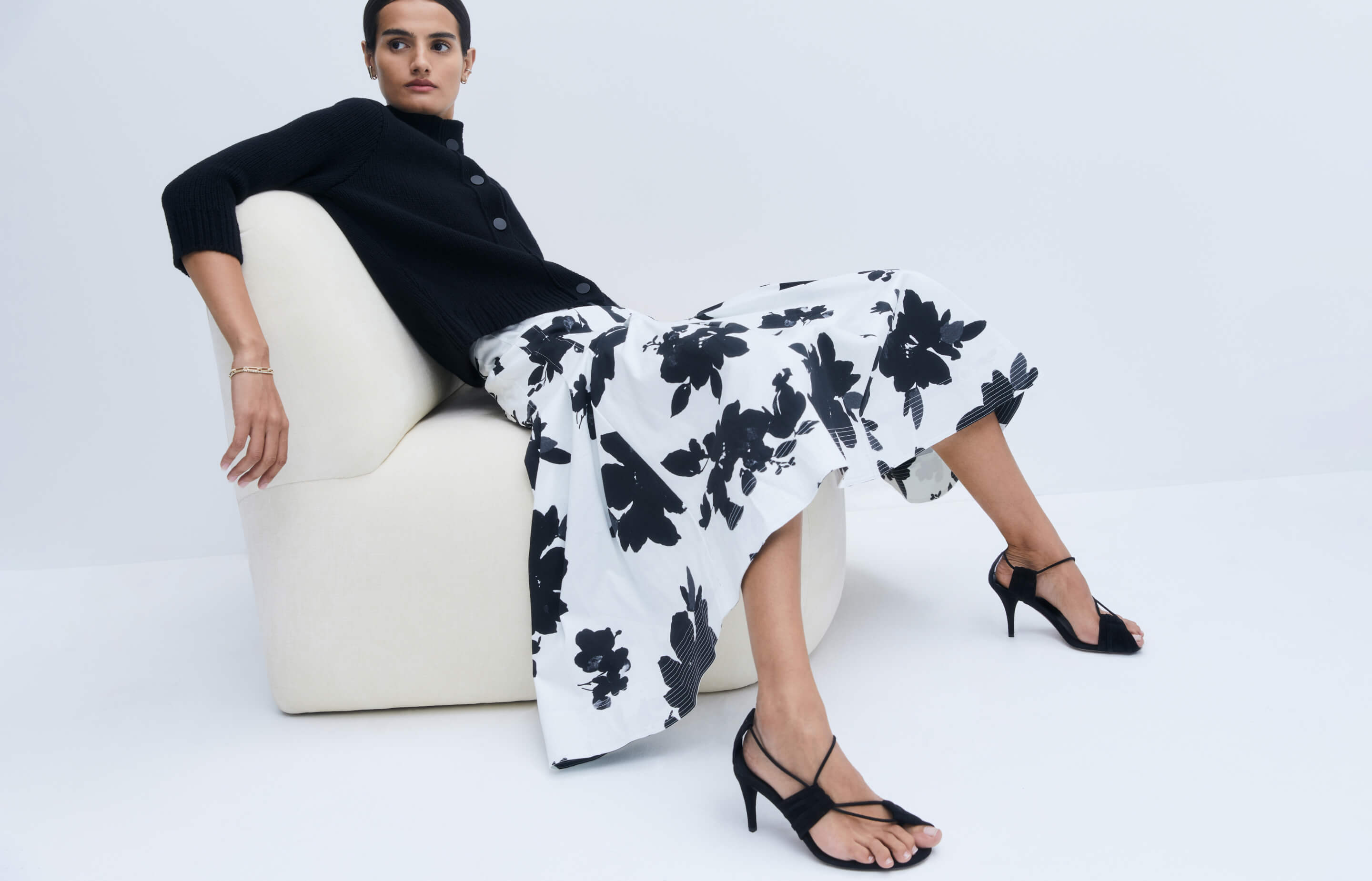 STYLED WITH: G. LABEL BLACK EVENING CARDIGAN, goop, $595
Boyle Brushed Floral Skirt G. Label, $725
The fixed pleats are tapered—higher in the front, lower in the back—to create shape, and the trapunto-stitched hem gives the full, flared skirt some structure. Translation? This skirt was made for twirling.
Boyt High-Cuff Tux Pants G. Label, $565
The grosgrain ribbon running the length of the legs is a time-honored tuxedo-pant element, yes, but the exaggerated satin cuff is anything but. Hot tip: Dress them down with a tee and fuzzy Birks for everyday wear.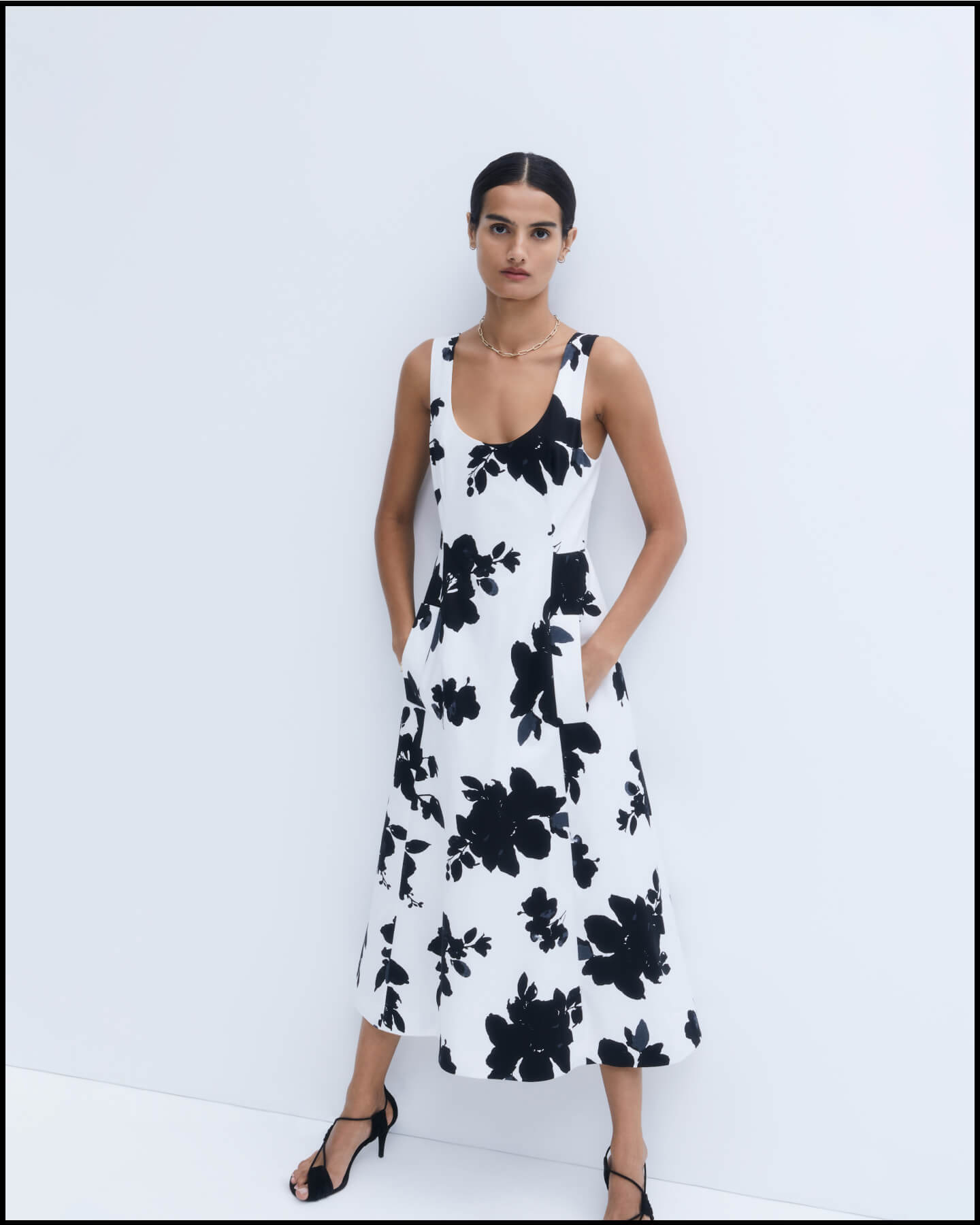 Cortes Round-Neck Full Dress G. Label, $795
Black-on-white brushstroke florals (just a bit oversize, for drama) feel distinctly fresh here, as do the scooped neckline, tailored waist, and skirt pockets.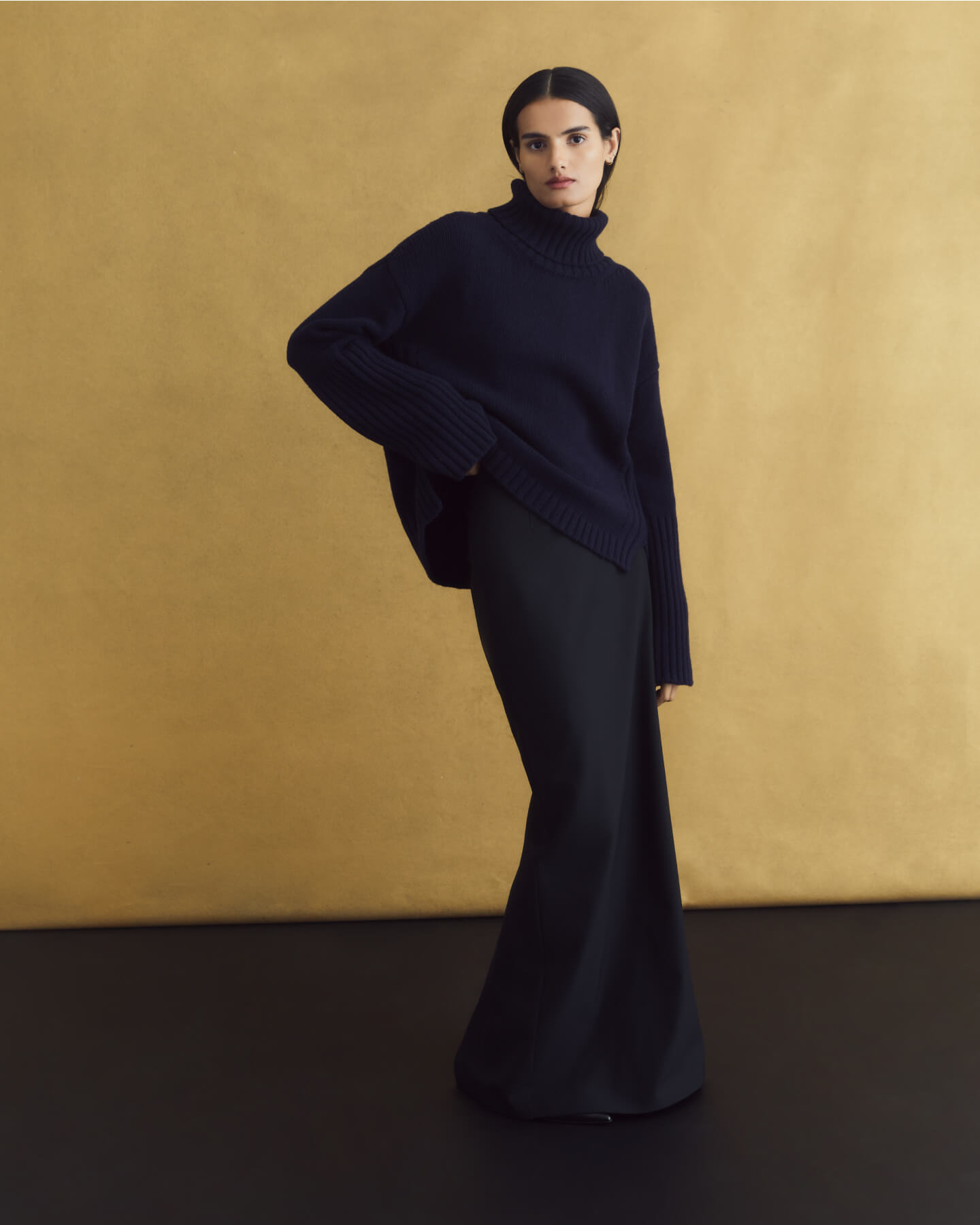 STYLED WITH: G. LABEL CHAE FULL-LENGTH SKIRT, goop, $525
Yang High-Cuff Turtleneck Sweater G. Label, $595
By request from one of Gwyneth's friends, our beloved virgin-wool Yang
sweater, now in navy. Pair with the Chae skirt for an achingly chic party look.
Elliott Pavé Assorted-Link Bracelet G. Label, $2,950
Think of the diamond-spiked version of the gold Elliott bracelet as wearable tinsel.
Lerner-Neama Cape G. Label, $475
We like to think of it as the cool girl's answer to a pashmina. Designed to layer over the Yang sweater—or just about anything else you own.
SHOP THE COLLECTION
THERE'S MORE WHERE THAT CAME FROM