Flavorful Add-Ons That Take Your Bone Broth to the Next Level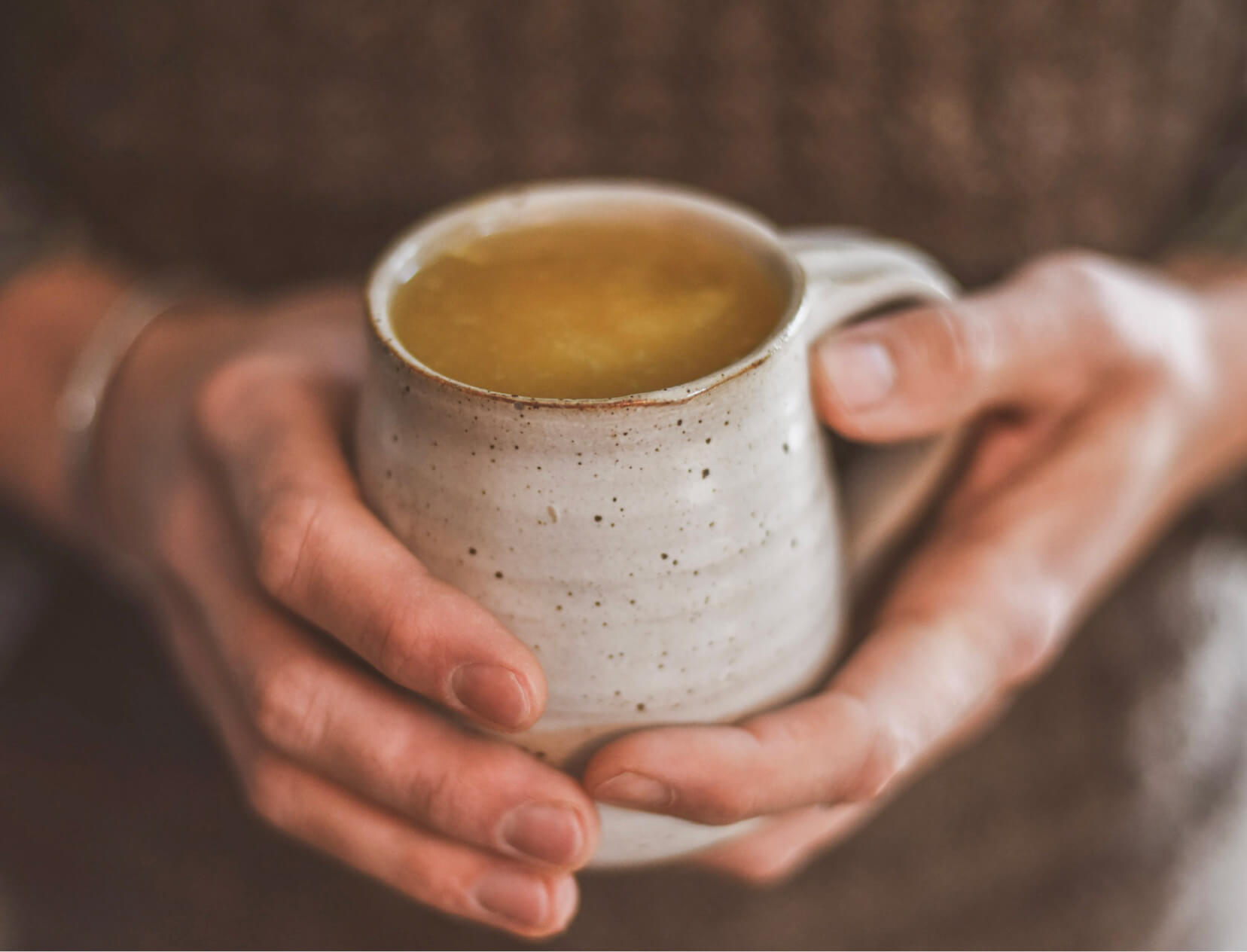 Photo courtesy of @mindfulfolk
Bone broth might be the grandest Old-World-turned-New-Age wellness practice. Some drink it for the collagen and minerals, and some for a warm cup of childhood comfort. It makes us feel good.
Over the years, we've been fortunate to get guidance from the best chefs in the bone broth game. And while everyone has their own methods, a few things are always the same: Use good quality bones. Blanch or roast them or both. Then cook them in water for a really, really long time. This method is tried and true and is how many broths and stocks have been made for centuries in culinary traditions all over the world.
While we have no interest in challenging the age-old technique of preparing bone broth, we have some ideas about doctoring it up to make a super sippable savory drink. It's fun to add customizable and dynamic layers of flavor to a staple as versatile as a quality broth—and the results are satisfying. Below are a few ways to turn your bone broth into something extra special.
Not ready to turn up? If you're starting at square one, see this bone broth recipe from Belcampo's Anya Fernald and a step-by-step guide from Brodo's Marco Canora. Looking for a bone broth delivery? We like OWL Venice.
THE BONE BROTH
ADD-ONS
A really good bone broth can certainly stand alone, but there are some surprisingly simple ways to add lots of flavor. Get creative and play around with any and all of these components.
FAT
Blending in a bit of fat can make an incredibly rich broth—both in flavor and texture. Think of it as the broth version of Bulletproof coffee. Add a teaspoon of grass-fed butter or ghee, coconut oil, or coconut butter. Blitz the fat and about a third of a serving of the warm broth in a powerful blender and pour it over the rest of the broth for a latte-like experience.
While miso paste is not a fat, we'll lump it into this category because it gives your broth body and depth, much as our favorite fats do. If you're going with miso paste, just be sure to add it right at the end and whisk well.
ACID
Some form of acid will balance that fat and round out the intense umami flavors from long-cooked bones. Some bone broth recipes call for apple cider vinegar to help extract minerals from the bones while cooking, but by the time you're ready to sip, that bright tang will have cooked off. Finishing your broth with apple cider vinegar and fresh citrus juice and zest (lime, regular lemon, Meyer lemon, even orange) adds a wonderful zip that wakes everything up.
FRESH HERBS
Adding some fresh herbs to the pot when you reheat your bone broth will gently infuse it with grassy notes. Strain the herbs out before serving—their scent will pleasantly linger. Woody herbs like rosemary, bay, oregano, sage, and thyme are best left in the infusion process.
Tender herbs like parsley, cilantro, dill, tarragon, and chervil can be infused into the broth and used as garnishes on top. Chop them fine (or use kitchen scissors to snip off little pieces) before sprinkling on top.
Another way to add fresh, herbal notes: seaweed. It isn't technically an herb, but varieties like dulse that don't require soaking add a nice salty, vegetal finish when added just before serving.
One more herb-adjacent addition: fresh chilies. We love finishing a broth with thin slices of serrano or jalapeño—it's spicy and fresh.
SPICES
There are so many ways to go with spices. You can add whole allspice berries, star anise, cloves, and cinnamon sticks to the broth while heating and strain them out before serving.
Cumin seeds, mustard seeds, black peppercorns, cardamom pods, coriander seeds, red pepper flakes, and fennel seeds work similarly, but benefit from a quick toast in a dry pan to release their essential oils before you add them to the broth. (Watch them closely to make sure they don't burn. You'll smell them when they become fragrant and are ready to use.)
Ground spices and blends work well, too, but can pack a punch, so start with a little and taste before adjusting.
AROMATICS
Odds are your bone broth has some aromatic vegetables in it. The usual suspects are onion, carrot, and celery—they're relatively mild or neutral, which results in a super versatile broth. However, if you're looking to add a little oomph, you can reap some aromatic benefits from adding more-pungent ingredients like garlic, ginger, lemongrass, or shallots when you're reheating your broth.
For a milder flavor, add these at the same time as whole spices and woody herbs and strain them out just before serving. For a stronger flavor, smash them with the back of your knife to release more of their essential oils. For the most robust flavor, use a microplane to grate a small amount of these ingredients directly into the broth.
SALT
Ideally your bone broth base isn't super salty, so adding salt to taste would make sense. Just be aware that if you've added salty ingredients (salted grass-fed butter, miso, or seaweed), you might already have a nicely seasoned broth. Taste as you go—remember you can always add more, but you can't add less.
SOME CHOICE COMBOS
There are endless combinations with the above components, but if you're looking for some more inspo, these flavorful formulas are a good place to start.
•

BEEF BROTH + GINGER + WHOLE STAR ANISE + LIME JUICE + FRESH CHILIES

•

CHICKEN BROTH + TURMERIC + GROUND CORIANDER + APPLE CIDER VINEGAR + GHEE

•

CHICKEN BROTH + ROSEMARY + LEMON ZEST + GARLIC + RED PEPPER FLAKES

•

BEEF BROTH + LEMONGRASS + GARLIC + COCONUT OIL + CILANTRO

•

CHICKEN BROTH + LEMON JUICE + GRASS-FED BUTTER + DILL + PARSLEY

•

VEGETABLE BROTH + MISO + GINGER + LEMON + DULSE + CHIVES
I HAVE SO MUCH BONE BROTH LEFT OVER, NOW WHAT?
Lucky you! If you've got more than you could possibly sip, cook with it anywhere you'd use stock or broth (braises, soups, stews). Be aware that the bone broth will likely give a deeper and more intense flavor, but that's usually a good thing in our book. Bone broth is especially great for gravies and quick pan sauces—all that collagen and gelatin from simmering the bones for so long will add body, acting almost like a roux to slightly thicken any sauce. Cooking grains like farro and quinoa in broth instead of water adds more flavor and makes an excellent staple for quick meals.
Otherwise, bone broth freezes beautifully, and you'll be glad to have it on hand. If space is an issue, cook your broth even longer to reduce the volume by half—resulting in an intensely flavored broth you can now store efficiently. Just note that you'll need to dilute it when you cook with it.