Tasting Menus: $100 or less
Tasting menus, once reserved for formal occasions and expense accounts, have now been deconstructed and deformalized to become a way for young, ambitious chefs to showcase their artistry in a very accessible way. By keeping the dining room experience casual, they are able to keep their prices reasonable—white tablecloths have been swapped for bare countertops, chandeliers for exposed bulbs, and French-trained chefs for self-taught innovators who'd rather forage for ramps than bargain for truffles. Below are our picks from the new tasting menu generation, all under $100.
LA
Downtown | 122 W 4th St. | 213.687.0300
Josef Centeno's (Bäco Mercat and Bar Amá) latest venture offers Italian/Japanese inspired tasting menus, including the much-lauded "super-omakase." However, if you're looking to keep it cheap(ish), the five-course tasting menu at just $60 a person is a deal, as is the family-style four-course menu at $50. Below, Chef Centeno lends us a vegetable recipe he's made recently.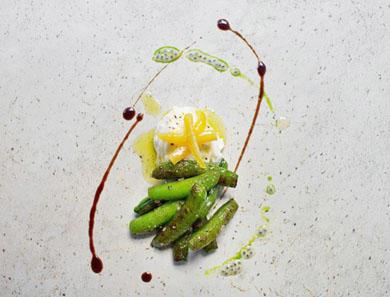 From Orsa & Winston in LA, an elegant, vegetarian side salad.
---
West Hollywood | 716 N. Highland Ave
Ludo Lefebvre, the man behind the Ludobites pop-up, together with the Son of a Gun and Animal team opened Trois Mec earlier this year to great reception. This brick and mortar venture brings fine dining to a laid-back space (it's in a strip mall, which isn't weird by LA standards). You buy tickets online (at $75 per person) for the set five-course dinner menu, which offers no choices or substitution.
San Francisco
Mission | 2224 Mission St. | 415.355.1500
Commonwealth embodies the revolutionary spirit of the contemporary, high-end tasting menu experience. Located in a stark and understated space that looks like a former garage, the décor begins and ends with a hanging disco ball found in the attic during renovation. The food is serious, and even though it's a substantial tasting, it feels healthy and light. Six courses for $75 ($10 of which is donated to a local charity). Shout out to our rad waiter A.J. whose band, Yassou Benedict, is about to go on their first tour.
New York
P.S. It was only after we chose our three that we realized they were all in Brooklyn…
Chez Jose
Williamsburg | 254 South 2nd St.
This semi-weekly pop-up in Williamsburg's Lake Trout space makes produce the focus of its ambitious 8-10-course prix fixe (think confit carrots and dehydration). The coolest part is that they are a two-person show (boyfriend and girlfriend) and do everything themselves. At the end of the meal they pop open a bottle of wine and join their guests. The $55 price tag is very reasonable and it's BYO. Check them out on Thursdays and Fridays between 7-11pm.
---
Williamsburg | 90 Wythe Ave. | 718.388.2969
Located inside exhibition space Kinfolk Studios, the multi-course Scandanavian-inflicted menu feels natural and woodsy. $79 for 7 courses Sunday, Tuesday and Thursday ($125 for 10 courses Friday and Saturday). It's an experience.
---
Cobble Hill | 255 Smith St. | 718.852.8321
The restaurant was built by hand by the owners who are also the executive chefs, boasting experience at Blue Hill and Gramercy Tavern before starting this tiny restaurant on Smith Street. The menu is seasonal, eclectic and thoughtful—while the dishes are available a la carte, the tasting menus are really worth coming for. Five courses for $75, seven for $95.
Paris
10th | 80, rue de Charonne | +33 1 43 67 38 29
Septime serves excellent French cuisine in a cool, bare bones space on the newly re-vamped rue de Charonne. The prix fixe menus offer multiple courses of innovatively-prepared dishes made with the freshest ingredients. The lunch menu is a steal at €28, but if you are willing to splurge, go for the menu "surprise"—you won't regret it.
---
2nd | 5-6, rue du Nil | +33 1 40 39 96 19
The succinct set menu (at around €45 per person) offers a multi-course experience of inventive, ingredient-based French cuisine that does not disappoint. It's hard to get a seat, so book early.
London
Fitzrovia | 39 Whitfield St. | +44 20 7323 1544
It can still be difficult to get a table at Dabbous (perhaps the most-talked about London restaurant of 2012) and for good reason. The food is inventive and modern yet light and clean (think olive oil ganache and sheep's milk ice cream). The dining room is industrial rustic, with exposed air ducts and minimal wood tables, a look which gets a bit warmer in the den-like bar downstairs. The best part is the price—£59 for their multi-course tasting menu and just £28 for the four-course lunch.
---
Bermondsey | 201 Tooley St. | +44 20 7183 2117
26-year-old chef Tom Sellars, who studied under Tom Aikens at just 16 and more recently with René Redzepi at Noma, opens Restaurant Story in an old Bermondsey square with remarkable views of the Shard. The vibe here is youthful with a playful menu (the first course of the tasting menu was a beef candle that was lit for you to catch the drippings with your bread). As the name suggests, each dish comes with a story about its provenance, ingredients and inspiration. Sellars creates a really unique dining experience with his tasting menus, which go for £55 for 6 courses and £75 for 10.
---
Shoreditch | Shoreditch Town Hall | +44 20 7729 6496
The Clove Club serves a short but exciting set menu in the historic Shoreditch Town Hall. The meals are beautifully prepared and presented, but the most impressive aspect is the quality of each ingredient: from Zerbinati melons to pine salt and the freshest heritage tomatoes. It's a set menu (£35 for lunch and £47 for dinner) with a choice for each course, and a bit quieter at lunchtime.