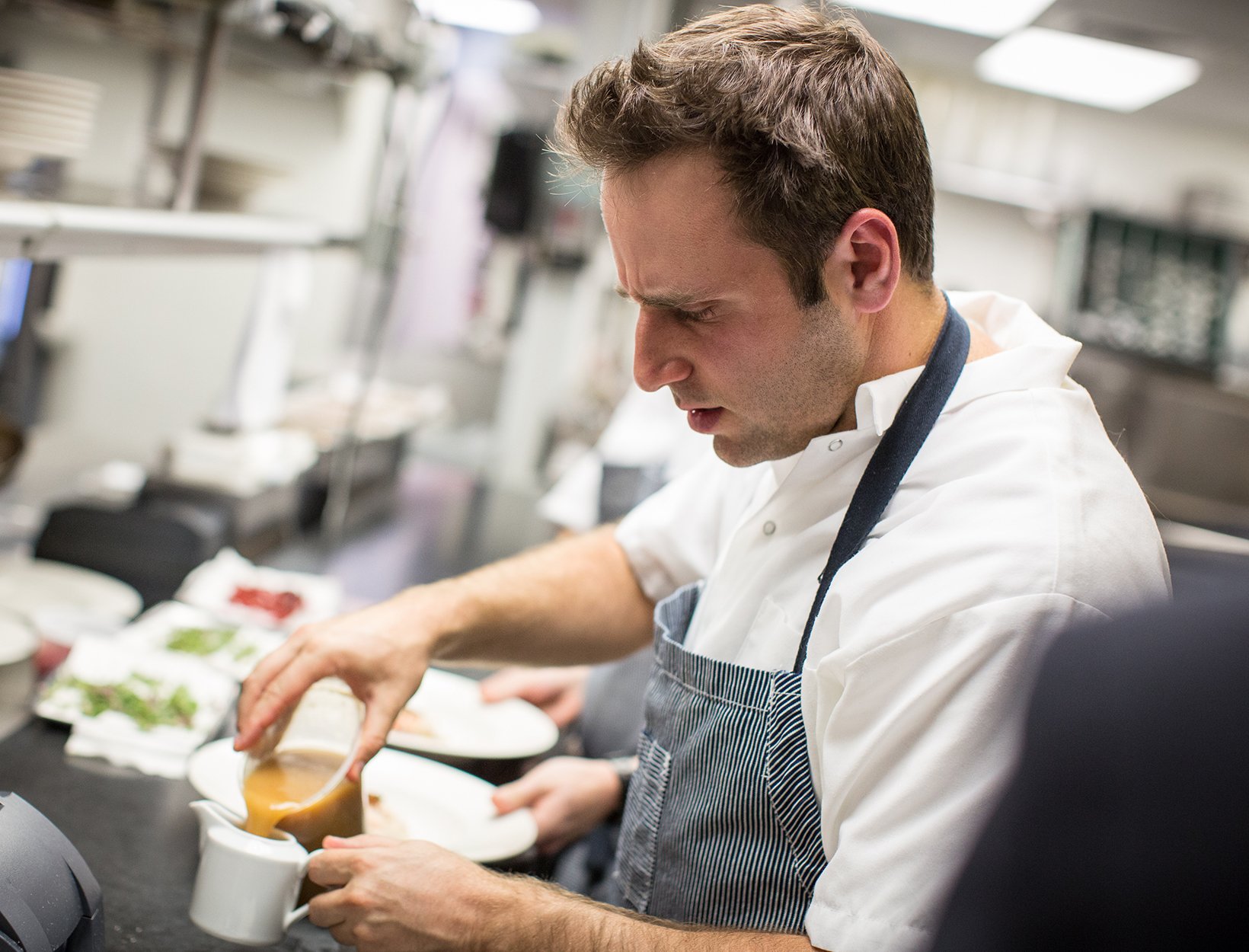 The Off-Duty Chef: Boka Restaurant's Lee Wolen
With their crazy schedules and even crazier culinary skills, we've always wondered what chefs actually cook for themselves when granted a rare (and much-deserved) moment of down time. So in our new series "Off-Duty Chef", we're polling some of our favorites, hoping their off-the-clock culinary lives are just like ours. (Spoiler alert: they're not.)
We first met Lee Wolen, the lauded chef of Michelin-starred restaurant Boka at our Chicago goop x Cadillac dinner last fall—and were instantly blown away by his refined, understated, unbelievably delicious seasonal food. And we're not the only fans: Boka's been booked solid almost since the day it opened, and has become something of a constantly-innovating (current offerings range from an asparagus, egg yolk, sunflower seed, and sorrel soup to short ribs with turnips and black garlic) Chicago institution. Below, the Cleveland native shares some of his fridge essentials (which always includes some Cleveland Kraut sent from his mom and turkey meatballs made by his wife), his dream dinner party guests, and a seriously good (if a little involved) grilled beet salad that's perfect for summer entertaining.
What's the last thing you Googled?
"How to make the best grilled cheese."
Where do you eat on your nights off?
"Momotaro, Monteverde, Old Jerusalem, Cold Storage."
If you could cook dinner for any five people, who would you choose?
"I need seven. Barack and Michelle Obama, Lebron James, Steve Nash, Ellen, Adele, and Gwyneth Paltrow, obviously."
What's one dish you'd be happy to never make again?
"Anything beef."
THE FRIDGE CONFESSIONAL
Aka the five things you'll always find in Wolen's kitchen.
1. Ketchup: "Sir Kensington's has much less sugar and no corn syrup."
2. Turkey Meatballs: "My wife makes them for me—they're pretty much my favorite dinner ever. I like to eat the leftovers cold for breakfast, too."
3. Orange Juice: "Fresh squeezed from Plum Market."
4. Bertman Ballpark Mustard: "Being from Cleveland, I was raised on this. I like to give small bottles away as gifts."
5. Something from Cleveland Kraut: "They make great fermented products that come from a small company out of Cleveland that my mom turned me onto."
This salad has A LOT of steps, but if you have the time, it's worth the effort. And if you don't have the time, buy pre-cooked beets, smash the avocado instead of blending it, and use only one grain.

GET RECIPE