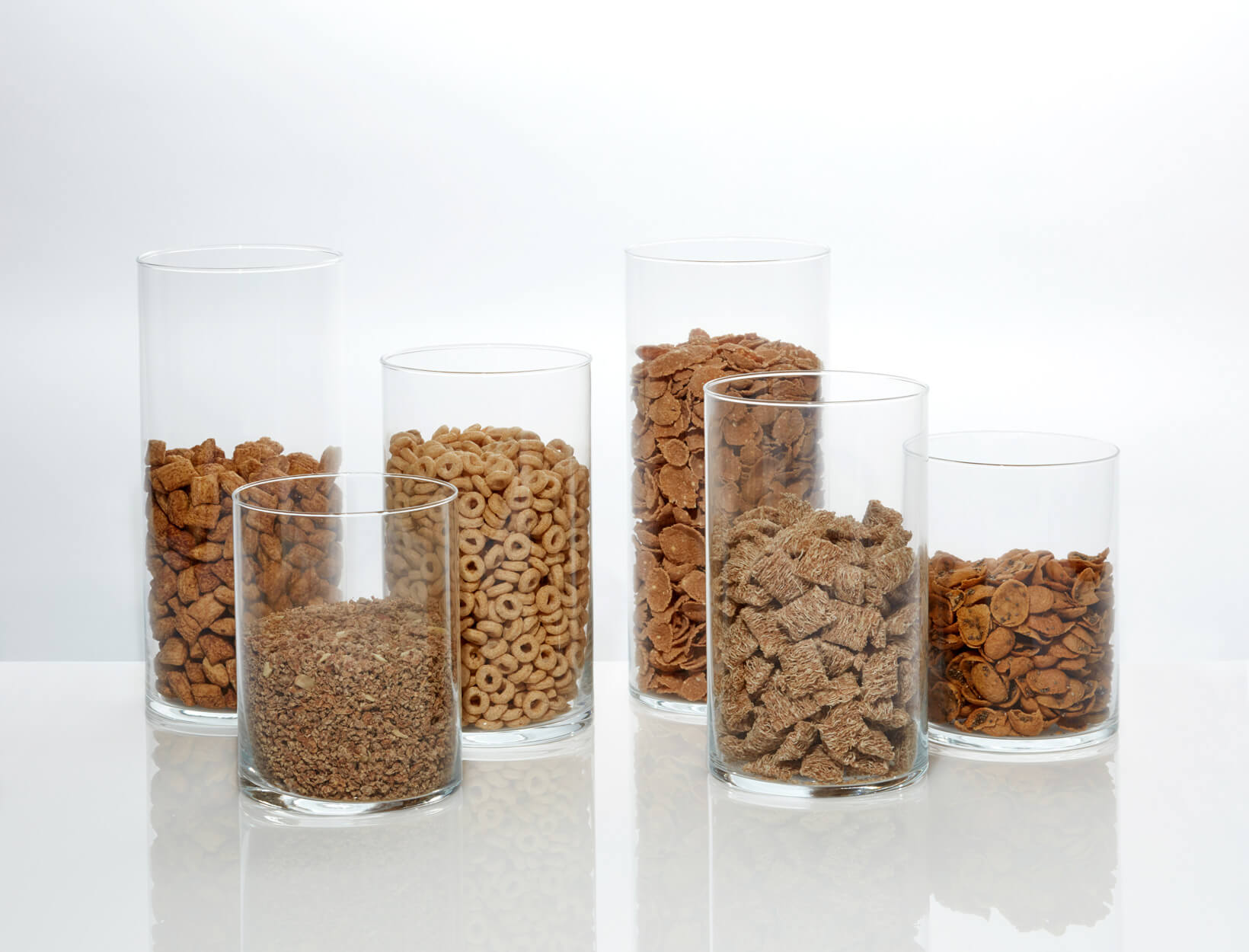 Supermarket Sweep: A Nutritionist's Guide to Healthy Cereals

For most parents (and pretty much everyone who ever lived), cereal is a pantry staple. It's easy, kids love it, and, according to most cereal boxes, it's full of whole grains and quality ingredients. But when you actually read the ingredients lists, many turn out to be packed with preservatives, scary amounts of high-fructose corn syrup, and all manner of additives—not exactly brain food. As both a mom and a nutritionist, Keri Glassman, MS, RD, CDN, and the NYC-based founder of Nutritious Life, gets the cereal conundrum. Here, her great advice on how to read cereal labels, plus her six top picks for kids (and/or munchies-stricken adults).
Keri's Guide to Deciphering a Cereal Box
Sugar: Less than 8 grams (from sources like honey vs. high fructose corn syrup).

Fiber: 5 grams or more

Free of: BHT (Butylated hydroxytoluene)/BHA (Butylated hydroxyanisole), high-fructose syrup, isolated soy protein, hydrogenated oils, food dyes

Protein: At least 3 grams and up to 8 grams, which is preferable.

Minimal Ingredients: The fewer the ingredients, in general, the more it consists mostly of whole foods.

Organic/Non-GMO: Ideally, you want organic which will also, of course, be non-GMO.
Top 6 Cereals We Love
Food for Life Ezekial Almond
Sprouted Whole Grain Cereal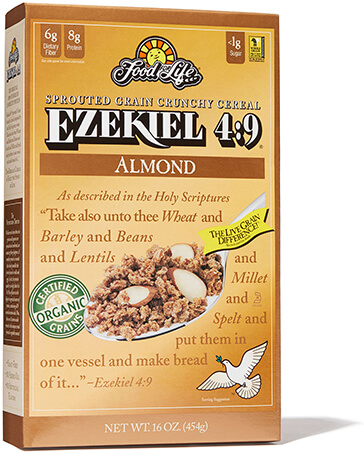 Sprouted wheat, malted barley, sprouted barley, and sprouted millet (all of them organic), this crunchy cereal has also got 6 grams of fiber, 8 grams of protein—and less than 1 gram of sugar.
KERI SAYS: "This cereal is great because of the fiber, protein and sugar ratio coupled with super-high-quality ingredients. It's packed with fiber, which provides multiple benefits including heart health and keeping you full, plus protein for satiety. I like all packaged foods to have as little (or no!) added sugar, so that's key, too. Probably the more important fact—all of the ingredients are high quality, organic, and sprouted (which makes them easier to digest)."
GOOP SAYS: "It's super crunchy—almost like grape-nuts—so it holds up well in a yogurt parfait. But with no added sugar at all (refined or otherwise), you might want to add fresh berries or sliced bananas to entice your kiddos."
Barbara's
Cinnamon Puffins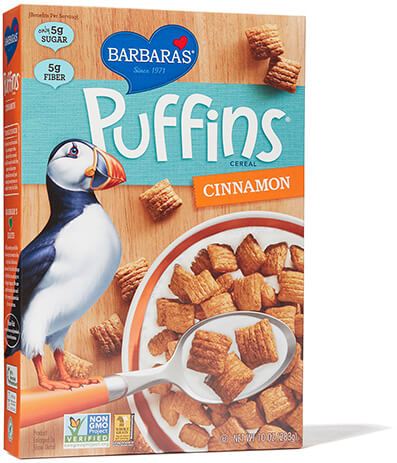 Made with corn and whole oats, this is non-GMO verified and has 5 grams of fiber, 5 grams of sugar, and 3 grams of protein.
KERI SAYS: "When it comes to satisfying your sweet tooth this one does the trick thanks to the little bit of sugar (cane, not high fructose corn syrup) and the cinnamon—which has health benefits of its own—and is a great 'sweet' spice."
GOOP SAYS: "The intense flavor of the cinnamon coating makes these little puffins too strong for snacking on right out of the box, but the flavor mellows out nicely in milk."
Nature's Path
Heritage Flakes
Made with kamut, whole wheat and wheat bran, barley, millet, and quinoa, these slightly-sweet flakes have 5 grams of fiber, 4 grams of sugar, and 4 grams of protein. Plus, almost all ingredients are organic.
KERI SAYS: "It's got a satisfying crunch, and it's high in protein yet soy-free, thanks to whole grains and flours like kamut, quinoa, millet, barley, and oat."
GOOP SAYS: "We love the crisp, crunchy texture and mildly sweet, wheat-y flavor."
Nature's Path Qi'a
Superflakes Honey Chia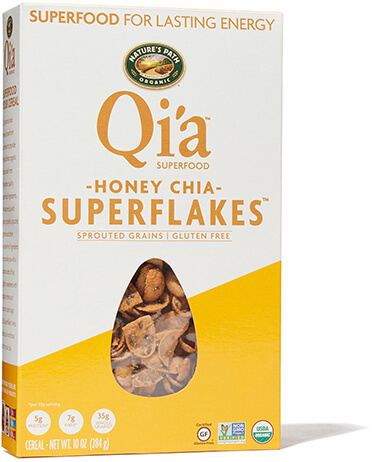 With 7 grams of fiber, 6 grams of sugar, and 5 grams of protein, these crunchy, chia-dotted flakes are fantastic. All ingredients are organic (except for the sea salt), and sprouted sorghum is the first ingredient listed.
KERI SAYS: "There are some pretty gruesome flaky cereals out there—if your kids are flake lovers, I like this for the organic ingredients, and, even though there's a little added sugar, it also has a good amount of fiber and protein."
GOOP SAYS: "These have quite a crunch, from both the flake itself and the chia seeds studded throughout. It's pleasantly sweet from honey and coconut sugar, but not too much so. It definitely improves with the addition of milk—as opposed to snacking on it right out of the box."
Kashi
Autumn Wheat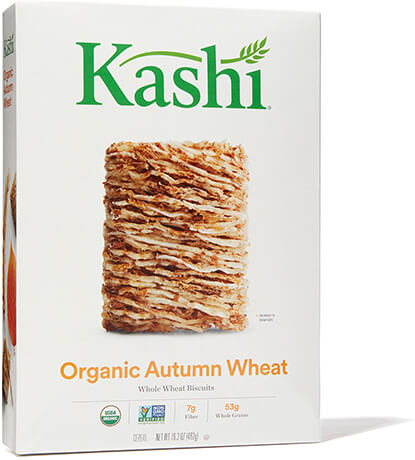 This cleaned-up shredded wheat has only three simple ingredients, all of which are organic. The high fiber and protein content (7 grams of each), will keep your kids (or you!) full until lunch.
KERI SAYS: "Pure whole wheat plus sweetness. In a rush? You can even skip the milk by throwing this cereal in a bag, and coupling it with a hard boiled egg for a little protein."
GOOP SAYS: "Classic, straightforward shredded wheat squares—exactly what we want with shredded wheat. It's simple, delicious, and we love the texture when combined with milk."
Cascadian Farms
Organic Honey Nut O's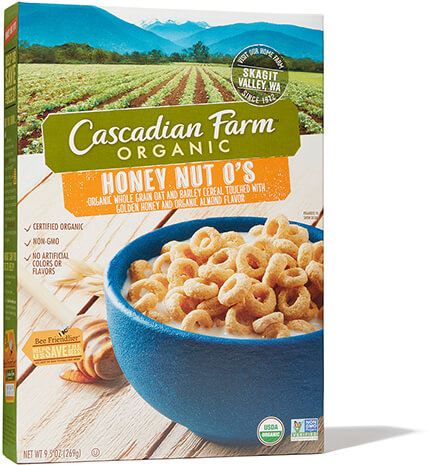 Although this one doesn't meet the general guidelines for fiber (only 3 grams) or protein (only 2 grams), it's made with whole grain oats and barley and the sugar comes from real sugar, honey, and molasses (no high-fructose corn syrup).
KERI SAYS: "An upgraded alternative to your staple cereal, (the organic ingredients are great), this option still contains a bit of sugar, but also leaves out tripotassium phosphate, an additive that is found in other similar cereals."
GOOP SAYS: "While this classic was the crowd pleaser at the office and at home with the kids (surprise, surprise), it's by far the sweetest of the ones we tried. The texture, though, is perfectly light and crisp."