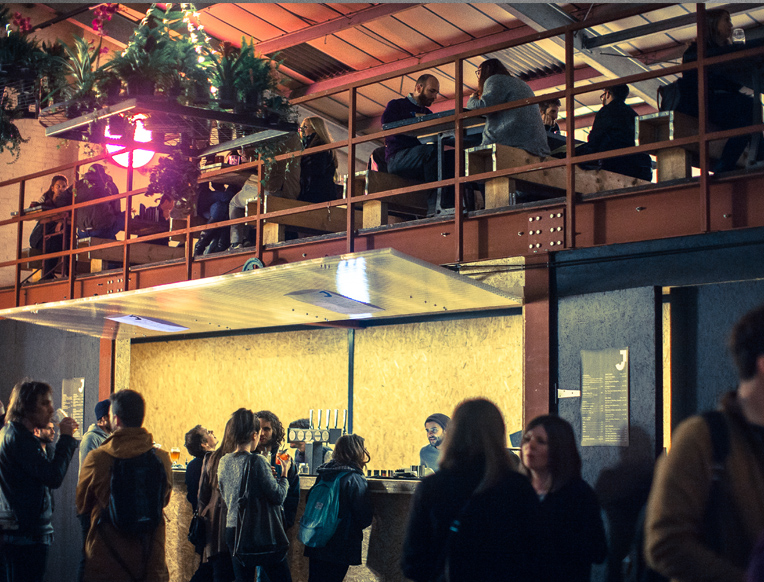 Kombucha's London Arrival
Admittedly London's a little late to the party when it comes to Kombucha: Over the years there have a few several feeble attempts at bringing this gut-healing tonic to the market shelves, though nothing has quite stuck in the way that many brands have in the US. That's all about the change thanks to the innovators at the ever-expanding CRATE beer brewery in Hackney, as they've opened London's first Kombucha bar at their new space, Mick's Garage. Not only have they imported the recipe and developed their own brand of Jarr Kombucha, but they've also brought a glowingly healthy master brewer Adam Vanni straight from LA, duh.  
Here, in this hulking ex-car-garage-turned-bar, Vanni and co. are serving up their delicious plain, ginger, and passion fruit flavors along with a suite of Kombucha-based cocktails (they're actually really good). You can chase those with any of CRATE's own excellent brews on tap or keep it clean throughout the night.
Perhaps more exciting than the fact that London finally has an excellent Kombucha drink is its arrival on the bar scene: It simply makes so much sense as a beer alternative, and not just for the teetotaller. With the ever-so-hip Mick's Garage as a pioneer, we're hopeful that more bars and pubs will catch on, and we'll find it on tap at other locations across the city.