It's All Good:
Delicious, Easy Recipes That Will Make You Look Good and Feel Great
by Gwyneth Paltrow and Julia Turshen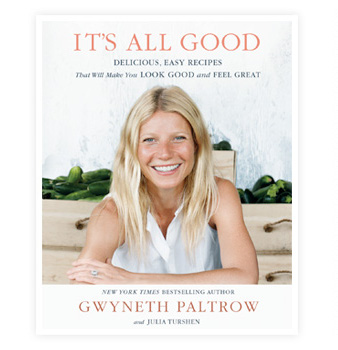 Q&A with GP
We knew our Editor-in-Chief was hard at work with her second book and seeing it now, we are pretty blown away. Here's what we wanted to ask the author/our founder.
Q
The photos are stunning, and more than just recipes, they emanate this clean and healthy (yet intensely interested in beauty and taste) lifestyle. Has this book of recipes that both taste good and make you feel good affected the way you approach cooking and ingredients?
A
My philosophy is: eat good, fresh food that is totally delicious. It has to taste great and be fulfilling to all of the senses. We know so much now about how inextricably linked our food is to our overall health. The bottom line is, our bodies have a hard time with anything processed. That doesn't only mean kool-aid and goldfish. White flour, white rice and soy milk are all heavily processed as well. I know from my own research that the more whole the diet, the better I feel. I wanted to do this book so I would have a mini encyclopedia of truly delicious recipes that were healthful and nourishing, and above all easy (I am an insanely busy working mother!).
---
Q
Wanting to spend more time with family rather than in the kitchen is sometimes stated as a reason people don't cook as often as they like. Your kids are prominent in this book – it's clear that cooking for you is a family affair. How has it happened this way?
A
I've included my kids in the kitchen from almost the time they were born. They were always strapped to my back when I was cooking or nearby in a highchair watching and banging spoons. From very early on, I encouraged them to participate and let them do "dangerous" tasks such as cracking an egg or stirring something carefully over heat, and they always felt proud. Later we started doing math with measuring cups and ounces. I was always looking for ways to show the kitchen as a place to acquire vast practical knowledge. My son, in particular, is extremely into it.
---
Q
Your kids are such good eaters and seem to like all the right foods – in a world where kids menus and snacks are dominated by high sugars and fats, how can we steer our kids in the right direction?
A
I tried to start them off with all of the right foods but as they got older, the lure of Oreos and cotton candy outweighed the lure of carrots with hummus. And that's all a part of childhood and I love Oreos too, so I completely understand. I try to make sure that what is on their plate at home is nutritious and tasty and then I loosen way up on the reins when we are out. They love a brown rice stir-fry but they also love their "Coke of the week." My daughter gravitates toward fresh fruit and raw nuts but will inhale a bag of hot Cheetos at the airport. It's all about balance.
---
Q
Even the most avid of home cooks can get stuck in food ruts, making the same recipes over and over (guilty). The recipes in It's All Good are fresh and exciting while still being very much you. How do you continue to innovate in this way while maintaining your culinary identity?
A
My food comes from me and so it is true to me. I just know what I want to eat. And if I want something, or my family wants something, and it's on the restricted food or allergy list, I love to find my way around the obstacle. I'm all about finding my way around an obstacle.
---
And a little something from the kids' section
Recipes courtesy of It's All Good: Delicious, Easy Recipes That Will Make You Look Good and Feel Great by Gwyneth Paltrow and Julia Turshen.
Copyright © 2013 by Gwyneth Paltrow and Julia Turshen. By permission of Grand Central Publishing. All rights reserved. Photos by Ditte Isager.