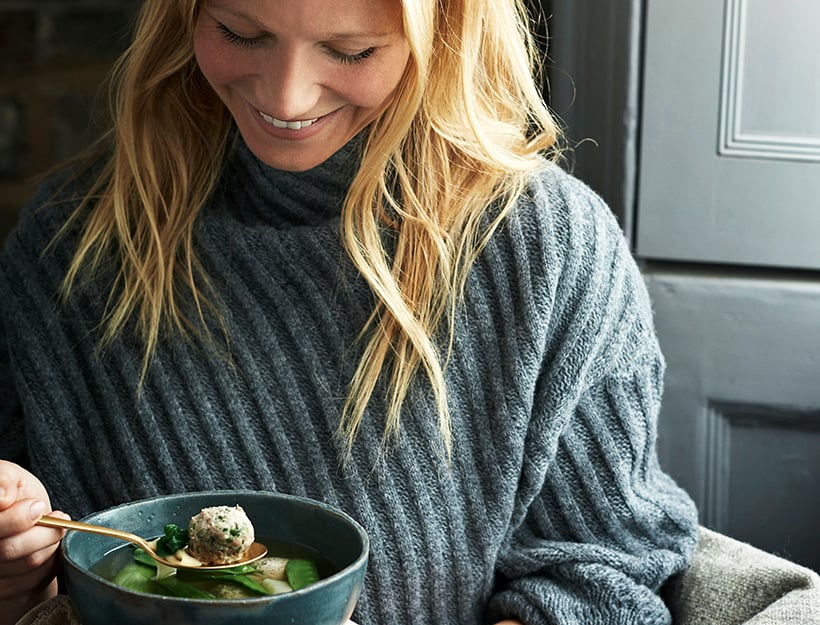 It's All Easy is Here—and GP Answers Some Q's
GP's third cookbook, It's All Easy, which she co-wrote with our food editor, Thea Baumann, comes out tomorrow on our official book imprint, goop press—making this officially the biggest few months for goop, ever. (In case you missed it, we launched our goop by Juice Beauty skincare line last month.) We got to watch GP and Thea put the cookbook together—and finagled our way into the kitchen for as many impromptu "absolutely necessary meetings" a.k.a. recipe testing opportunities as possible—so when it came time to grill GP about this book, we sort of felt like all our own questions had been answered. We don't get her aversion to dill, will never understand why she doesn't like fruit, nuts, or hummus in salad (I mean, who doesn't like apples in salad?), and would way rather put down a can of Easy Cheese than smoke crack—but then, she makes some damn good food. So we opened up the forum to you guys, and GP got to work answering your questions—keep them coming @goop, and she'll keep answering them in issues to come. (Also, you'll find her top two favorite recipes from It's All Easy below.
I've read that you strive for balance when it comes to eating what you love and the good green stuff. I feel that I do the same, but every time I eat something comforting like pizza and wine on date night I feel the guilt! Do you deal with food guilt too? —@tintinita

GP: Guilt is a completely useless emotion that keeps us mired in the past and is a trick of the ego. I try to eat on the healthier side, but I'll tell you, when I have my pizza and wine, I enjoy it to the last crust. Delicious food should be eaten with enjoyment. Balance is always important, but let's face it, nothing is better than a good pizza.

Can you give an average day of food for you? —@cspieske:

GP: I'm not a big breakfast person. I start my day with coffee and can't really stomach food until after exercise. About 10 'o'clock, I have a nutrient-dense smoothie that costs nowhere near $200. I always eat salad for lunch with some protein, and as a general rule, I eat whatever I want for dinner.

I can never get a nice crust when I pan fry scallops. They end of shedding so much liquid in the pan! Tips? —@basil_chan

GP: It is very, very important to get anything you sear fully to room temperature before you get it in your pan, otherwise the cold food will bring down the temperature of the pan (and the fat you're cooking it in), the juices in the protein won't evaporate quickly enough, and the food will steam instead of searing. I heat my pan over medium high and really let it warm up before searing the scallops in a mix of butter and oil.

What is the best-tasting non-dairy substitute for cheese in recipes? My daughter has a severe whey intolerance, but of course craves childhood faves such as ooey-gooey turkey lasagna! —@aprilmalnar

GP: I never thought I'd say this, but I've gotten very into cashew cheese and cream. We have a great recipe for the cream in It's All Easy—it's astonishing how seamlessly it stands in for whipped cream. Cashew cheese can be bought at a health food store and is pretty effing good, all things considered.

I've transitioned from an American diet to a diet without gluten, dairy or refined sugar. I feel great and I know it's the right thing for me, but, people ask me all the time: "So are you just never going to eat pizza or doughnuts or cheese and crackers again?" I give a pretty long-winded explanation and it normally shuts them up—but what would you say? —@theonlybody

GP: A mentor once told me, powerful people do not need to explain themselves.

Any suggestions for a regular blue-collar guy who eats vegetarian and is looking for something a little cooler or more masculine than bringing my plastic salad bowls into the break room. —@screra

GP: My new book, It's All Easy, contains a chapter called "On the Go," exactly for this purpose. We were inspired by British sisters Hemsley & Hemsley to create delicious noodle pots to bring to work. Fill them up with whatever ingredients you want, and then simply add hot water and let it sit, stir, and voila. That, or a good hearty vegetarian chili like the one in my first book, My Father's Daughter, will never get a macho man a sideways look.

I am pregnant and have been very nauseous in my first trimester. Before I loved cooking healthy, primarily eating tons of greens and salads (my favorite!) but now they sound awful and I'm having a hard time thinking of healthy recipes that sound good and are easy to make. Any advice? —P.S.

GP: Eat what you can stomach and don't be hard on yourself. When I was pregnant with my daughter, I went from being gluten-free, dairy-free, and sugar-free to only being able to stomach grilled Swiss cheese sandwiches, french fries, and Baskin-Robbins Jamoca Almond Fudge.

What's your favorite dish to cook for someone you want to pull out all the stops for? As in, reallllly impress them! —@stars_go_blue

GP: The paella in my first book is a recipe that's dear to my heart, and one I have been cooking for years. It's not a quick one, but it creates an incredibly impressive-looking one-pan dish. We have a chapter in It's All Easy called "Unexpected Guests" where we lay out our easiest entertaining recipes. I love the "Fish in Parchment, Three Ways"—one of the recipes is below. It's like everybody gets an individual present—and who doesn't feel special when they get a present?

We grew up with our dad's home-cooked family dinner on Sundays. What is your go-to Sunday family dinner? —@esimmons3

GP: I love comfort-food Sundays—that usually results in a delicious pasta, a nice green salad, and some garlic bread.

What's a good way to incorporate veggies into food for kids? —@cecilemckechnie

GP: The best way to incorporate veggies, in my experience, is to put out a lot of little dipping sauces. Kids love hummus, pesto, miso dressing, and anything else you can think of. And what they really love is a bit of autonomy when they are at the table and anything that's do-it-yourself seems to go down a treat—things like lettuce wraps, make-your-own-healthy tacos, etc.

I would love to know a good substitute for tomatoes in recipes. My husband is allergic to night shades and there are so many recipes I would like to try. —@vanessa4tam

GP: Carrots are traditionally a macrobiotic substitute for tomatoes and you would be surprised how much flavor they can add when sautéed and reduced. Incredible sweetness and depth can come out of a slow-cooked carrot and you can always add a little soy sauce or anchovy for some of that tomato umami deliciousness. #nerdalertcentral.

What are three things readers would be most surprised to know about you and your life? —@dhuckelbridge

GP: That I really enjoy food that can be considered bad for you, like martinis and french fries. If left to my own devices, I'll sleep for 10 hours a night. And I'm harder on myself than anybody else could ever be.

Given that you eat a pretty balanced diet I was wondering what your take on supplements/vitamins is. Do you take any, and if, so what? —@paigew31

GP: I recommend seeing a doctor who draws blood and genuinely determines what vitamins you need; it varies so much from person to person, as does the quality of vitamins. In this modern world, when density of nutrition in food has gone down, I personally take supplements to augment certain things, like magnesium, which soothes the nervous system and is a mineral that enters the fruit or veggie at the end of the ripening process, meaning we don't get enough in our diets.

Would you still rather smoke crack than eat cheese out of a can? -@eloehnen

GP: Hell yes. You know, crack might be extreme, but spray cheese is not my kind of party.

What are your favorite me-time practices and how do you make time for self-care as a busy mama? —@mamasmetime

GP: I have a bath at the end of every day with Epsom salts or one of the lovely bath products we have in the goop shop. It's my time to unplug, float, and reflect.

It seems to me the media has made gig of coming for you; taking things you say or suggest out of context, not researching something you say before jumping on it. How do you keep from letting it bring you down? —@bethjcoffman

GP: Around the time I turned 40, I truly began to understand the importance of remaining on my own side and listening to my instincts. I think that in our culture women get a hard time for shifting a paradigm mid-stream, and I certainly did that! But I fully embrace my role as somebody who is genuinely trying to ask interesting, thought-provoking questions, and I take our quest at goop to push back, discover things—thereby sometimes moving the needle—seriously.

How did having children change your career as an actress? —@ulietgrace

GP: One of the best things about having early success in my acting career was that I felt freed up to step out of it, and follow the incredible instinct I had to basically stay home for three or four years. This is an incredible luxury, and I'm well aware that not every woman has it, so I feel insanely grateful for that initial hiatus, which turned into what I would call a sporadic film career.

How strict do you keep your kids foods, do you find it hard to keep them away from foods such as chips, wheat, etc. I personally feel guilty that I eat super healthy myself (gluten-free, dairy-free, pretty much staying away from all bad sources of food), yet I'm not as strict with that for my children. They want donuts, bagels, etc. and I don't want to restrict it because I wasn't that way as a child…any advice? —@westcoasteastcoastgirl

GP: Genuinely it's a nightmare. All kids want is white sugar, white carbs, and processed foods. I think I take a similar tack to you. I try to have a pretty clean pantry at home, but if we pass a bag of Cheez-Its at the airport, or Apple sees Mexican Coke, it's all over.
GP's Favorite Recipes From It's All Easy
A lightened-up, plant-based version of a classic, I might even prefer this to the original.

This is one of 3 variations of fish en papillote we do in the book, but the possibilities really are endless. It may seem complicated, but once you master the folding technique, it's actually one of the easiest and most elegant dinners to make. Added bonus: since everything is contained in a nice little packet, cleanup is a breeze.