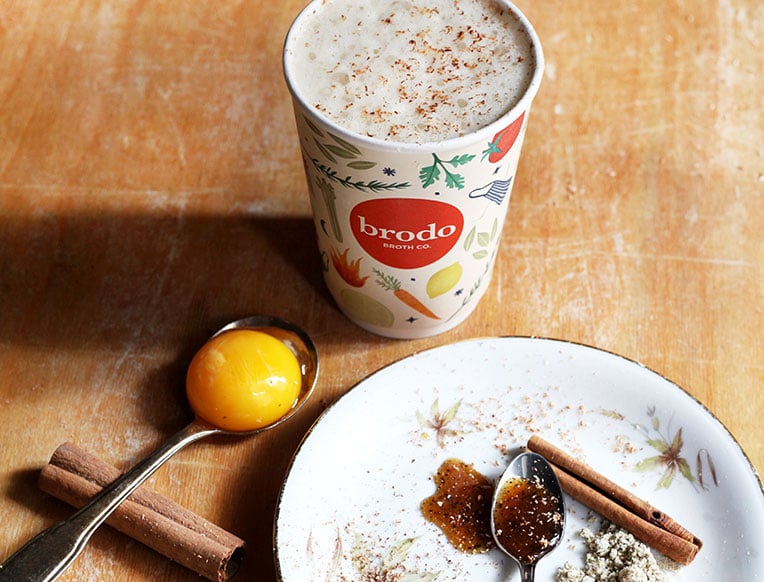 How to Make the Best Bone Broth on the Planet
How to Make the
Best
Bone Broth
on the Planet
Marco Canora started serving bone broth from the takeaway window at his NYC restaurant Hearth in 2014. In fact, it was so wildly popular that he built Brodo, a whole restaurant devoted to the stuff, in 2016. But that's not where it all started for him. "I had a relationship with broth long before it was called 'bone broth'—and long before I knew anything about its health benefits," says the chef and entrepreneur, who also runs Zadie's Oyster Room in the East Village. "Our signature broth at Brodo is pretty much the same broth I learned to make as a child, watching my mom in the kitchen."
Opening Brodo, however, had a great deal to do with Canora's own personal health journey. "After twenty years of carb-loading, smoking, drinking, and working eighty hours a week in high-stress NYC kitchen environments, I was in a deep hole of inflammation and anxiety," he says. The results: gout, high cholesterol, weight gain, insulin resistance, and lack of energy, along with a mental and emotional toll. "I had become short-fused and lost my ability to motivate and manage a staff," says Canora.
Bone broth was key to his path back to health. "Its nutritional benefits and healing abilities for the gut and immunity played a large role," he says. "While there are no magic bullets, as I learned about its properties, I made an effort to drink it more often. And the better it made me feel, the more strongly I felt about sharing the amazing goodness that is bone broth with my customers."
How to Make Bone Broth
by Marco Canora
Get some bones: Visit a local butcher or farmers' market or order them online, and always save the leftover bones and whole carcasses from anything you cook.
Fill a large pot (I recommend eighteen quarts, minimum) four fifths of the way with bones and cover with cold water. The water should cover the bones by two to three inches.
Bring to a boil over high heat. Once it boils, reduce to a simmer for an hour or two, periodically skimming off impurities and fat.
Add organic chopped vegetables, like onions, celery, carrots, and tomatoes (canned, fresh, or paste), along with aromatics, like parsley and peppercorns.
Continue to simmer for twelve to eighteen hours, checking periodically to make sure that the bones are fully submerged.
Strain the broth through a fine-mesh strainer.
Season with salt to taste and let cool.
Transfer cooled broth to storage containers and refrigerate overnight.
Skim off any solidified fat from the top and store the broth for up to five days in the fridge or six months in the freezer.
Common Mistakes
Not skimming your broth frequently enough. Skimming removes impurities and fat for a clear, clean broth.
Skimping on cook time (we simmer our bones for eighteen to twenty-four hours).
Using beef-marrow bones for making broth. For some reason, lots of people believe this is the right bone to use, but it couldn't be further from the truth. The marrow bone, aka femur bone, is a smooth bone with very little meat. The meat is where the umami-rich flavor comes from, so you WANT meaty bones for your broth! The marrow bone also lacks connective tissue, which is where all the collagen goodness comes from. And though marrow is nutrient-dense, it is also pure fat, so it liquefies during cooking and either emulsifies into the broth (giving it an unappealing cloudy/milky look) or, worse, floats to the top, where it's skimmed off with other impurities. (If you want to consume marrow, I recommend you add it to the finished broth with a battery-operated frother.)
Now you've got bone broth. Other than drinking it, what can you do with it?
Cook with it. Good broth is a forgotten staple, something that should appear on your shopping list next to salt, butter, olive oil, milk, and eggs. A good broth makes just about anything taste more delicious, and it adds nutrition to boot. As I write this, I'm braising beef shanks to serve with risotto: Both dishes are even more delicious with bone broth.
Use Bone Broth in These goop Recipes to Make Them Even Better