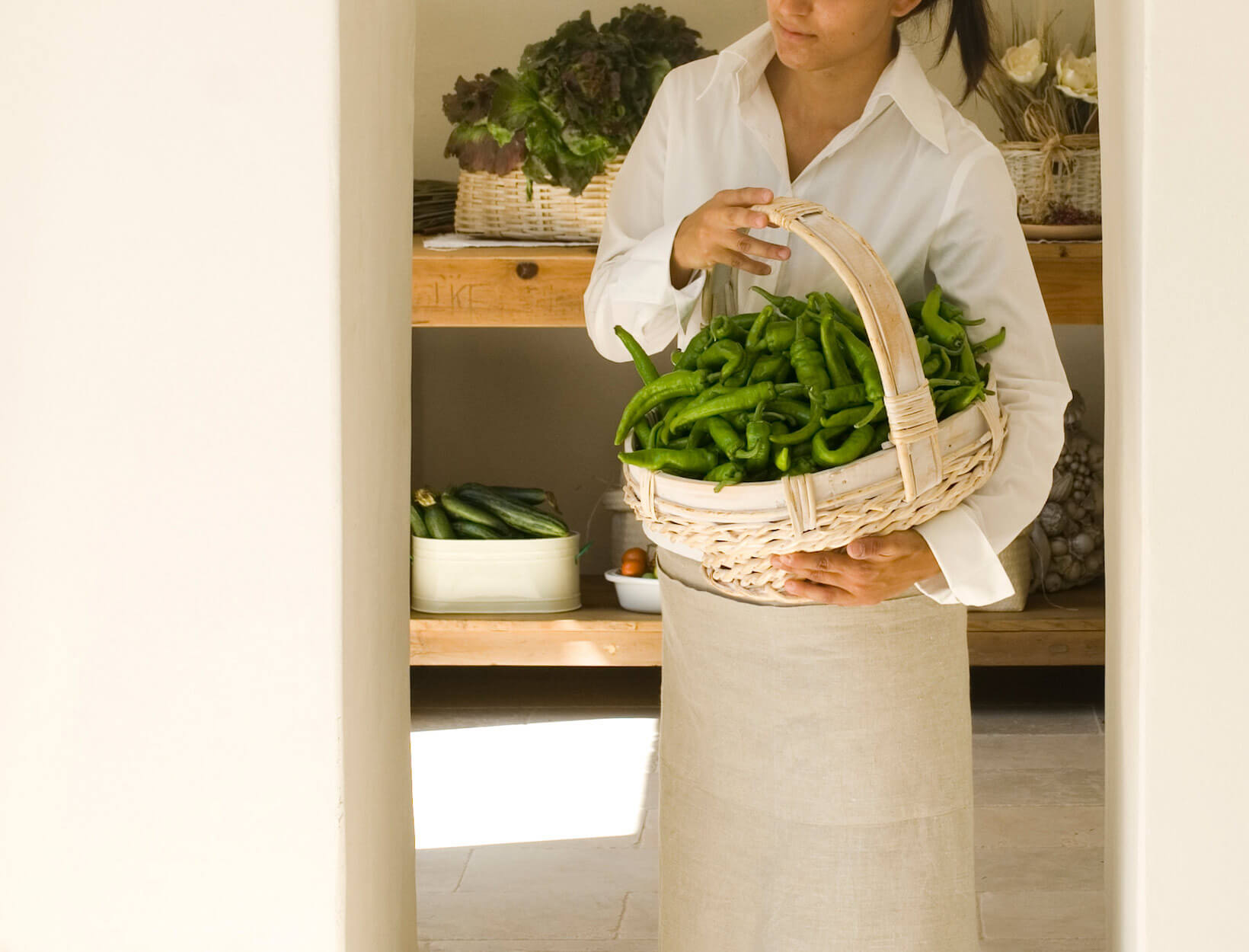 Photo courtesy of The Interior Archive Stefano Scata/Trunk Archive
Grow Your Own with an
Easy Kitchen Garden
We all have the capacity to grow gardens, says Jack Algiere, the farm director at the Stone Barns Center for Food and Agriculture in Tarrytown, New York (the epic gardens fuel the Blue Hill restaurants there and in NYC). A kitchen garden is one of the easiest and most rewarding options. Essentially your own personal, at-home supply of fresh vegetables, herbs, and fruit, a kitchen garden can consist of a few plants on a kitchen windowsill, an easily assembled backyard garden bed, or something more elaborate. No matter which you choose, there's nothing as delicious as just-picked, no matter what you're cooking.
"My favorite thing to eat is whatever's in season," says Algiere. "In summer, I love to roast fennel—that's probably one of my favorite snacks. There's so much diversity in the world to explore, stuff that the store doesn't have. Start with what's simple and what you love to eat—that way you'll give it the attention it needs, which is really all you need for success." Algiere gave us his best kitchen-garden-growing tips, whether your garden is inside or out. Sauté your favorite seasonal vegetable with a little olive oil and salt in one of the pans from this two-piece clean nonstick frypan set.
1
Find Your Light
"If you're planting inside, you want a sunny, warm spot that's not too dry," says Algiere. "Very few vegetables grow well with less than half a day's worth of light," he says. "The plants that need the most light are fruiting things, like tomatoes and peppers. If you don't have lots of light, grow more-vegetative things like parsley, cilantro, lettuces, and mustard greens—things like that. If you're starting outside, the key, again, is to make sure you have enough light."
The foolproof countertop grower
This self-contained hybrid hydroculture setup sits on your countertop and programs both the light and water supplies depending on what seeds you're growing—the result is pretty much perfection, as the top chefs all over the country who use the SproutsIO in their kitchens will tell you. It works through an app that makes the whole process even more seamless.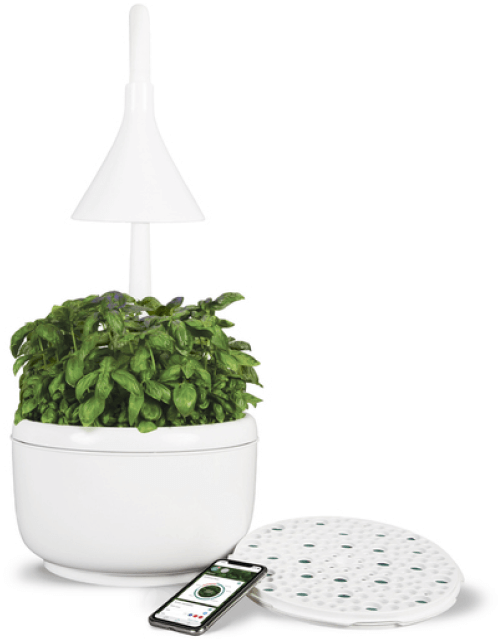 SproutsIO
SproutsIO
goop, $799
SHOP NOW
Kit for healthy microgreens
Here, all the tools you need to get growing: grow tray, seeds, and how-to instructions for the least green-thumbed among us. Stick it on your kitchen windowsill for the best light and watch, amazed, as those teeny little seedlings start to sprout. Now that's about as homegrown as it gets.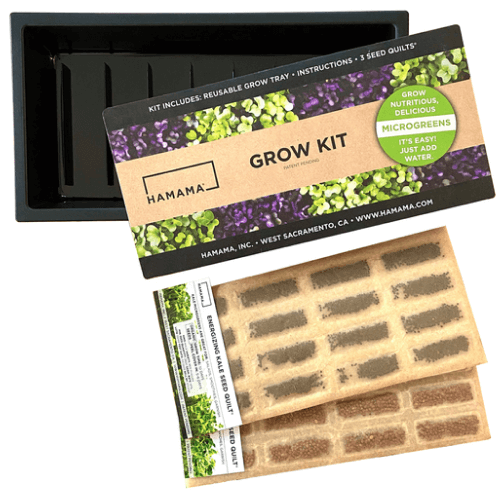 Hamama
Microgreen Starter Kit
goop, $39
SHOP NOW
Easiest seed starter
You grow these organic seeds in their own leakproof rice paper bags. Then, once they're big enough, transplant them outside or into pots. Not known for your green thumb? Don't worry; this set comes with detailed, easy-to-follow instructions. Plus, each bag contains coconut husks at the bottom for proper drainage (overwaterers, relax).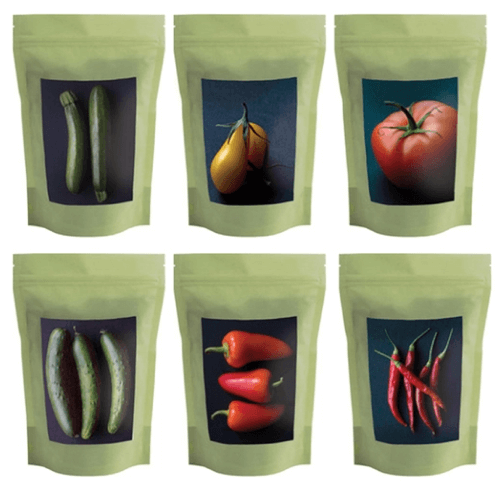 Potting Shed Creations
Seed Starter Set
goop, $55
SHOP NOW
2
Get the plot right
"One of the most important things is setting up the garden bed," says Algiere. "If you do that right and you pick a good spot, you'll set yourself up for years of success. Don't rush it. The garden setup is just as fulfilling as growing plants. If you can put a garden in your backyard or you have a spot to put in a raised bed, then you have more options. It helps to have a little bit of history of the place that you're digging into: It's always good to smell the soil, take a look at it. If there's something already growing there and it looks healthy, that's a good sign. If you're not sure, use a raised bed. Whatever the space or container, you then add other ingredients like peat moss, sand, and compost. You want a blend that isn't too dense and can absorb and drain water properly." Another amazing container option: hydroponic gardens, which grow plants incredibly efficiently and quickly. In not much space, you can produce an enormous number of plants.
GROW THIRTY PLANTS AT ONCE
You can grow up to thirty different vegetables, fruits, flowers, and herbs all at once with this hybriponic grower. It works with preplanted cubes (you get thirty of them with the kit and can order more as needed), so all you need to do is add water. Your first harvest should be in a few weeks, and you often get multiple yields from a single plant—it's pretty amazing.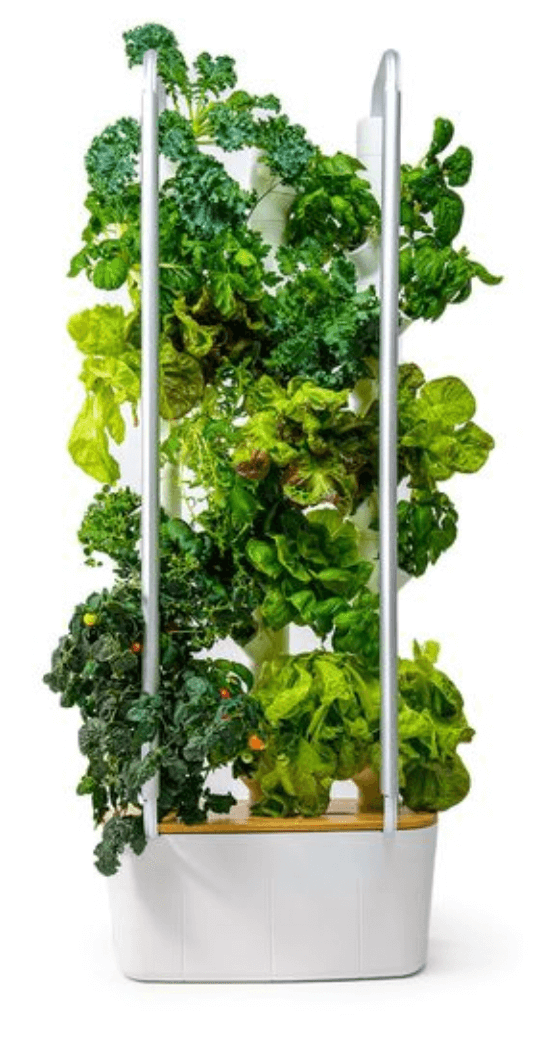 Gardyn
Gardyn Home Kit
goop, $749
SHOP NOW
Vertical garden
This vertical garden, which stood outside our old goop office for years, overflowed with vegetables and herbs that we grabbed and used in the goop kitchen. It comes with twenty-four thoughtfully curated, presprouted plants to take the time and guesswork out of growing your own food: It's self-watering and self-fertilizing, so taking care of your mini farm requires only about five minutes a week. And it's made from ocean-bound plastic recovered from coastal communities. At four-foot-ten, the Farmstand can sit outside on a patio or in the backyard.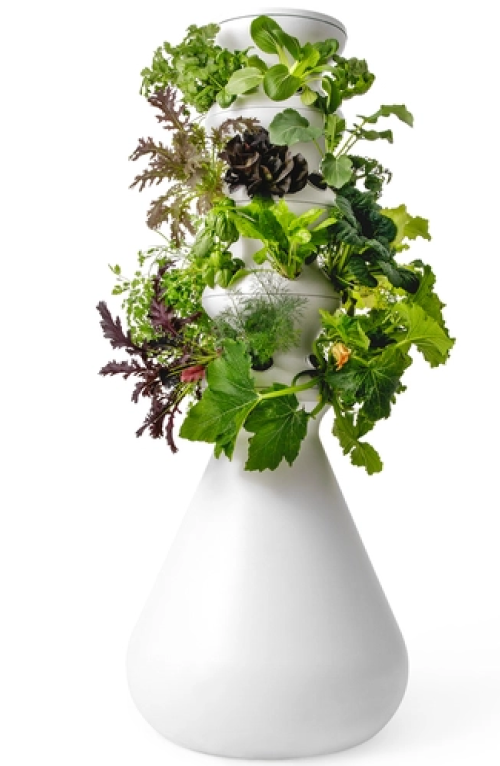 Lettuce Grow
The Farmstand
goop, $547
SHOP NOW
3
To start seeds or small plants,
a great potting mix helps
"As farmers and growers, we never refer to the material that's inside a pot as soil," says Algiere. "Soil is in the ground. You wouldn't dig up a little spot in your yard and put it in a pot and plant vegetables. You should get a really good potting mix. Across the country, there are great companies that make potting mix available either through nurseries or through national seed companies like Johnny Seed. My favorite is the Fort Lee mix from Vermont Compost. We don't buy a lot of outside products on this farm, but all of our starts for our nursery are in that potting mix. In general, look for organic potting mixes because of the materials that go into them. They usually have added some compost for nutrition."
4
Add Some Compost
"Good garden compost is key," Algiere continues. "Not all compost is the same. There are also a lot of different places you can buy it from, usually local nurseries. We make a lot of compost at Stone Barns for different things—for our greenhouse, fields, pastures, perennials. And of course, there are ways to do it at home with different vessels. For anybody interested in making their own, I would suggest doing some studying. Also look to your state's cooperative extension—there are a lot of local resources out there." Check out goop's guide to composting here.
Compost bin
Set this pretty box on your kitchen counter or anywhere you like to prep food, and stow away compostables like eggshells, coffee grounds, and fruit peels. Composting is good for the environment, not to mention good for your garden, and this bin makes it easy by neatly sealing everything up in the process.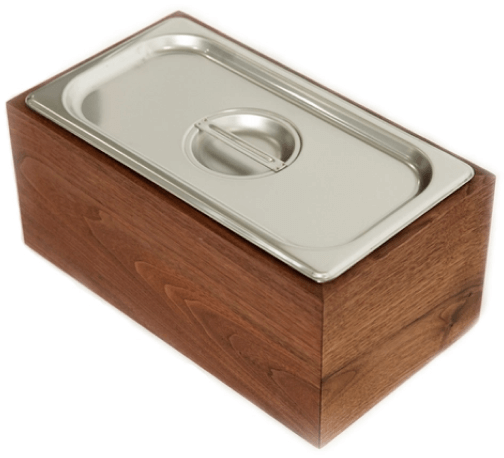 Alasaw
Countertop Compost Bin
goop, $180
SHOP NOW
Countertop Food Recycler
Our food editor has had this countertop food recycler on her wish list since early 2020, and for good reason: It's an easy-to-use alternative to composting that lets you collect kitchen scraps in a bucket, then turn them into fertilizer within hours by running them through an odorless pulverizing and aerating process. Your garden and houseplants will thank you for the nutrients, and the fam will be glad the stinky compost can is retired for good.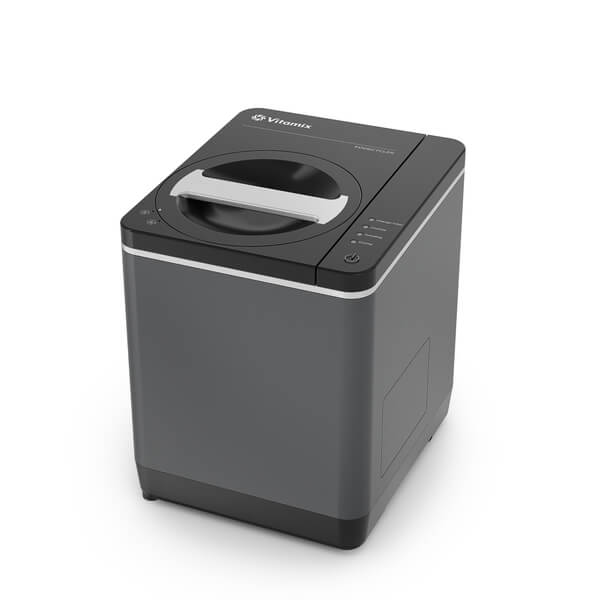 Vitamix
FoodCycler FC-50
goop, $400
SHOP NOW
5
How to harvest
"The plant wants you to be harvesting," says Algiere. "Do it often: Frequent light work is better than infrequent intensity because then it's just not fun. With lettuces, taking off the outside leaves allows the middle to grow out and regrow," says Algiere. "This is called cut and come again, which is manicuring it instead of cutting across the top, which can terminate the whole thing. And you want to pinch it or cut it clean with a good sharp knife to maintain the health of that plant over time."
Small blade set
This set of stainless steel knives is the kind you buy once and have forever (it really does hold up for years). Made in the French Alps, those corrosion-proof blades are so sharp—and the color-happy beechwood handles don't exactly hurt. Use them for everything from foraging for mushrooms to garlic peeling and so much more.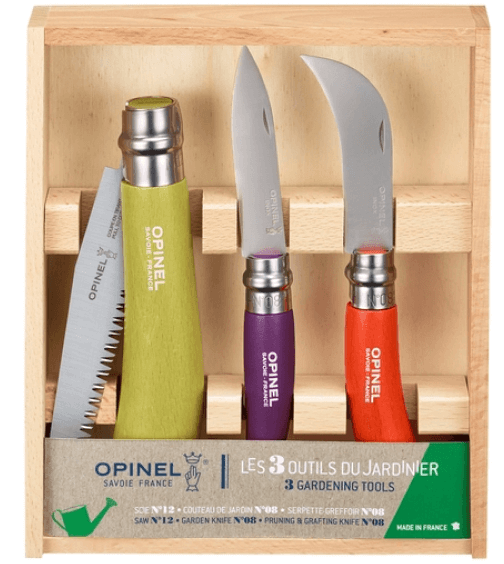 Opinel
Gardener's Tool Set
goop, $69
SHOP NOW
6
Choose a big enough space to plant
"You can grow just about anything in a container—squashes, beans, peppers, eggplant, tomatoes, basil—you just want to make sure there's enough room for the plant," says Algiere. "Five- or seven-gallon containers are fine for most vegetables. If you're creating a raised bed, make it no less than six inches tall; a foot to two feet gives you even more leverage."
7
Small tools are best
"I always tell people that the best tool you have is your hand—it's the most valuable," says Algiere. "You have the most control, and you can feel all the way around the plant without seeing. You don't want to remove yourself too much, which is why I like light hand tools. Small or long wood-handled light metal tools and rakes are always better than big landscape tools."
Pruner
Inspired by old-world Japanese design, these Barebones pruners are as functional as they are chic (note the vintage steel finish and classic copper accents). The durable blades will slice through most stems, and the handle lock keeps them safely shut when you're not snipping away.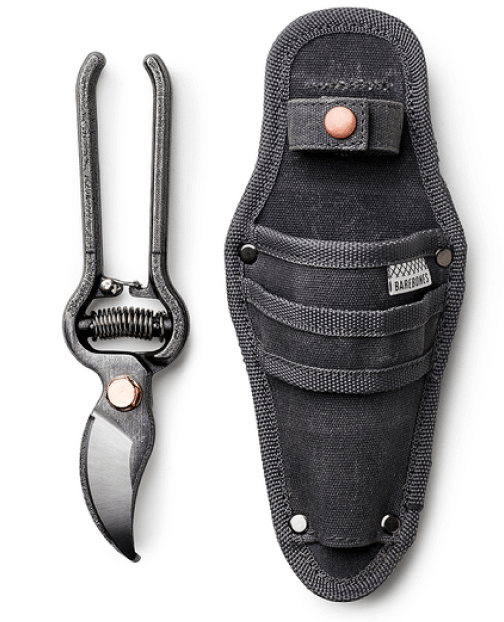 Barebones Living
Pruner
goop, $38
SHOP NOW
Square Hoe
Great for cutting down weeds, breaking up roots, and loosening hard soil, this square hoe—done in rust-resistant stainless steel—will help you prep earth for new plantings. The curved blade makes for easy trenching (raised garden bed owners, we see you), while the gently curved handle provides a comfortable grip.
Barebones Living
Square Hoe
goop, $22
SHOP NOW
Cultivator
Repotting your perennials? Growing a home garden? This small but mighty hand cultivator comes in, well…handy, when mixing potting soil or removing any unwanted weeds. Sturdy stainless steel tines rake through ground with ease, and the ergonomic handle is equal parts comfortable and chic (walnut wood for the win).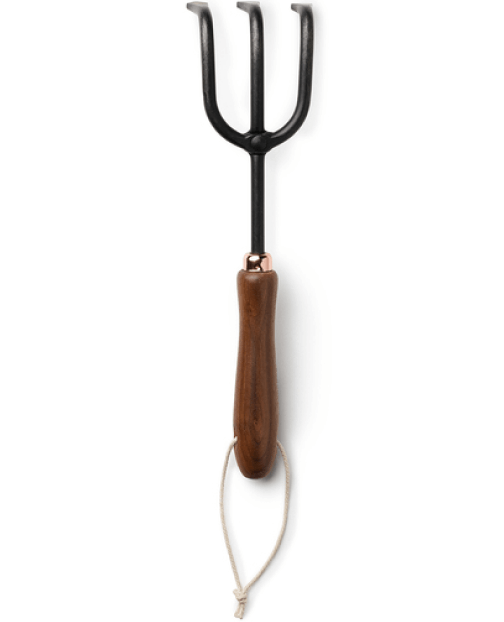 Barebones Living
Cultivator
goop, $22
SHOP NOW
Essentials for the Sun
Plants need the sun, but our skin needs less of it. A chic hat and mineral sunscreen that sinks in like magic are nonnegotiables for any gardener.
Straw hat
Handwoven by artisans in Mexico, this straw hat will be your best friend come summer—wear it to the beach, the farmers' market, wherever. We're particularly fond of the extra-wide brim, which is chic and provides solid sun protection (UPF 50!).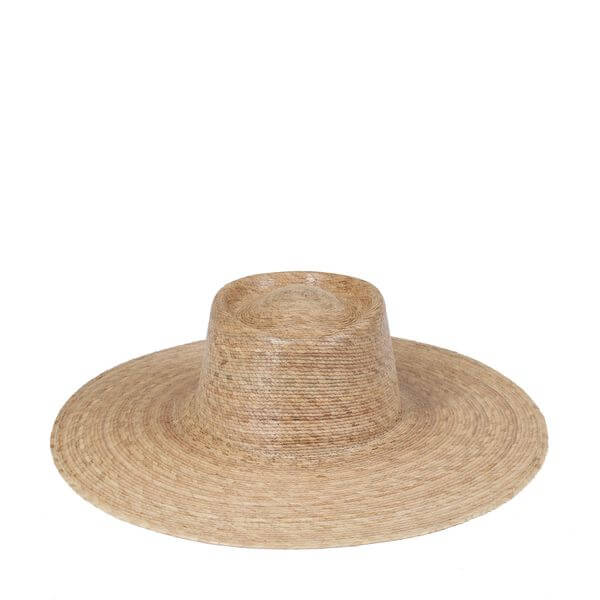 Lack of Color
Palma Wide Boater
goop, $129
SHOP NOW
Mineral Sunscreen
This hydrating light SPF 50 cream smooths right into skin, and it's brilliant for face or body. Titanium dioxide and zinc oxide block both UVA and UVB rays, while shea butter, aloe, rose hip, and calendula nourish skin.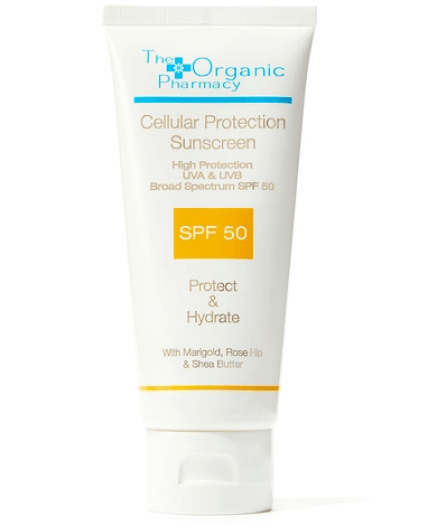 The Organic Pharmacy
Cellular Protection Sun Cream SPF 50
goop, $69
SHOP NOW
SPF Hand Cream
A rich, moisturizing, beautifully textured cream that protects the area of your body most vulnerable to photoaging: your hands. It comes in a tube so we can always have it with us (frequent handwashing not only dries out our hands; it also quickly dispenses of any sunscreen we've applied). It uses nourishing ingredients including aloe, beetroot extract, and cucumber to make it blend like a dream—and leave hands supple, soft, and beautifully protected.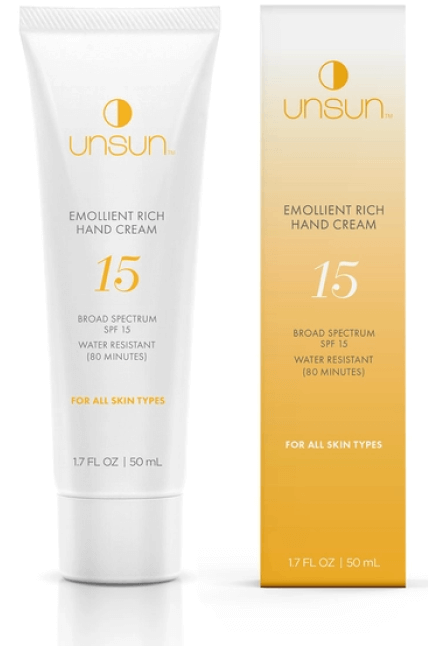 Unsun
Hand Cream SPF 15
goop, $27
SHOP NOW
8
What about bugs?
"If an insect bites a plant when it's really young, the plant starts to let off different pheromones that bring more insects," says Algiere. "Most of the time insects start light and you don't see them, and then it just gets worse and worse. So if you can stop the beginning, you can break the cycle." Inside the house, you can use a diluted DIY spray made of a tablespoon of clean dish soap and a gallon of water. Also try letting your plants dry out a little longer, since most gnats are there for the moisture. "For outside, I love fabric to help protect against pests," says Algiere. "There's this light, translucent, wool-like crop-protection fabric that we use to defend against things like flea beetles and stuff and to keep squirrels off of early things. It's a physical barrier that stops the first cycles of insects from jumping around on the plants." You can find insect netting online at places like Johnny Seed, Gurney's, and many nurseries.
INSECT REPELLENT (FOR PEOPLE)
A silky scented gel you will love and bugs will hate, from acclaimed clean perfumer Douglas Little.
9
When to plant
"A good rule of thumb is knowing when your last frost date is," says Algiere. Of course, that varies across the country, so search for growing guides specific to your location. "In New York and across New England, our last frost date is usually the middle of May," he says. "That said, there are a lot of things that you can plant in April: onions, carrots, radishes, and peas are all fine with frost and can even handle snow, especially when they're young. If you start mid-April, turn the ground, set up the beds, and lay mulch at least two weeks before you plant. Things like tomatoes and basil can go in later in May. For winter squashes and all the real summery crops, plant in late May to early June."
"If you plant things in April, the garden should be pretty packed by June, so that's when you start harvesting and moving things out," says Algiere. "At Stone Barns, we have a big planting date in the middle of July. That date generally sets us up for all of our fall planting. So even though the tomatoes are still growing, you can make some space and plant broccoli, cauliflower, beets, carrots, mustard greens. There's even stuff you can plant later in September, October—spinaches and other greens. Kale is bulletproof: We still have kale in February."