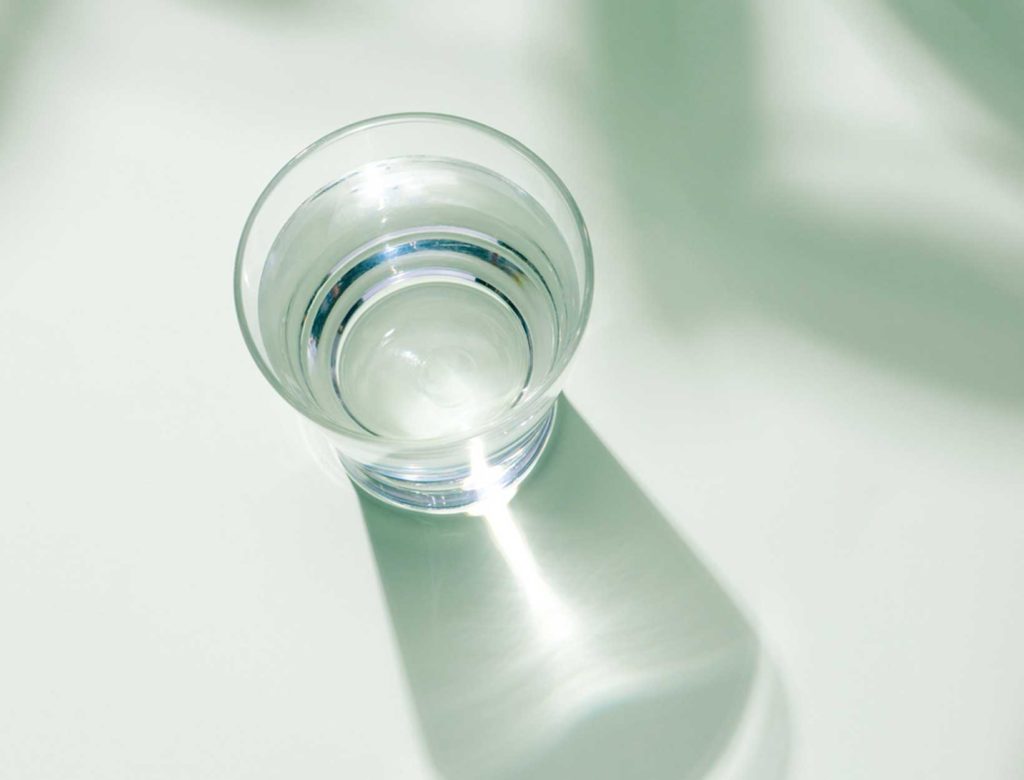 How to Choose a Water Filter
We're often disappointed—but not surprised—to learn that there's a lot in our drinking water that we'd rather not consume. And while fixing our water systems is a larger structural problem that requires we demand change, investing in a quality water filter is one thing you can do at home in the meantime.
There are various types of water filters—they can sit on the countertop, go in the fridge, or be installed directly below the sink—as well as different techniques for filtering water. Some tips to keep in mind when choosing a filter:
• Make sure filters are certified against standards set by NSF International (it should say on the packaging or the company's website). Keep in mind that filters vary significantly in the percent and types of contaminants that they are rated to remove. This information should also be available on the company's site.

• Determine whether you want cold water or room-temperature water. Some filters sit permanently on the counter, others are smaller pitchers that can be put in the fridge, and others can be directly attached to your hot- or cold-water faucet below the sink.

• How many gallons does your household drink in a day? Filter speed and tank sizes can differ greatly depending on method and model.
1
CARBON FILTERS
How they work:
This is likely the type of filter you're most familiar with (think: the water pitcher that lives on the fridge shelf). As water flows through the filter, it bonds with activated carbon, which helps remove contaminants. Filters require upkeep and changing based on manufacturer's instructionsto ensure water purity.
What they remove:
This varies significantly from filter to filter. Some filters can remove only chlorine to improve taste, while others may also remove lead, mercury, and volatile organic compounds. Check the fine print on whatever filter you buy for specifics. Keep in mind that carbon filters cannot remove inorganic pollutants, such as arsenic and hexavalent chromium.
Our take:
If you want an upgrade from tap water without committing to anything complicated, we recommend SOMA's Water Pitcher, which holds ten cups of water and is made of BPA-free plastic. The carbon filter is certified against NSF standards to remove chlorine, mercury, copper, and zinc, while improving water's taste and odor. And the simple design fits easily into your fridge, so you can keep your water cold.
2
Reverse
Osmosis Filters
How they work:
Typically, reverse osmosis systems are installed under the sink, directly to the water supply. They work by filtering water through tiny pores that allow only water molecules through, keeping contaminants out. Filters and membranes require upkeep and must be replaced based on the manufacturer's instructions to ensure water purity.
What they remove:
Again, this varies from filter to filter, but reverse osmosis filters can reduce chlorine, fluoride, and lead, as well as inorganic pollutants, such as nitrate, perchlorate, arsenic, and hexavalent chromium. They can also remove bacteria. Keep in mind that they may also remove some minerals, such as magnesium, calcium, and iron, from water. Reverse osmosis filters are typically combined with carbon filters to help remove volatile organic compounds and other contaminants, while improving taste and odor.
Our take:
The main drawbacks we found with reverse osmosis filters was that they require installation and tend to waste three times the amount of water that they treat. But then we were introduced to AquaTru's Reverse Osmosis Water Purifier: It sits on the countertop (no installation required—just plug it into the wall) and filters water 80 percent more efficiently than traditional reverse osmosis filters, reducing water waste. AquaTru combines a carbon filter with reverse osmosis to remove lead, chlorine, fluoride, nitrate, PFAS, and many other contaminants according to NSF standards. Just pour tap water into the BPA-free tank and the water will move through the three stages of filtration, delivering purified water.
3
Gravity Filters
How they work:
Gravity filters usually sit on the countertop and are low-maintenance, requiring neither installation nor power and, generally, needing fewer filter changes than other types of filters. As you pour water into the top chamber, the force of gravity moves it through the filters. Filter type may vary by product.
What they remove:
This varies significantly by product and type of filters included. Most gravity filters remove chlorine, mercury, and bacteria, while others can remove heavy metals, fluoride, and even viruses. Check the fine print on whatever filter you buy for specifics.
Our take:
Invest in a quality gravity filter and it will last you a lifetime. Plus: They're environmentally friendly, requiring no power and less frequent replacement of filters. Based on our research, the best gravity filter is Berkey. It exceeds NSF standards for removing viruses, pathogenic bacteria, heavy metals, BPA, pesticides, and many other contaminants. (You can also buy an add-on fluoride-reduction filter.) The Berkey filter works by first removing large particles as water passes through membranes with thin pores. Next, any bacteria are sterilized with colloidal silver, and finally, the water is filtered through activated carbon, which absorbs chlorine, taste, odors, and organic chemicals. This ceramic one is made with food-safe glaze and a Berkey filter: It sits pretty on your countertop, holds a gallon of water, and delivers purified water, every time, from the stainless-steel spigot.
This article is for informational purposes only, even if and regardless of whether it features the advice of physicians and medical practitioners. This article is not, nor is it intended to be, a substitute for professional medical advice, diagnosis, or treatment and should never be relied upon for specific medical advice. The views expressed in this article are the views of the expert and do not necessarily represent the views of goop.