Homemade Pizza
As a home cook, one of the best things I've ever done was to build a wood burning oven in the back yard. I use this thing all the time, especially now that it is spring. Many companies are making and installing wood burning ovens like Jamie Oliver and Mario Batali, but I've also found genius videos on YouTube that show how to make and cook out of a DIY wood-fired brick oven. If that's a lot to bite off, a regular oven is great with a pizza stone. Melissa Clark, an amazing cookbook author and food columnist for the New York Times, tells us how to make pizza in a regular home oven. And Mario Batali walks us through making pizza on a griddle. Any way you slice it, homemade pizza just cannot be beat.
Love, gp
To make the pizza, I adapted my recipe from My Father's Daughter
.
If you have a wood fire, get it going a couple of hours before you want to eat pizza. If not, preheat a pizza stone in your oven at the highest heat the oven can go to for at least an hour before eating.
---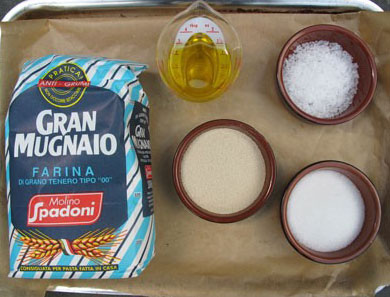 This dough gives the perfect amount of chew and crisp. Top with our pizza sauce and one of our pizza combos or make your own.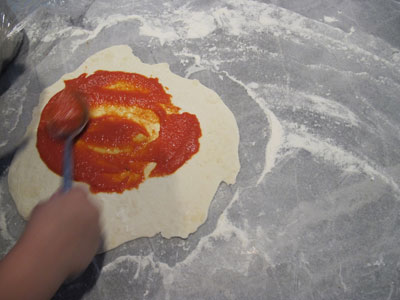 This basic sauce is perfect for homemade pizza. Make in advance for a seamless pizza-making experience.
We made:
Fresh mozzarella and basil and a simple sauce, nothing beats the simple pleasure of this really well done classic Margherita.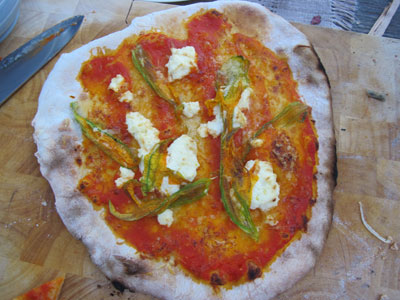 A wonderful, unique and delicious way to use up those spring squash blossoms, which pair perfectly with the ricotta.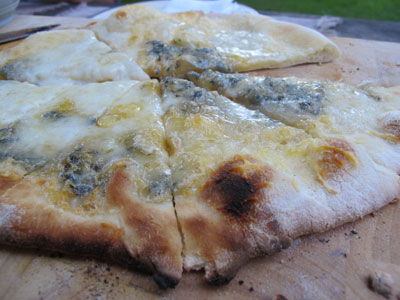 Decadent and heavenly, this rich cheese lover's dream pizza. Serve with a full-bodied red and remember you only live once.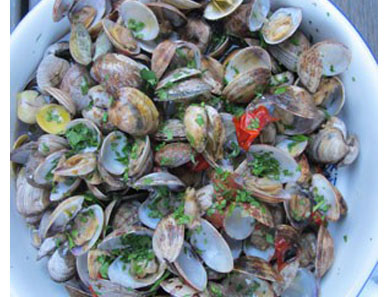 This pizza screams summer, and is really fun and impressive for entertaining. Best served al fresco.
Other wonderful combinations:
Anchovies, caramelized onions and black olives

Tomato sauce, sliced leftover meatballs, ricotta cheese, parmesan.

Fresh ricotta, grated parmesan and raw olive oil when it comes out of the oven.

Take a classic margherita and top with fresh arugula, olive oil and salt.
Melissa Clark's tried and tested oven version
You don't need a pizza oven to make restaurant-style pizza at home. All you need is an oven with a broiler and a pizza stone. Here's what you do:
Preheat the oven to 500° F. Arrange an oven rack in the top third of the oven (but not on the top rack) and place the pizza stone on the rack. Let it heat for about 1 hour. Turn a large baking sheet upside down and dust the surface with flour.

Place a ball of dough on a clean, lightly floured table or cutting board, and dust the top of the dough with additional flour. Use your fingertips to flatten the dough into a 12-inch round.

Carefully set the dough down upon the floured baking sheet. Working quickly, put the toppings on the dough.

Jiggle the pizza gently on the pan to make sure it is not sticking, and un-stick it if it is, putting a little flour underneath the sticky parts. Slide the pizza onto the heated pizza stone; make sure to start at the stone's back end so that the entire pizza will fit.

Cook the pizza for 3 minutes. If you have a broiler on the top of your oven, turn off the oven and turn on the broiler. Broil the pizza until golden, crisp, and a bit blistery and charred in places, 2 to 4 minutes (watch it carefully to see that it does not burn). If you don't have a top broiler in your oven, just bake the pizza until the cheese is melted and the crust well browned, about 10 minutes, but go on how it looks, not the time since it varies widely depending on your oven.

Use tongs to slide the pizza to a large platter and dig in!
Mario Batali's griddle technique from Molto Gusto
Mario has developed the perfect Griddle Pan
for just this.
Preheat the griddle pan over medium heat until very hot, about 5 minutes.
Using your hands, begin to press and stretch the dough into a 9-10 inch round, adding only enough additional flour to work surface to keep the dough from sticking; using one hand as a guide, slope a slightly thicker rim all around the circle of dough. Work quickly, and be careful not to overwork the dough; if it resists or shrinks back as you shape it let it rest briefly before proceeding. (If you prefer, you can roll out the dough with a rolling pin. Lightly flour the work surface and the rolling pin; sprinkle the rolling pin with more flour as necessary to prevent sticking).
Carefully place the dough round on the pre-heated griddle pan and cook until barely tan on the first side and browned in a few spots, about 2 to 3 minutes. As the crust cooks, if you see any parts that remain undercooked, especially any thicker parts, simply press them against the pan so they cook a bit more; once the dough has set you can move the crust around as necessary for more even cooking. Flip the crust over and cook until the second side is completely dry, about 1 minute longer.
Transfer the crust to a wire rack or baking sheet, brushing off any excess flour, and allow to cool. Repeat with the remaining dough. (The parbaked crusts can be refrigerated overnight or frozen, well-wrapped, for up to 2 weeks.)
We recommend making only one pizza at a time and serving each one as soon as it's done. If you need to make a lot for a large party, cook several of them once (slightly undercook them) and then reheat them in a warm oven before serving.
To top each pizza and broil it: Place the parbaked pizza crust on a pizza peel or baking sheet. Spread tomato sauce evenly over the crust, leaving 1/2 inch border all around, and top with any remaining ingredients as specified in the individual recipe. (Do not put the sauce and any other ingredients on the pizza crust until ready to broil it, or the crust may become soggy.)
Slide the pizza under the broiler, about 4 inches from the heat source, and broil for 7 or 8 minutes (or as otherwise noted in the individual recipe), until the topping ingredients are heated and/or cooked through and crust is charred and blistered in spots. Watch closely so that the ingredients don't burn, and move the pizza around or lower the broiler rack if necessary. And, if you prefer more color—as we do!—move the pizza closer to the heat source at the very end.
Finish the pizza with any remaining ingredients, as described in the individual recipe and cut into slices with a pizza wheel, kitchen shears, or a very sharp knife. Serve hot.