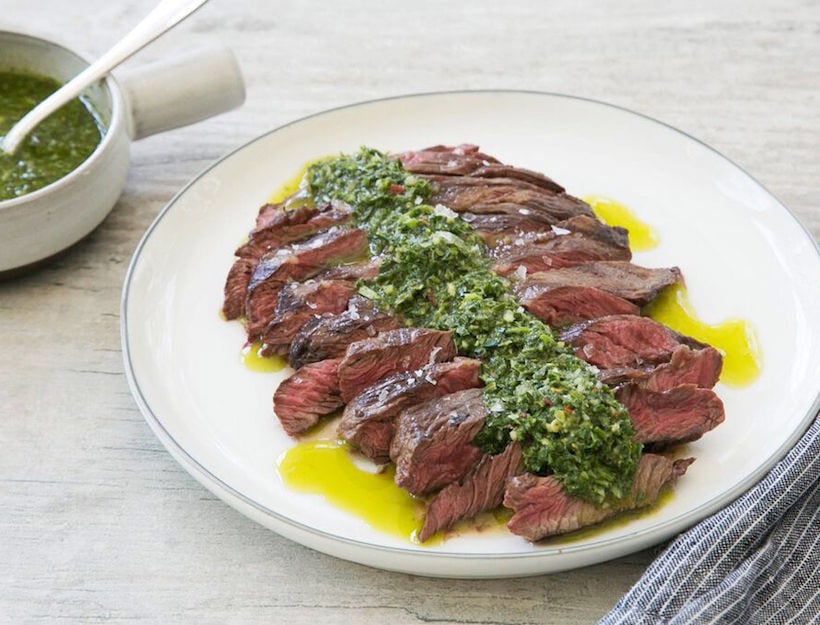 Grilling with Belcampo, and the Pleasures of Less Expensive Cuts of Meat
Anya Fernald is a bit of a badass: Not only is she the co-founder and CEO of Belcampo Meat Co., which has quickly become the go-to purveyor of humanely-raised, sustainable meats, and poultry in California, she's also a mom, cookbook author (look for it spring 2016), and a master of open flame grilling.
This summer, we were lucky enough to spend a few days at the farm where Belcampo's animals are raised (they're also slaughtered and packaged on-site, which is extremely rare), and so Anya took us through the grilling paces. Since part of sustainable and responsible meat consumption means appreciating the whole animal, Anya taught us how to grill some of the more overlooked (and often less expensive) cuts. Below are recipes for our favorite dishes of the night along with grilling tips that might improve the game of even the most seasoned grill pro.
*A note on the recipes: Anya cooked with wood over an insanely cool Uruguayan-style grill. Unfortunately, most of us don't have access to one of those, so the recipe instructions provided are for a standard backyard charcoal grill.
Anya's Grilling Tips
If at all possible, avoid gas.

Use charcoal or wood instead for better flavor and more temperature control. Steer clear of lighter fluid in any form! Some newspaper is the only kindling necessary to get a great fire going. If gas is the only option, put a big cast iron skillet directly on the grill grates and cook in that.

Don't overlook cheaper, more unusual cuts of meat.

A perfectly grilled ribeye is a beautiful thing, but there are so many other great cuts out there. Ask a good butcher for recommendations, but some of my favorites include thinly sliced pork belly, lamb shoulder, lamb riblets, Denver steak, bavette steak, and picanha (sometimes called coulotte).

Keep the marinade simple.

Lamb and goat love garlic and olive oil, while pork loves mustard. I keep things very simple with beef—with the right beef, no marinade is necessary. In general, I avoid watery marinades because they can cause the meat to steam, which inhibits the browning process.

Grill over indirect heat.

When grilling with charcoal or wood, push all of the charcoal to one side so that you have a hot area for searing and a cooler side for low and slow cooking. This gives you way more control so you can avoid flare-ups (every griller's worst nightmare).

Let it rest.

Let your meat rest for at least a third of its cooking time before slicing, and be sure to slice meat (particularly leaner cuts like flat iron and picanha) thinly and against the grain.