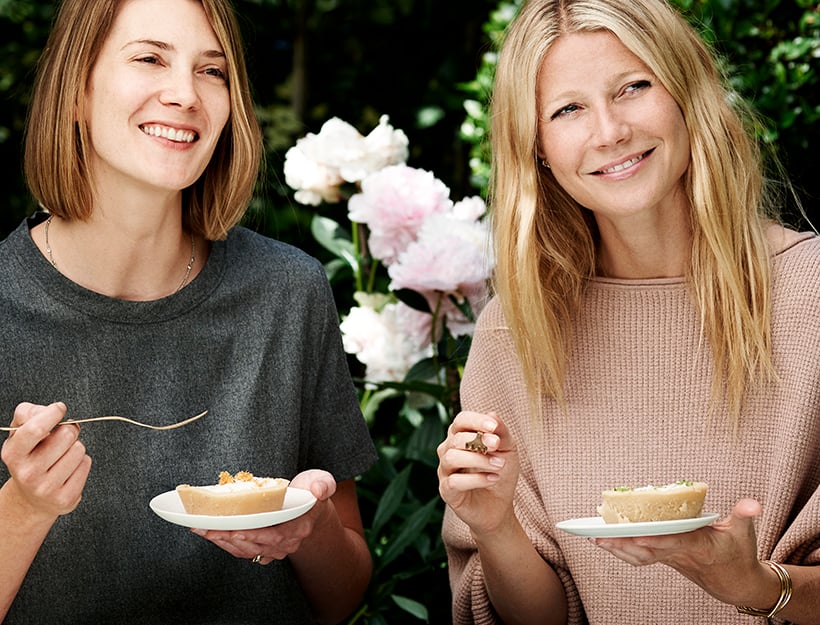 GP's Cookbook Process—Plus Our Food Editor Answers Some Q's
Born and raised in Palo Alto, goop's food editor (and GP's co-author on It's All Easy), Thea Baumann did some globe-trotting before landing in our Santa Monica HQ. Though she went to Barnard and studied French language and literature, something drew her to culinary school (apparently taco night, with her family, which she explains below), and so she enrolled in The Cordon Bleu before externing at a handful of French restaurants and then Chez Panisse and Quince in San Francisco. And then she ditched restaurant life to private chef for a family in Los Angeles, we met her through goop friend Sam Traina, and GP asked her to come help her cook an impromptu luncheon for some good friends. She made an Ottolenghi-inspired lunch of fattoush salad (you'll find a similar one in It's All Easy), roasted cauliflower with za'atar, roasted eggplant with tahini, and clementine granita, and then pretty much hasn't left the goop kitchen since, developing recipes with GP for both the site and It's All Easy. Below, we asked her some questions about their process, and how the whole thing came together.
A Q&A with Thea Baumann
Q
How did you and GP put this cookbook together? Where did you guys start?
A
GP's buds—all busy, working moms—had specifically asked for an easy weeknight cookbook, so we knew the parameters of what we were working with. And it went without saying that almost everything needed to be kid-approved. So we had a big pow-wow about how the chapters might be laid out, recipes we knew we wanted to include, and then we just started cooking. Since official goop HQ at the time was literally in her house, the kitchen was our office, which made recipe testing and collaborating really easy. If she was cooking something for herself or for the kids, I was there to take notes; she was around to taste recipes I was working on, and we'd cook together as much as schedules allowed.
Q
What's the process for developing recipes together? How do you keep track of adjustments?
A
It can be tricky because both of us are very instinctual cooks by nature. Gwyneth, in particular, is kind of a whirlwind in the kitchen—she's constantly improvising on ingredients, and I don't think I've ever seen her use a measuring spoon. I learned to follow her around while she cooked, taking as many notes and tasting as often as possible during the process. Once she was happy with the final product, I would remake the recipe to ensure that it tasted exactly the same. One trick: Pre-measuring ingredients before starting and then seeing what's leftover at the end. It would at least get us in the ballpark.
Q
We know what GP's food aversions are—what are yours?
A
Not many, but I will say I'm not a huge fan of smokey flavors, meat dishes with fruit (I like my savory dishes to be exactly that), or cloyingly sweet desserts. I also happen to think that blue cheese and balsamic vinegar are over-used—I love the flavor of both, but I don't think they belong crumbled or drizzled over so many things, indiscriminately.
Q
What are your crutches/go-tos when you're developing recipes and putting together dinners?
A
My inclination is to put citrus zest and fresh herbs on just about everything, especially cilantro. I'm a freak for cilantro. I also love shallots in salad dressing, toasted sesame oil makes everything taste good, and I'm definitely in the "almost everything is better with an egg on top" camp.
Q
What was the first dish that you ever mastered? How old were you?
A
Growing up, my parents encouraged us to help out in the kitchen. Little things like grating the cheese for taco night or helping mix together the meatloaf ingredients with our hands. Sometimes I'd be put in charge of making salad dressing—it was just olive oil, red wine vinegar, garlic salt, and a dried Italian herb mix, but as a 5-year-old, it felt like a pretty big accomplishment.
Q
When did you know that you wanted to devote your life to food?
A
I was always interested in food, but I think it really clicked when I was in culinary school. I never dreaded or ditched class (which I can't say about any previous schooling), I found myself daydreaming about recipes I wanted to test, and I took pride in what I made in a way I never had with anything else. Not to say that I was a bad student in college, I wasn't, I had just never felt so personally connected to and invested in anything I'd done before.
Q
What do you and your husband, Oscar, make for dinner most nights?
A
It really depends on how busy the week is (we are definitely not above ordering pizza) but some go-tos include: simple grilled meat or fish with a big green salad; some sort of faux pho/ramen concoction with chicken stock from the freezer, soba or rice noodles from the pantry, and whatever veggies we have in the fridge; and omelets or scrambled eggs. We buy this amazing lettuce from the Hollywood Farmer's Market every Sunday and always have a jar of homemade vinaigrette in the fridge. That way, we can be sure to get in something green every night, even if we're exhausted and just want grilled cheese sandwiches.
Q
What intimidates you, if anything, in the kitchen?
A
I suppose the one thing that still intimidates me is cooking large pieces of expensive beef. I so rarely cook something like an entire tenderloin or a standing rib roast that any time I do I second-guess myself. So far I haven't had any disasters (fingers crossed), but unlike most kitchen mistakes, there's nothing you can really do to fix an overcooked filet and that kinda freaks me out.
Q
What are the five things that you think every good home cook should own?
A
1. A good chef's knife, a good paring knife, and a stone for sharpening them. 2. A microplane (I use mine every day for grating garlic and zesting lemons, among other things). 3. A good cast iron pan. 4. Good salt. It may sound silly, but this really makes a difference. I like Diamond Crystal kosher salt for cooking and Maldon salt for finishing. 5. A couple of foolproof recipes up your sleeve that you can cook with your eyes closed. For example, my husband has got scrambled eggs, Bolognese sauce, grilled cheese sandwiches (the secret is Dijon mustard), and this amazing braised Mexican chicken dish that we eat all the time down. Mastering those simple dishes gave him the necessary confidence to try more complicated stuff, and he's now one of the best home cooks I know.
Thea's Two Favorite Recipes From It's All Easy
This retro side dish is one of our favorite ways to serve asparagus. Perfect for brunch, a light lunch, or as a side for dinner, this combo is a classic for good reason.

This kid-friendly dish tastes incredible and comes together in under 30 minutes—what more could you want? It makes an elegant side for something like roast chicken or simply grilled steak but is hearty enough to be served as a main course, too.