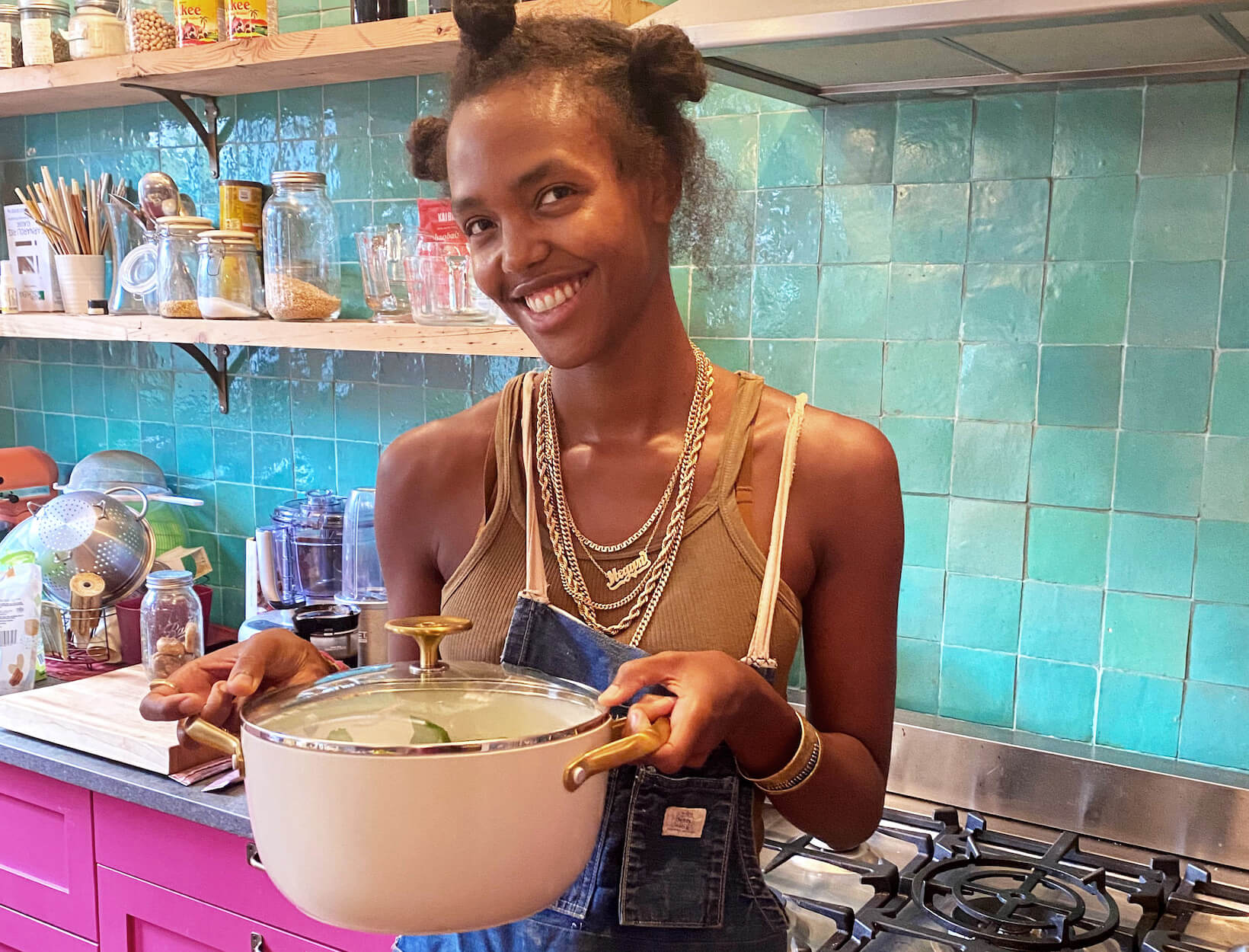 Kitchen Notes: My New Favorite Pot
The days are getting shorter; the sweaters, chunkier; and the cooking, cozier and more fragrant. In LA, goop food director Caitlin O'Malley is cooking up brothy, rice-y one-pot meals, and in Brooklyn, senior beauty editor Megan O'Neill is simmering warming stews and rich veggie soups (recipes for all below). And they've each got a brand-new favorite (nontoxic, nonstick, dishwasher-safe, gorgeous-looking, goop-designed, and GreenPan-made) pot to do it in.
Caitlin's Favorite Pot

goop Home

3QT Sauté Pan

SHOP NOW

Megan's Favorite Pot

goop Home

5QT Covered Casserole

goop, $150

SHOP NOW
Both pots are part of goop Home's new collection of cookware that's both stunning design-wise and supremely functional recipe-wise. Unlike standard nonstick pots, which can contain the toxic "forever chemicals" PFAS, PFOA, lead, and cadmium—so-called because they never break down and remain indefinitely in the environment and in our bodies—the entire collection is made with GreenPan's nontoxic nonstick Thermalon Minerals Pro technology, derived from sand and attached without glue or other additives, so it's heat-resistant up to 450°C. (PFAS, for example—synthetic chemicals used to make products waterproof, long-lasting, and greaseproof—are linked to infertility, cancer, a suppressed immune system, and more, according to the Environmental Protection Agency, which just announced a three-year initiative to restrict the use of them. Despite that move, PFAS are still prevalent in nonstick cookware.)
Made of upcycled stainless steel and aluminum, the cream-colored pans have gorgeous (and heat-resistant) gold handles that make them spectacular serving pieces, too. "I love the whole set," says Caitlin.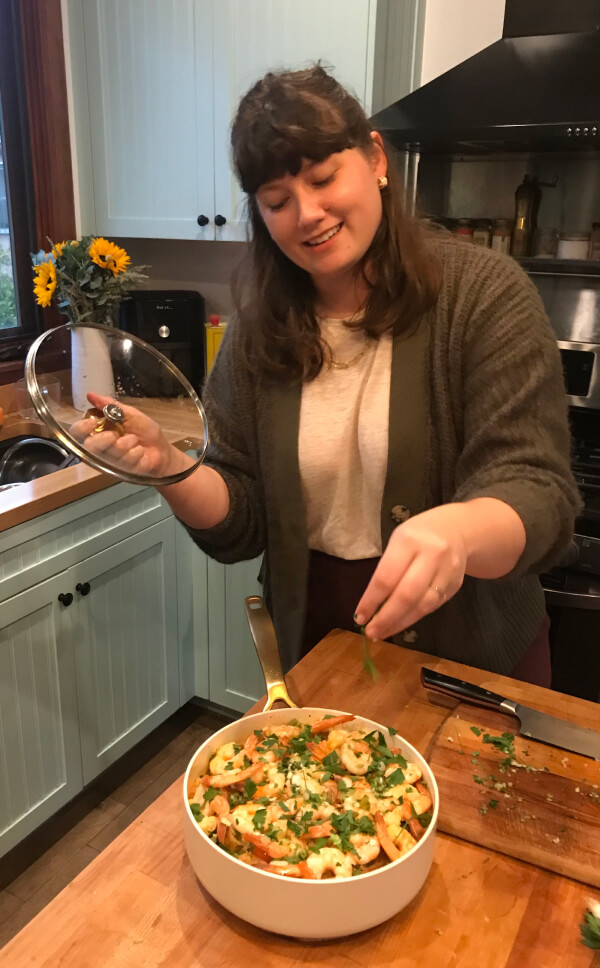 Caitlin O'Malley
food director
"I love one-pot meals for weeknights. I typically choose rice for a base because it's so versatile, then toss in some veggies and protein, and magically I have dinner. This four-quart skillet is the dream one-pot-meal vessel: It's got the best nonstick surface, which not only helps with cleanup; it also easily releases crispy rice completely intact (the best part!). The wide surface means I can sauté a generous amount of food without overcrowding, and the glass lid allows me to keep an eye on what's going on without letting steam escape (a rice aficionado's nightmare). Favorites I can't stop making right now: brown rice with chicken, eggplant and chickpea rice, and classic arroz con pollo. I also love throwing together a jambalaya–paella hybrid based on what I have on hand. This one has veggie sausages, onions, bell peppers, garlic, saffron, chicken broth, green beans, peas, shrimp, and of course rice. I finish it with chopped parsley, scallions, and a squeeze of lemon to brighten it all up. It's certainly not traditional, but this haphazard rendition is cozy, satisfying, and almost effortless—all I want on a Monday night."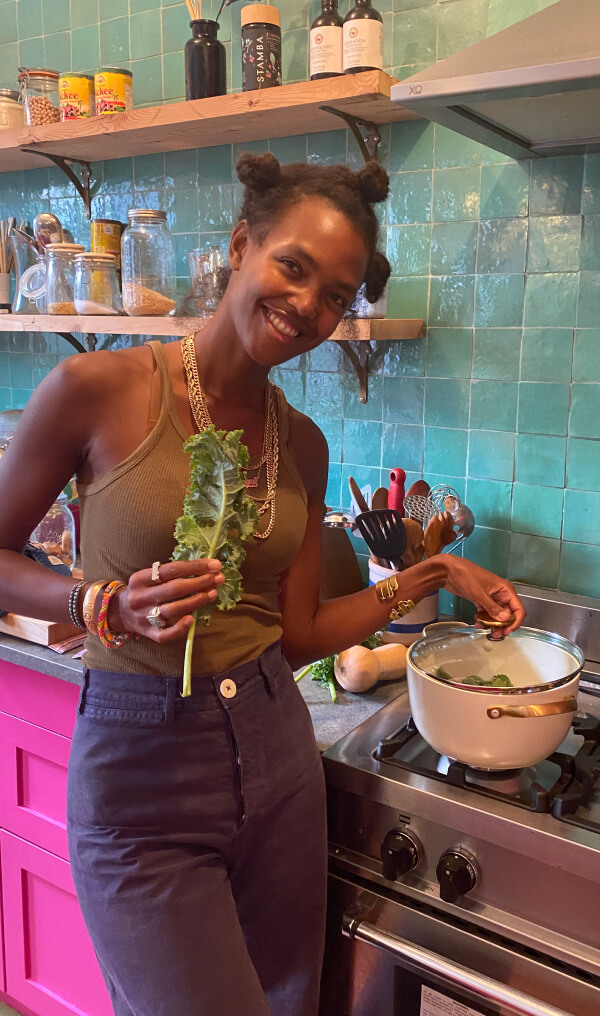 Megan O'Neill
senior beauty editor
"I'm the coldest person on earth, and cupping a big beautiful bowl of soup or anything warm and satiating fortifies me (and my family) against the ever-burgeoning chill. I can rustle up any number of nourishing meals in this casserole pot: It's as excellent for preparing deliciously creamy mac 'n' (goat!) cheese as it is for stewing red lentil and caramelized onion soup or a big-ass pot of lemony olive-oil-drizzled kale. I've also been whipping up savory almond milk breakfast porridge topped with berries and a zigzag of honey, and on special occasions, I fry Jamaican cornmeal festivals—cracklingly golden-on-the-outside, luscious-on-the-inside dumplings made with a mix of cornmeal and conventional flour. The walls of the pot are high enough to fully contain even the sputtering peanut oil for the festivals. With its sleek gold handles (they're almost jewelry-like), the pot is so good-looking that I love to bring it to the table as a serving dish. When it's just me eating solo, the pot right in front of me (along with a flickering candle for atmosphere and sometimes a chaste glass of my favorite natty red from Spain, Gulp Hablo) makes a casual meal feel a bit more momentous."
What Each goop Pan Works Best For

"Get the full monty and you can cook absolutely anything," says Caitlin.

3QT Sauté Pan

"Ideal for one-pot wonders. Wide, with a medium depth so you can pack a lot in there without overcrowding, and the glass lid allows you to keep an eye on things simmering."

SHOP NOW

5QT Covered Casserole

"Every kitchen needs a big pot. This is for big jobs—boiling pasta, mashing potatoes, brewing bone broth, blanching veggies, and simmering Bolognese, chili, or pozole."

SHOP NOW

11″ Frypan and 8″ Frypan

"The frypan is the true workhorse of the kitchen—there's not much it can't do. The smaller one is just the right size for frying a few eggs or cooking single portions of sautéed veggies, and the larger one is great for feeding a gang of friends or for items with more surface area, like quesadillas or steaks."

SHOP NOW