Cooking at Catch
The other day I had the great fortune of getting a kick-ass cooking lesson from James Beard nominee Keith Rhodes (one of if not the best chef in Wilmington, N.C.). He and his lovely wife Angela are the owners of Catch, a casual and delicious seafood spot serving local, seasonal food with a lot of thought behind it. Careful to stick with what is in abundance in his community, Keith feeds his customers food that is fresh, inventive and delicious. It was a really great afternoon.
Love, gp
The Menu
Shrimp Ceviche
Light and refreshing, Keith's ceviche is delicious, and what makes it even better is that everything but the Florida oranges, not-too-peppery Sicilian olive oil, and Himalayan rock salt is from the area.
Local Shrimp
Keith explains that in addition to the usual grey (sometimes red) shrimp from the sea such as these, you can also find small, brown river shrimp in the Wilmington area, which are good for frying.
Deveining & Blanching
Deveining is not a difficult process but it does take some patience. Next, the shrimp are blanched in water for just a couple minutes until they turn pink.
The Marinade
The tomato is sliced and added along with the oranges, red onion, and lime.
And then finished with some Himalayan rock salt and ripe avocado.
Fish in Cups
Perhaps the coolest part is this sealing contraption. The shrimp are placed in these plastic cups to marinate for four hours with the citrus and other ingredients before serving. I'm pretty impressed.
Ceviche
The gorgeous final product.
Cucumber Tequila Cocktail
Catch's mixologist, Richard Watson, whips up the most refreshing cucumber margaritas, made with muddled cucumbers, 100% agave tequila, triple sec, and a splash of soda. He then dusts the rim with salt, pepper and ancho (red poblano) chili powder. We happily enjoyed these while we worked.
Local Pan Seared Black Grouper
with Local Veggies
This grouper, pulled off the North Carolina shores, is simply seared to highlight rather than mask the opaque, flaky, and clean-tasting fish. The vegetables at Catch, like these, are often grown and brought in by customers, who Keith calls friends.
Butterfly before Searing
First, Keith butterflies the black grouper, "the king white fish of North Carolina," opening it up like a book so it cooks evenly. Next, Keith adds a touch of soybean oil, which he prefers to peanut oil because it's local and cooks at a high temperature. The fish is seared for about a minute then flipped and covered, so it basically steams. After a few minutes more, he hits it with some white wine ("Mad Housewife" brand!), salt and pepper (note how he seasons the fish after it's cooked, not before) and it's done.
A Break
Keith speaks passionately about local and sustainable seafood, emphasizing how he would never throw a West Coast fish like halibut onto the menu just because customers may recognize the name, when there are plenty of fish in the local sea to choose from. Keith really promotes education about issues like this in the Wilmington community.
The Veggies
Raised as an Adventist and a vegetarian until he was 16, Keith was exposed to tons of fresh veggies growing up and non-meat proteins like tofu, which he says was not common for someone in the African American community in the south at that time. Consequently, he's a huge vegetable man, all about taste, and not really into starches (pasta, rice, potato, and the like), which he calls "fillers." Today, he pairs the grouper with purple okra, zucchini, carrots and breakfast radishes, all fresh and local.
Asian Style
In this preparation, the veggies are touched with some South East Asian overtones. Toyomansi, a calamansi (Filipino citrus)—infused soy sauce, and a soy sauce with bonito. He adopted these flavor profiles from his time cooking in Philly.
Plating
Veggies are plated first on a bed of raw arugula, then the fish.
Tuna Tataki
In this raw appetizer, Keith pairs local tuna with a refreshing burst of local watermelon, which he then contrasts with a whisper-thin slice of jalapeno, a sliver of mint, and a shake of Madras curry powder. The tataki is then dressed with creamy coconut milk, fresh ginger, savory fish sauce (3 Crabs brand is the best), and toasted sesame oil. This is a piquant mélange of flavors.
Knife Skills
First, Keith slices this high-quality, buttery tuna into small cubes.
Then, he cubes the watermelon and slices the jalapenos paper thin. Check out the size of that knife, and the gorgeous plating.
Sauces
Keith's Asian-inspired condiment rack. Sesame oil is drizzled into the coconut milk before dressing the tuna.
Final Product
Scenes from the Kitchen
About Keith
Keith Rhodes is North Carolina James Beard Semifinalist, Best Chef Southeast, 2011 and was on Season 9 of Bravo's Top Chef. He's a Wilmington native and has been voted the city's best chef for three consecutive years. Keith is dedicated to local products and passionate about informing his customers about all the fresh and amazing stuff available in their own community. He does a lot of outreach work, including school speeches to teach kids about nutrition (tips such as drinking coconut water instead of Gatorade), makes him not just a chef, but an educator and an indispensible part of the community.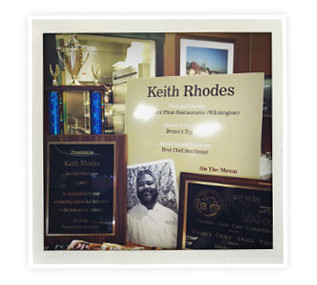 Catch
6623 Market Street
Wilmington, NC
www.catchwilmington.com