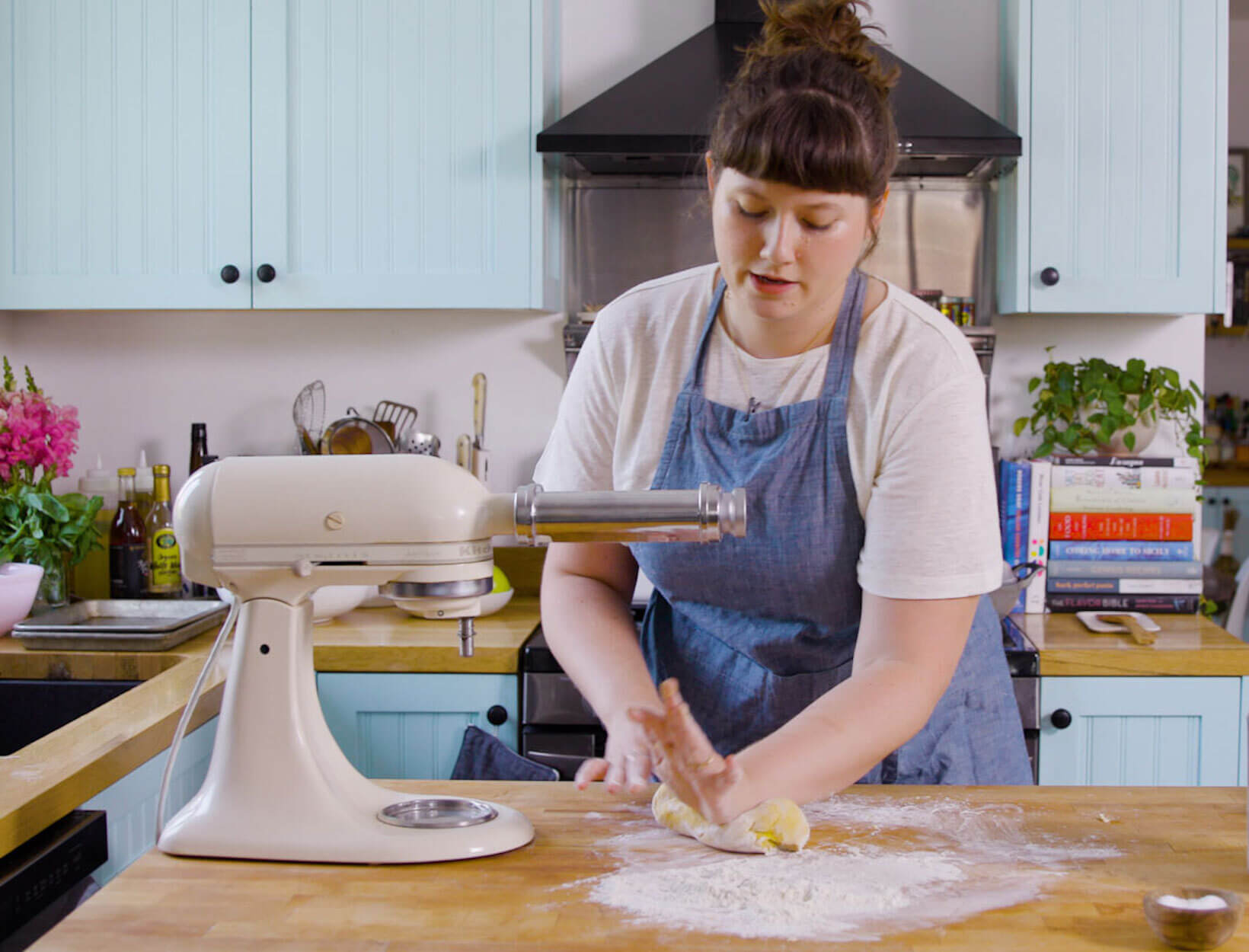 How to Make Your Future
Self Happy in the Kitchen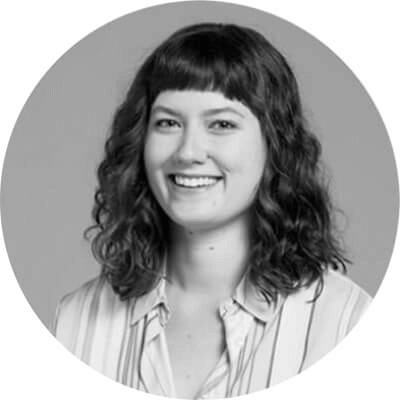 Caitlin O'Malley is goop's food director. Her passions include: coffee in the park, snack board lunches, her cat, and kitchen tools. She spends a lot of time thinking about food.
I don't scramble eggs with a face mask on, but I do think about self-care in the kitchen. And I try to prioritize what will make my future self happy there. My list is made up of mostly small tasks and tools that help me function better, plus some things I love to look at. Your list, should you make one, will be unique to your own quirks and sensibilities—but feel free to borrow from mine any time.
1
MAKE CLEANUP LESS PAINFUL
I love a homecooked meal, but I also love a clean kitchen. Sometimes these things are at odds in my house. Even though I'd almost always prefer the homecooked meal (I bought all those ingredients, didn't I?), the thought of a big cleaning session at the end of the day is the fastest way to get me browsing the delivery apps.
So I try to be strategic and cook in a way that won't wreck my kitchen. I use a large mixing bowl to gather all my scraps as I'm prepping, and they can go directly into the trash or a compost pile. I also will purposely select one-pot recipes that don't call for a lot of cookware (sheet pan dinners are my go-to), or I'll lean heavily on my GreenPans because nothing ever sticks to them and they are a breeze to clean.
But cleaning of some kind is inevitable, so I try to make it as enjoyable as possible. Things that are mandatory: A fun playlist (I've been going through another HAIM phase, whereas my husband is more of a Motörhead guy—whatever works!). And cleaning products that smell lovely.
2
DIVERSIFY YOUR PREP STRATEGY
Meal prep can feel overwhelming if you approach it with an all-or-nothing attitude. I've found that I'm more likely to do it if I keep it to one to three items.
Having prepped salad dressing on hand increases my chances of having greens with dinner by about 1,000 percent, and cutting up raw veggies for snacking is a surefire way to get ahead of the midday hangries. If I'm making a dish that requires a lot of chopping, that's an easy thing to do ahead. Toss those ingredients in a food processor and keep them in an airtight container in the fridge until it's time to cook. On days I can't even muster that, I will happily buy the prechopped mirepoix from the store.
I also like to use meal-starters and simmer sauces. People tend to be surprised that I go for these as someone who cooks for a living, but I rely on these because I cook for a living. There are many incredible brands out there that bail me out of dinner duty, and I am beyond grateful. All I have to do is mix and match a veggie, a protein, and a starchy side with the sauce that ties it altogether. My favorites are the Asian meal-starters from Omsom and the sauces from Haven's Kitchen.
3
STAY INSPIRED
After spending an unprecedented amount of time in my kitchen during this pandemic, I have found myself in the deepest creative rut I've ever experienced. The thing that got me out of it was reading (and rereading) cookbooks. It helped shake me out of my routine and get excited to cook again. Even if I didn't end up making a specific recipe, it would spark inspiration to seek out an ingredient from a specialty store or try a new technique. Once those creative juices got flowing again, I'd be so happy to get back into my kitchen.
4
MAKE IT A BEAUTIFUL PLACE TO BE
I'm not talking about renovating your kitchen here. But the reality is that if you enjoy your space, you're more likely to enjoy the time you spend in it. This can be done in a lot of ways and at a lot of different price points and commitment levels, but here's how I started.
Fresh flowers in a vase can do wonders—I am a sucker for daisies, pedestrian though they might be. I like to pick the plumpest bulbs of garlic and the most deeply colored red onions because when they sit out in a bowl on my counter, they look like a still life. After a short-lived bread-baking obsession, I accumulated several different types of flours that now live in pretty jars that tempt me back into baking every now and then. I have a few herbs growing in pots in the kitchen that I tend to in the mornings—it's so nice to watch them grow and satisfying to cook with them. I finally got around to framing a watercolor a friend painted as a wedding gift, and I love looking at it while I cook. The wall that hugs my fridge is covered with save the dates, postcards, birth announcements, and drawings from my nieces and nephews—hardly the aesthetic you'd see in a glossy magazine, but they are reminders of people I love, and I get to look over at them while I wash lettuces in the sink. They're all little things, but they bring a lot of joy to my kitchen.
---
We hope you enjoy the books recommended here. Our goal is to suggest only things we love and think you might, as well. We also like transparency, so, full disclosure: We may collect a share of sales or other compensation if you purchase through the external links on this page.