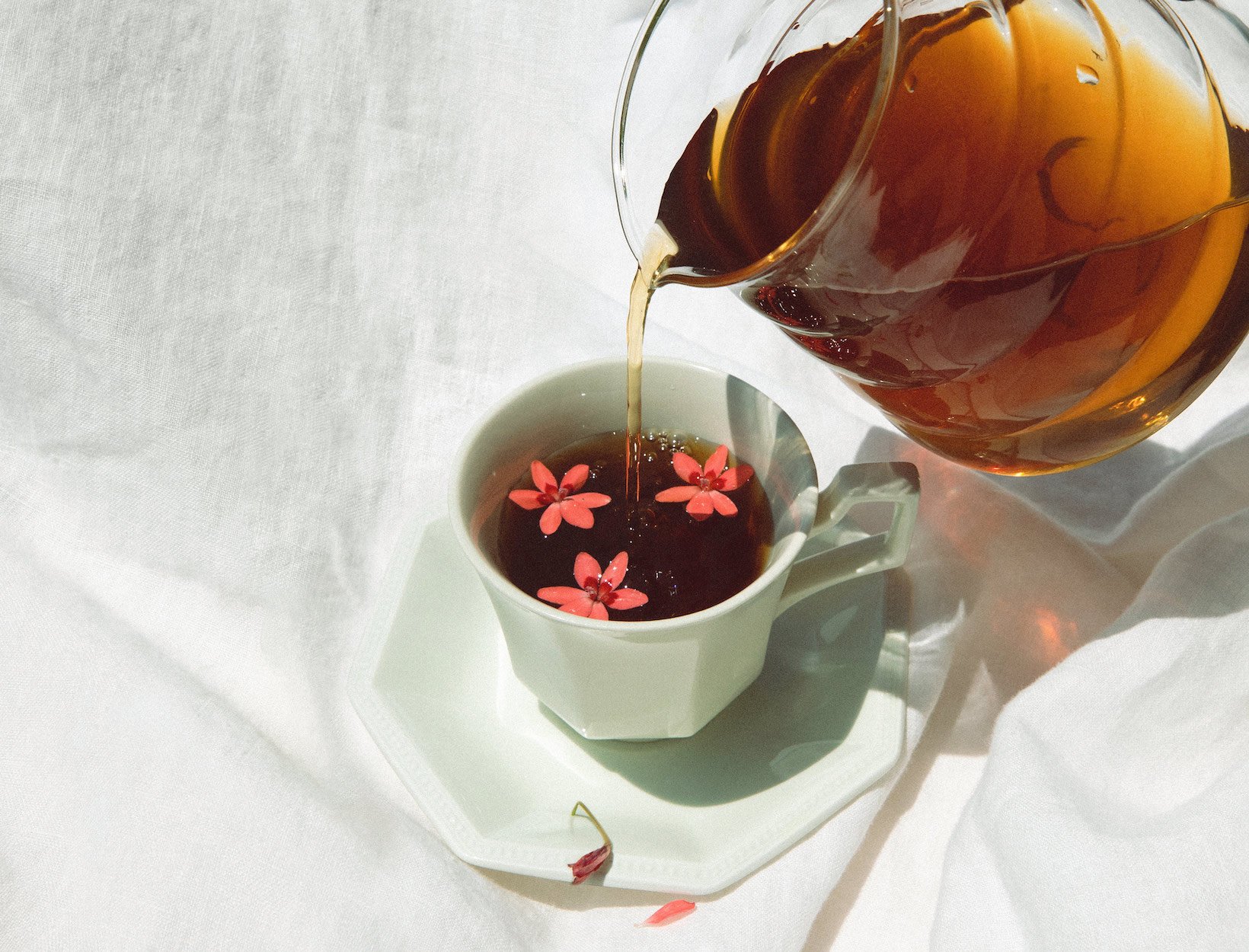 Photo courtesy of Grace Maureen for Inlands
Olive Oil, Vitamins, TP, and More: Subscriptions We Actually Love
If there's a will, there's a way. And if there's a product you want, there's probably a subscription service for it. We rounded up staffer favorites—from kids' toys to toilet paper to ugly vegetables and more—so you'll never have to leave the house again.
THE GOOP SUBSCRIPTIONS
Consistency is key for amplifying the results of any beauty or wellness routine. Subscribing helps you stay on top of it. With a goop subscription, you can skip months if you want or cancel at any time. Shipping's free, plus you save some money with a subscription—and you'll never have to think about running out or missing a dose again. Here's a short list of what we're getting in regular supply, but there's more where this came from—almost all our skin-care products (G.Tox, GOOPGENES, GOOPGLOW) have a subscription option.
GOOPGLOW Vitamin C Serum

Everybody—young, old, dry, oily—can improve their skin by applying vitamin C first thing every morning. One bottle lasts (and stays fresh) for exactly three months, so it's a brilliant subscription item: Get it every ninety days and you'll have better-looking and -feeling skin, all year along.

GOOP BEAUTY GOOPGLOW 20% VITAMIN C + HYALURONIC ACID GLOW SERUM, goop, $125/$112 with subscription

GOOPGENES Face Cream

Having a regular supply of this can't-believe-the-results cream is going to ensure that your skin stays as moisturized as it can be, with fewer lines and wrinkles—as well as smoother, firmer, and more supple. It's a no-brainer for better-looking skin, both now and many years later.

GOOP BEAUTY GOOPGENES All-IN-ONE NOURISHING FACE CREAM, goop, $95/$86 with subscription

At goop, we take our vitamin and supplement routines pretty seriously. We've created protocols for each stage of life. Balls in the Air is for general immune support and for busy people who like to keep it that way. If you're feeling stressed and burned out, Why Am I So Effing Tired? helps reboot energy levels. For your metabolism, try High School Genes. For perimenopause and menopause, Madame Ovary can help with mild hot flashes, mood shifts, and stress-related fatigue. And The Mother Load is a prenatal and postnatal protocol to support both mom and baby. There are five to seven vitamins and supplements per protocol, and each box is a month's supply (thirty packets). If you need to make changes to your vitamin protocol, you can easily switch it up by giving us a call or doing it online.

GOOP WELLNESS HIGH SCHOOL GENES, goop, $90/$75 with subscription; GOOP WELLNESS MADAME OVARY, goop, $90/$75 with subscription; GOOP WELLNESS BALLS IN THE AIR, goop, $90/$75 with subscription; GOOP WELLNESS THE MOTHER LOAD, goop, $90/$75 with subscription; GOOP WELLNESS WHY AM I SO EFFING TIRED?, goop, $90/$75 with subscription
GOODSFOODDRINKS

Though natural and funky wines are having a moment (trust us, we're here for it), the wines from this vineyard in Healdsburg, California, are the opposite. Ridge Vineyards is known for buttery Chardonnays and big, bold reds—all good for drinking with lots of food or a very big meal. One staffer discovered Ridge while dining at the French Laundry (Thomas Keller says it would be the wine pairing for his last meal on earth) and has had a subscription ever since. If you're visiting wine country, stop by Ridge, where you get free tastings and viniculture history lessons from the staff, all while looking over the old vines.

Rock Juice has been a goop-staff staple ever since founder and sommelier Melissa Gisler Modanlou treated the office to a tasting. (She also answered all our natural wine questions.) In short: The wines that Modanlou sources are incredible, and every time a new shipment of Rock Juice arrives, we jump for joy. With Rock Juice Direct, her subscription service, you get a mix of natural, organic, and biodynamic wines from around the world every two or four months (and you can cancel at any time). You can also buy wines from her bottle shop, but we highly recommend going all in, especially if you're new and natural-wine-curious.

Inlands offers a small-batch whole-bean roast and an organic mushroom coffee, both grown using sustainable and regenerative practices. Mushrooms in particular help our ecosystem, and Inland's mushroom coffee is blended with adaptogenic reishi. Plus, Inlands is women-owned, and the coffee comes in compostable bags.

KIDS

Our VP of content, Kate Wolfson, lives for Dopple's kids clothing. "Shopping for my little boy is really fun for me," she says. "The problem is that it can get pricey, and there are not enough hours in the day to comparison-shop and, say, shower, especially because he's into the more obscure brands, like Nico Nico, Misha + Puff, Tiny Cottons, and such. (He doesn't actually care—he doesn't even know what pants are—but I do!) Dopple is a new subscription clothing box that caters to kids ages zero to fourteen. And the roster of brands includes all the ones I love, plus Oeuf, Bonpoint, Winter Water Factory, and more. You can choose to send back whatever you don't want, and whatever you keep, you get at a significant discount."

Rockets of Awesome, a direct-to-consumer children's clothing delivery service, has been a hit at goop HQ since its inception. Founder Rachel Blumenthal wanted to make shopping for kids easier, especially for those who don't have the time. Start by taking a quiz and you'll get a customized box four times a year. The algorithm gets better over time: You choose how many items you want, and they send you a preview of your box so you can switch out anything you don't like. When it arrives, pay for what you keep and send back the rest.

Multiple new mamas at goop like this subscription box for baby toys because the toys are not only attractive (and sustainably made); they're also science-backed. The play kits are designed for each stage of brain and learning development—from infant to toddler. With a subscription, you get a new kit every two or three months, tailored to your child's age.

LOVEVERY, BABY PLAY KITS, from $36 a month (two-month minimum)

NEWSLETTERS

The Gist is a sports newsletter for people who are not sports people. One goop editor says she subscribed in an attempt to understand what comes out of her boyfriend's mouth. The twice-weekly email gives a great rundown of what's happening in sports that week, with game recaps and other need-to-know news, in an easily digestible five-minute read. But the Gist's larger mission is to create an inclusive space for all sports fans while challenging the male-dominated industry (the start-up is female-led, and it aims to center women's voices in the creation of sports content).

Girls' Night In

This weekly newsletter gives you advice for having a great night in, from reading recommendations to activities and self-care tips for the introverts at heart. Founder Alisha Ramos wanted to create a community that celebrates staying in on a Friday night, whether that means you're alone or having a cozy evening with friends. Each Friday newsletter has weekly picks for unwinding at home, including episode recs on podcasts like Death, Sex, and Money, apple cider doughnut and chicken piccata recipes, and DIY guides to giving your old glasses a ceramic makeover. There's also a great weekly reading roundup of articles from around the net, as well as interviews with folks like Ann Friedman and Jenna Wortham.

Digestivo is like cooking a meal with your very informative and brilliant friend who's down to get experimental in the kitchen. And in fact the newsletter was started by two friends who say they "usually text around nine times a day about what we're eating [and] what we're planning to eat." Most of it is decidedly decadent, like lobster salad and roasted duck and sheftalia (grilled lamb and pork sausage bound in caul fat). It's a welcome read in a time when we could all use a little more inspiration while cooking at home.