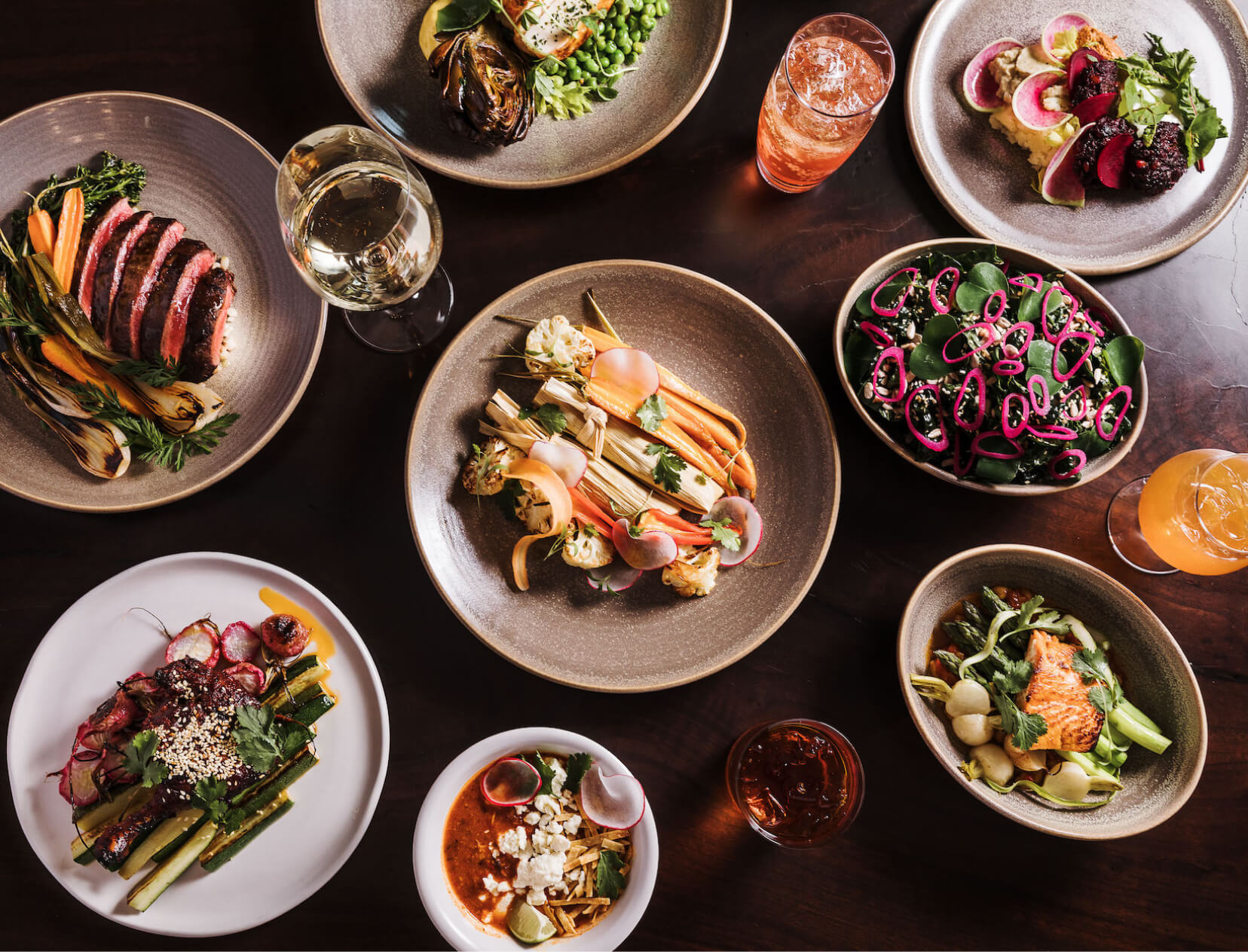 This photo and some others below courtesy of Carolyn Fong
The Best Food I Ate Last Year
Was at a Wellness Retreat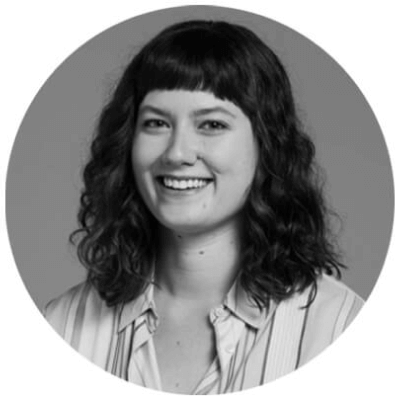 Caitlin O'Malley is goop's food director. Her passions include: coffee in the park, snack board lunches, her cat, and kitchen tools. She spends a lot of time thinking about food.
If you drive up one particularly windy road in the Santa Cruz Mountains, you'll come across Canyon Ranch Woodside—a dreamy little wellness retreat nestled among the redwood trees. I had the pleasure of seeing it for myself last fall, and as soon as I stepped out of the taxi, I felt myself start to loosen up. Those first few deep breaths of sweet, woodsy forest air helped me shake the physical unease from the flight. And it was quiet, except for the sound of Steller's jays and acorn woodpeckers.
I had never been to a wellness retreat before. It sounded nice in theory, but the independent part of me always resisted the idea of sticking to a schedule of activities and forced fun. When I looked through the itinerary, I was relieved to see that wouldn't be the case. There were different activities happening every hour, with a true choose-your-own-adventure vibe. The variety of classes was enticing. Plenty of options for movement—some traditional classes like cardio, yoga, and Pilates, and some focused on being outdoors like guided walks, hiking, and mountain biking. Many of the activities took advantage of the setting, like forest bathing and bird-watching (can you guess where I learned to spot those species?). Sketching, collaging, and drumming classes encouraged creative expression. And every day, there were fireside chats, open forums focused on bigger, deeper topics relating to personal growth, mindfulness, or spirituality. The schedule was flexible, so I wouldn't feel overbooked, and I felt like I had autonomy. My concerns on that front had been assuaged.
Then there was the food. It's not that I'm picky or a food snob, and I had no doubts that the food would be good—I knew that the head chef, Isabelle Jackson Nunes, was passionate about farm-to-table cooking, and Northern California boasts some of the best produce in the country. But in the last few years, I've made it a priority to practice intuitive eating (similar to mindful eating). I've had a long personal history of dieting that has left my relationship with food rather fraught (the irony that my job is centered around food is not lost on me!), so I try to avoid restricting whole food categories, maintain a morally neutral attitude toward all food groups, and listen closely to my body's hunger and fullness cues rather than sticking to a strict eating schedule. I was concerned that the food program would be so focused on healthfulness that it would feel prescriptive and joyless. I could not have been more wrong. I cannot believe I'm saying this, but the food at this wellness retreat was probably the best food I ate all year.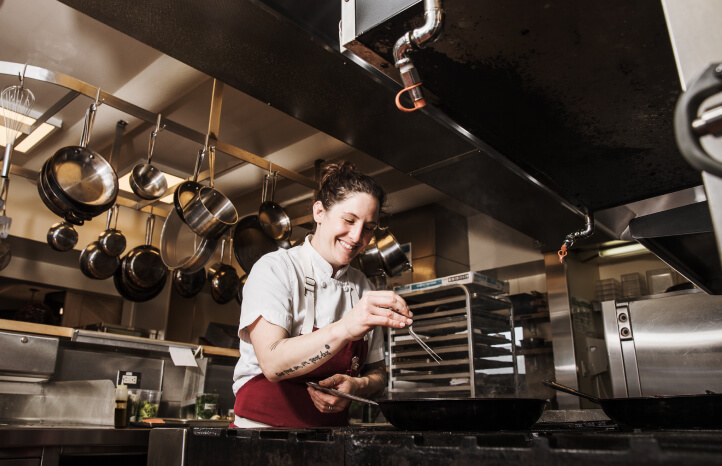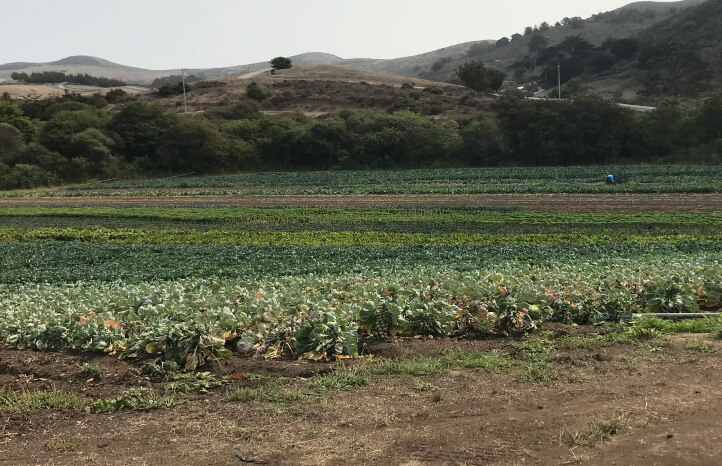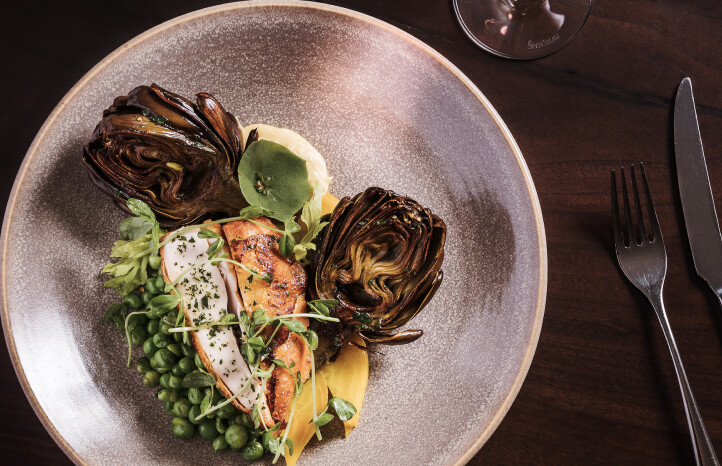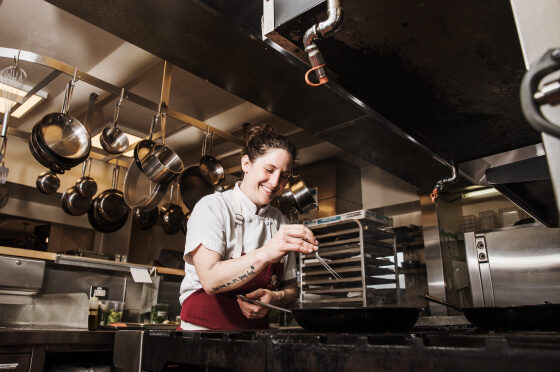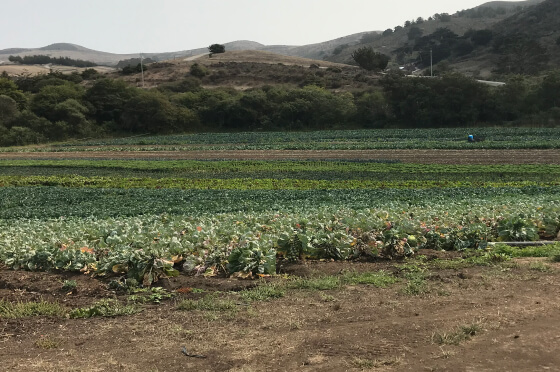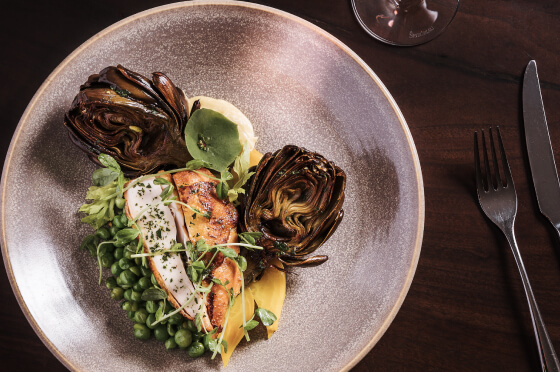 After a speedy check-in process, I was whisked up to the main dining area, called the Hearth, to have lunch before service ended. The Hearth is on the second story with a wraparound deck that has a cozy tree house vibe. I helped myself to some hibiscus tea and was served a salad. I found myself doing a little internal impression of Meryl Streep in The Devil Wears Prada: Salad for lunch? At a wellness retreat? Groundbreaking. But then I noticed the salad had a bit of whipped feta and some torn croutons. Dairy and gluten? Hello, old friends. This salad also happened to have the tastiest, most tender lettuces (Nunes is a wonder at sourcing—more on that later), and it was perfectly dressed. After the salad, I got to choose from a few different proteins and vegetable sides—I think the theme was Southern BBQ that day, so saucy pulled chicken, braised greens, and sweet potatoes. Everything was delicious, and the portions felt substantial but sensible enough to allow me to try a little of everything. The servers were thoughtful and, like warm family members graciously hosting me in their home, they let me know that I could always ask for more if I wanted. I ended the meal with a few cookies and felt happy and sated.
To my delight, this is how every meal at Canyon Ranch Woodside went. There was tremendous variety, and while there were ample offerings for any dietary preference you could think of, it never felt restrictive. It was robust and celebratory. Some nights there was lamb, potatoes, or polenta—served in harmony with heaps of tender greens, roasted romanesco cauliflower, and curried chickpeas. There was coffee (and real cream!) with breakfast alongside the fresh-squeezed juices and herbal teas, a glorious selection of Santa Cruz Mountain wines and local kombuchas to go with dinner, and sweet bites at the end of almost every meal. The meals were wholesome and fueled our bodies, yes, but they also were a pleasure to eat. The pleasure of eating was held in the same esteem as nutritiousness for your body. There were no calorie counts on the menus. There was an overall feeling of abundance, balance, and nourishment. Even though this was all very much aligned with the intuitive eating I'd been practicing, I hadn't considered how liberating it could be to experience it at an institutional level and to be surrounded by people who shared my sensibilities.
One of the reasons meals felt special was because of the spectacular raw ingredients used. You could always tell that Nunes had prioritized sourcing. She's forged relationships with farmers and ranchers in the area so that she can source as much organic, biodynamic, seasonal, and local product as possible. She took a group of us on a tour where we got to visit a few of the farms and ranches that had grown and raised the food we'd been enjoying all weekend. We walked along rows of shallots and Brussels sprouts at Blue House Farm, tasted fresh chèvre and met some goats at Harley Farms, and finished the day at Markegard Farm, where owner and rancher Doniga Markegard walked us around the property showing us her chickens, pigs, goats, and cows, and reader, would you believe it when I tell you they got this city kid to bottle-feed a calf?
Most of these small family farms practice regenerative farming to maintain soil health. Committing to sourcing from local food producers can be a logistical challenge when running a kitchen that provides three full meal services a day. But it can have a number of positive effects on the environment and, based on what I got to try out in the field, makes for some exceptionally tasty fruits and vegetables. It's also beautiful. Each of Nunes's meals has this unique taste of place that adds another layer to your experience of Canyon Ranch's immersive program. Every bite is delicious and nourishing and supports the local food economy and even the soil itself.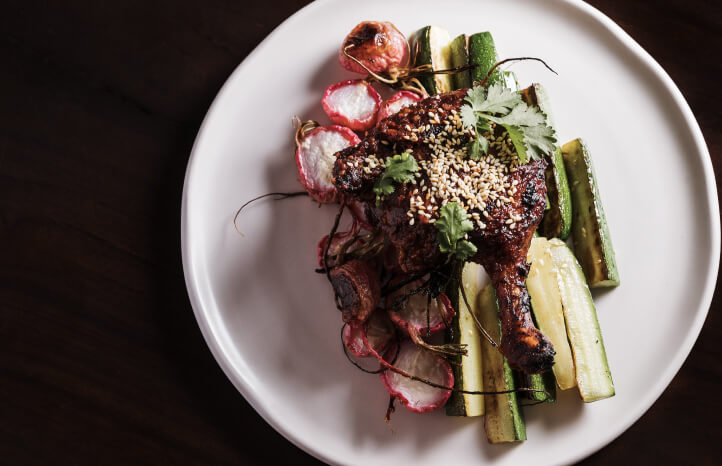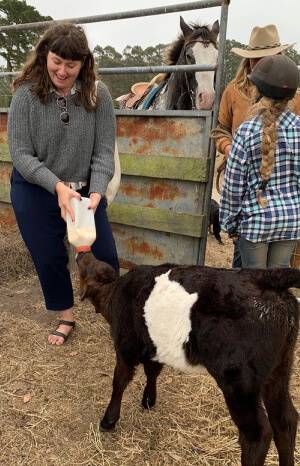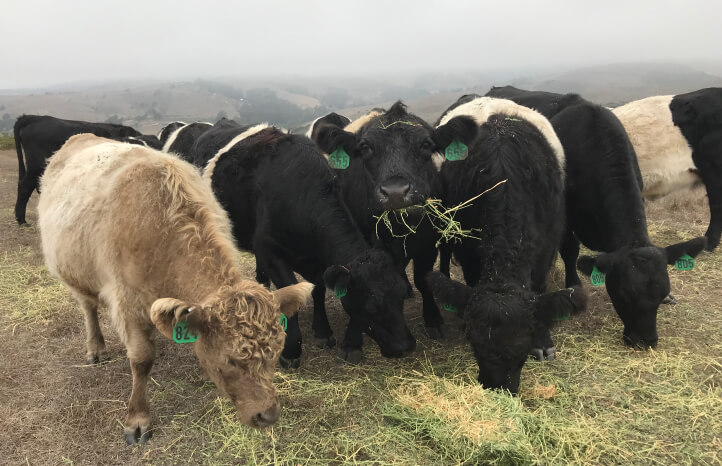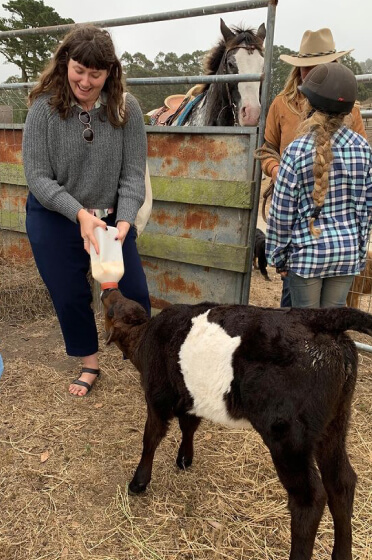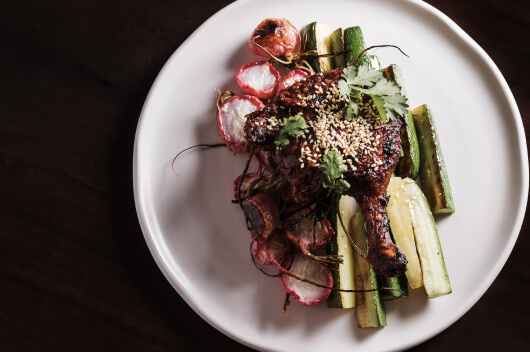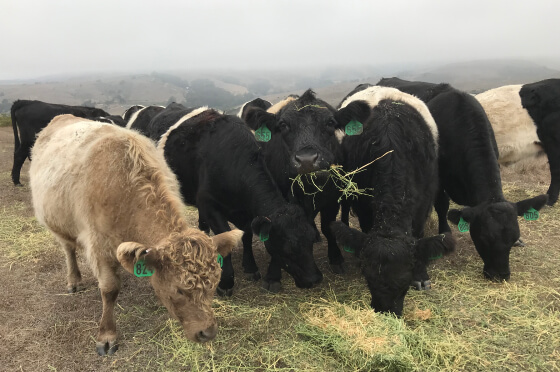 The last day at Canyon Ranch Woodside felt like the end of summer camp. I enjoyed my final meal: coffee, fruit, the creamiest grits I've ever had, and sage-y sausage from Markegard Farm. I took in the view from the deck one more time. I exchanged Instagram handles with new friends I had made over the weekend (something unique about this retreat is that every stay runs Thursday through Monday, so it ends up feeling like you're in one big graduating class with everyone else who's there, which was another unexpected delight).
I've spent a lot of time learning about the importance of food sourcing, nutrition, and intuitive eating in both my professional and personal lives, but there was something so refreshing about how holistically it's approached at Canyon Ranch Woodside. I spent a long weekend eating well and moving my body, but I also got plenty of time outdoors and lots of rest, and I had a really fun time socially—laughing around the communal dinner table, swapping stories, getting to know people. It reminded me that wellness is not just what you eat or how many hours you clock at the gym. That there are many ways we can nourish ourselves. If you find yourself needing that reminder, too, I hope you'll consider heading up that windy road into the Santa Cruz Mountains.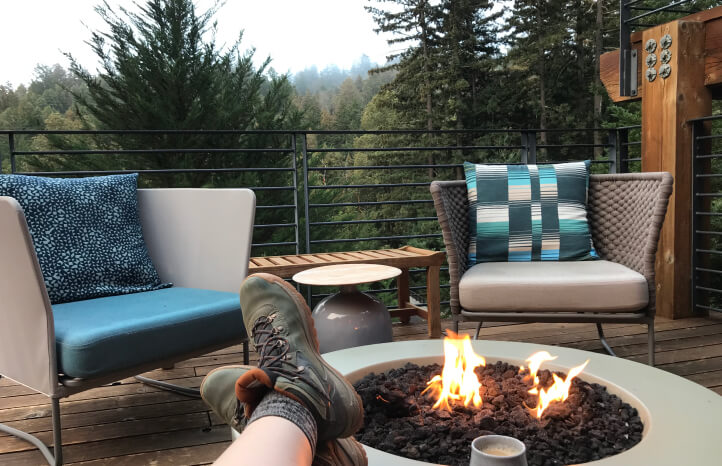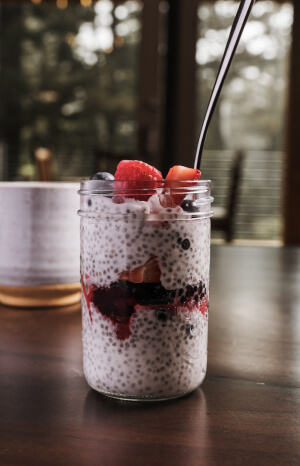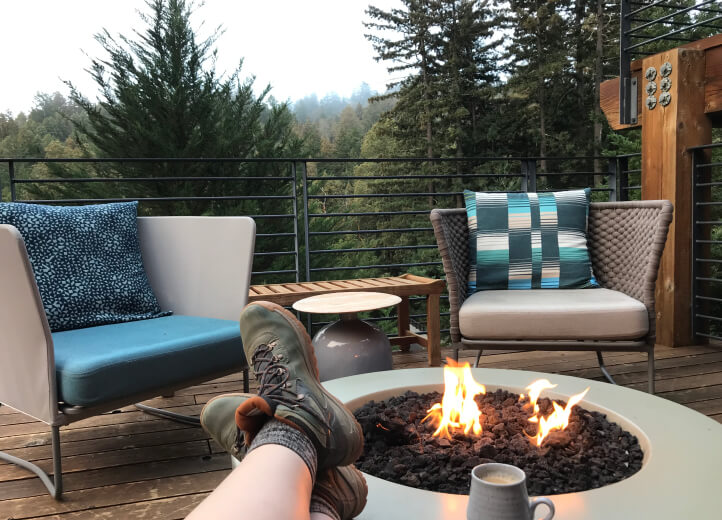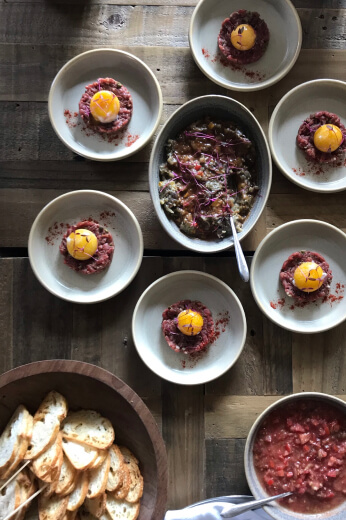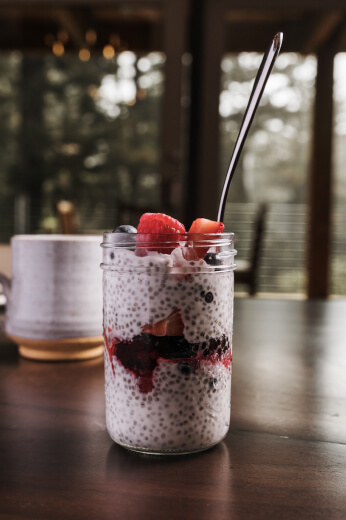 CAITLIN'S RETREAT ESSENTIALS