Artisanal Products
In this day of factory made/farmed almost everything, how wonderful it is to come across products that are artfully and lovingly made by hand, by small producers and often family-run companies. This week we have highlighted some of my favorite artisanal products, my absolute favorite being the Hellfire Pepper Jelly that my cousin Hillary makes (I am obsessed with it and spread it on everything). Along with my personal faves, we have also included a list from a veritable expert on the matter, Edward Behr, the editor of The Art of Eating, which incidentally is a fantastic publication for the food inclined.
Love, gp
---
goop's Favorites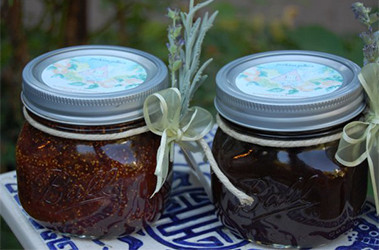 Jenkins Jellies
My cousin, actress Hillary Danner, has been making jams and jellies from her paradisical back garden in Los Angeles for the last three years. Once she started producing them in her spare time, and got the A+ from friends and relatives, she started selling at local food shows where she could hardly keep enough in stock because demand was so high. On the suggestion of a friend, she concocted her most famous and incredibly spicy Hellfire Pepper Jelly from hot peppers in her backyard. There has been no stopping Jenkins Jellies and its been nuts ever since. Jenkins Jellies has since expanded from the back yard to using produce from mainly organic producers. You can find Jenkins Jellies at Hillary's other project, her store, Studio Route 66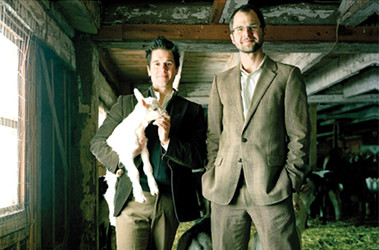 Beekman 1802
Dr. Brent Ridge and Josh Kilmer-Purcell bought an old mansion on a farm in in upstate New York in 2006. Absolute "city people" with high-powered jobs in advertising and at Martha Stewart, their lives took a turn when they fell in love with their rural property. On a whim, they started a goat farm, soon thereafter presented their baby goats on Martha Stewart (after a treacherous road trip involving baby goats with upset stomachs) and are now, just four years later, the proud makers of a line of luxe goat milk derived artisanal products. Their BLAAK cheese is an Italian-style semi-hard cheese with a waiting list(!) and they originally broke into the bath with their line of creamy goat milk soaps and a new goat milk bath on the way. Dr. Brent and Josh, or "The Beekman Boys," are surely a model of success for artisanal producers; you can catch them on their Planet Green TV show, The Fabulous Beekman Boys and read about the joys and (many) trials of establishing "Beekman 1802" in Josh's hilarious and charming book, The Bucolic Plague.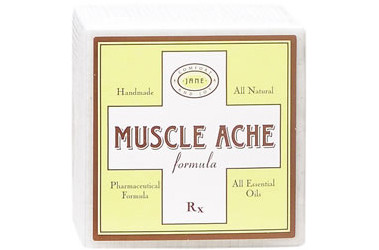 Jane Inc.
On a recent hotel stay in Los Angeles, I fell in love with a few Jane Inc. products that were part of the amenities at Shutters On The Beach. I took a bath using the Muscle Ache bath cube and it was pretty phenomenal. Her entire line of products – from aromatic soaks, bombs, seltzers and mists for the bath and shower to eye masks and aromatic sleep aid pillows, have been developed by Jane herself over the last 15 years, using her knowledge of herbal medicine to make her divine and often healing products.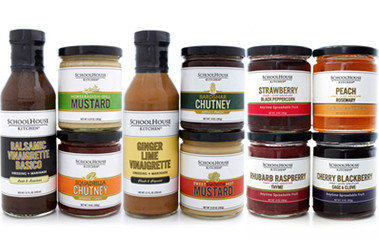 SchoolHouse Kitchen
A real family-run business, SchoolHouse Kitchen sells a variety of chutneys, mustards, dressings, marinades and spreadable fruits. Patsy Smith developed and perfected their recipes, which are friend and family secrets. She chooses the best ingredients and the results are delicious. Distribution continues to widen as SchoolHouse continues to grow. You can find their famous SweetSmoothHot mustard served along with a Pretzel at Whole Foods stores in the Northeast. The best thing about SchoolHouse Kitchen might just be their dedication to philanthropy. Every few months, they partner with a different charitable organization helping to raise funds through sales.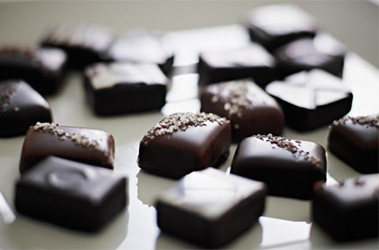 Theo Chocolate
Over the summer, we got hooked on Theo Chocolates' Big Daddy Marshmallow and Caramel confections and their Bread and Chocolate bars with buttery breadcrumbs mixed into the chocolate. A four year old company, they are the first organic chocolate makers in the United States, sourcing only organic, fair-trade cacao from growers and cooperatives that they work with directly. Ethical practice is the golden rule at Theo. Their work in sustainability is getting lots of recognition. Check out the founders, Joe Whinney and Debra Music, speaking at the TED conference. They do great work as a company, and it certainly doesn't hurt that their chocolate is verifiably and insanely delicious.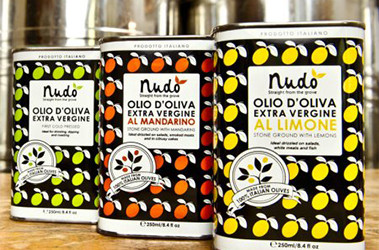 Nudo Olive Oil
A family-run cooperative in Marche, Italy, Nudo offers fresh same-day cold-pressed olive oil from mostly organic producers. You can buy their olive oil online, a great product with fun variations on it's own – they've made olive oil with lemons, and chillies and mandarins and basil – or you can get picky and adopt your very own olive tree. The idea is that you adopt the tree of your liking on their website, where you can choose from a plethora of varietals and growers, and guarantee yourself the right olive oil for you, from hand-harvested Italian olives, helping to save a small artisanal farmer's business.

Jack's Coffee
138 West 10th St. New York, NY | 212-929-0821
222 Front St. New York, NY | 212-227-7631
154 Montauk Highway Amagansett, NY | 631-267-5555
---
By far some of the best espresso we've tried and definitely served in the coolest coffee shop, Jack's was the place to be this year in its new location in the Hamptons. Jack Mazzola, the owner and designer of his namesake coffee shops in New York and Amagansett, has invented his own way of making coffee, developing the first process that stirs the ground beans while they are brewed—voila, Jack's stir-brewed coffee. Jack knows his producers, sources beans from organic growers only, designs and builds the cozy shops' cabin-in-the-woods-meets-lighthouse interiors, and shows up to serve coffee and pastries at his locales.
Amber Waves Farm
We learned a lot about local farming this year at Amber Waves farm in Amagansett. The farmers, Katie and Amanda, established the organic farm in 2009 and one year later, have quite an operation going. Among their crops is their wheat, which they harvest and sell in wheat berry form or mill on the spot for their customers at the Montauk Farmer's Market. It was an eye-opener, to say the least, to see wheat in its original form turned into flour. They've taken it one step further, partnering with a local baker, to make their very own bread. Having reintroduced wheat into the East End, they've literally reinvented the meaning of "local bread" there. They are beginning to fundraise in order to establish a Community Grain Mill and to develop a Farm to Fork curriculum to help local kids learn about food from its very roots. It's a project worth checking out…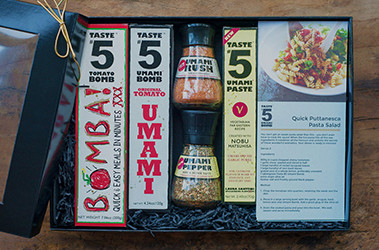 Taste #5 Umami Paste
For those unfamiliar with the word, Umami is Japanese for the fifth taste, after sweet, sour, salty, and bitter. There's no word for it in the western vocabulary and only recently has it been accepted scientifically as a separate taste all on its own. Chef Laura Santtini developed this abstract idea into a reality with her Taste #5 Umami Paste which is meant to add that extra hint of deliciousness to sauces and gravies and soups. I've tried it at home, just the other day in a pasta dish I made, and even a smidge can really add that 'something' to the simplest of sauces. Available online and in Waitrose and Selfridges stores in the UK. In October you'll be able to find it at Dean & Deluca stores and online on Amazon.com in the US.
---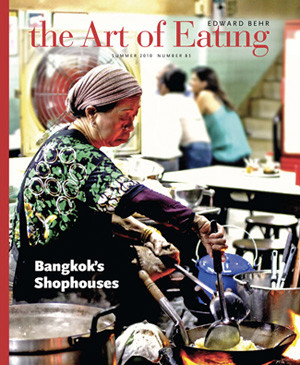 Edward Behr, the editor of "The Art of Eating," gave us his list of all time favorite Artisanal Foods, "Seven Products from Seven Artisans"
Refined French Jam and Jelly
Christine Ferber
18 rue des Trois Épis, Niedermorschwihr, France | +03.89.27.05.69
---
Christine Ferber, who works in the shop she inherited from her parents in the small wine-growing village of Niedermorschwihr in Alsace, produces various sweet products at the highest level. Best known are her fruit preserves, which are the finest I've ever tasted. Their combination of ripe flavor, sweetness, and delicate texture are the essence of refined French food. Among the dozens of kinds — single fruits and natural combinations (no pointless innovations) — it's hard to cite any one, although her Quince Jelly has a particularly superior flavor. Outside the village, a very limited selection is sometimes available at certain shops, including La Grande Épicerie at the Bon Marché in Paris.
Lemon Honey
La Bottega delle Api
via B. Lamberti, 1/A, 84013, Cava de' Tirreni (Salerno), Italy | +089.468.9377 | www.bottegadelleapi.com
---
A few years ago, I collected more than 40 exceptional honeys, and this extraordinary lemon-blossom one from southern Italy was the favorite of every taster. Its refined, focused perfume expresses the essence of sweet lemon blossoms. The honey, certified organic, is produced in May from trees on the Amalfi Coast.
Bayley Hazen Blue Farm-Made Cheese
Jasper Hill Farm
Greensboro, Vermont | 802.533.7431 | www.jasperhillfarm.com
---
Among the many farm cheeses made in Vermont, it's impossible to pick out a single best, but a prime contender is Bayley Hazen Blue from Jasper Hill Farm, run by Andy and Mateo Kehler. A rich, even intensely flavored cheese, made from milk from the farm's 40 predominantly Ayrshire cows, it recalls drier, nuttier versions of Stilton. But in fact, Bayley Hazen has its roots in the blues made by Ticklemore Cheese in Devon, England.
Persian Mulberries
Hollywood Farmers Market (Sundays, 8 a.m. to 1 p.m.)
1600 Ivar Avenue, Los Angeles, California | 323.463.3171 | www.hollywoodfarmersmarket.org
---
Despite their concentrated flavor and sweetness, carried by dark, deeply staining juice, Persian mulberries are exceedingly rare in North America. The taste, if you don't know it, is a revelation, far better than the best berry you have ever eaten. One of the first to grow and sell these mulberries in the US is Circle C Ranch (now in the hands of Shaheen Zekavat) in Lake Huges, California, which sells at the Hollywood Farmers' Market, held on Sunday mornings.
Wild Rice
Native Harvest
Callaway, Minnesota | www.nativeharvest.com
---
The only wild rice worth buying is completely wild and often, even today, harvested by Native Americans. Much of it comes from Minnesota, which since 1937 has limited the season and required that the work be done only by licensed harvesters working from canoes and using hand methods. This wild rice, with its nutty, toasted flavors, is very different from strains of the same species raised in commercial paddies and covered with a thick, nearly black coating of bran; that wild rice, selected for machine-harvesting, is nearly tasteless. One good source for the genuinely wild item is Native Harvest, a project of the Ojibwe on the White Earth Reservation in northwest Minnesota.
Ice Cider
Clos Saragnat
100 chemin Richford, Frelighsburg, Quebec, Canada | 450.298.1444 | www.saragnat.com
---
The first person to make ice wine (from super ripe, sweet grapes naturally frozen on the vine) in North America was Christian Barthomeuf, working in the eastern townships of Quebec, and a few months later, he applied the same technique to frozen apples. With either fruit, what flows from the press is the sweetest part of the juice. Barthomeuf's was the world's first ice cider, and it is likely still the best. The flavors are deep, concentrated, and oxidized, in the positive sense of the word. Barthomeuf, a purist, uses methods that are, just for a start, certified organic.
Chocolates
Michel Chaudun
149, rue de l'Université, 75007 Paris, France | +01.47.53.74.40
---
In Paris, the culture of making and appreciating refined chocolates is stronger than anywhere else in the world, and no one makes more refined chocolates than Michel Chaudun. He combines the highest level of skill, including the production of impeccable thin coatings, with outstanding materials, and a relatively conservative point of view on flavor. He offers not wild experiments but real gratification.
---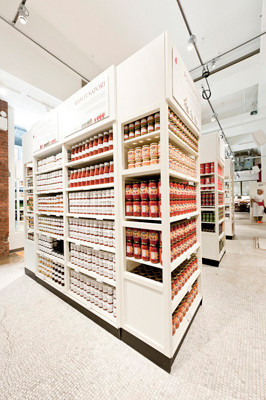 From Eataly, Mario Batali's new New York City superstore of the very best in Italian foods, the top selling artisanal products:
Agostino Recca anchovies
Baladin Drinks—Cedrata, Spuma Nera and Ginger
Pasta di Antignano with "mais 8 file" (Slow Food Presidia):
This Ottofile or "8 row" corn is held in high regard…Grown in the hills without the need for irrigation, it is known for its eight rows (otto file) of grains running along the cob, giving it a characteristic octagonal shape.
Pomodori del Piennolo (Slow Food Presidia)
Caffe Huehuetenango (Slow Food Presidia): Coffee made exclusively for Eataly
---
For those of you who are in NYC on September 30th, at 6:30 pm, my great friend and incredible yoga teacher, Elena Brower is co-teaching a class with Elizabeth Rossi at Urban Zen to benefit Women for Women International, an organization that helps war survivors cope and become self-sufficient. The cost is $100 and proceeds go directly to the cause.