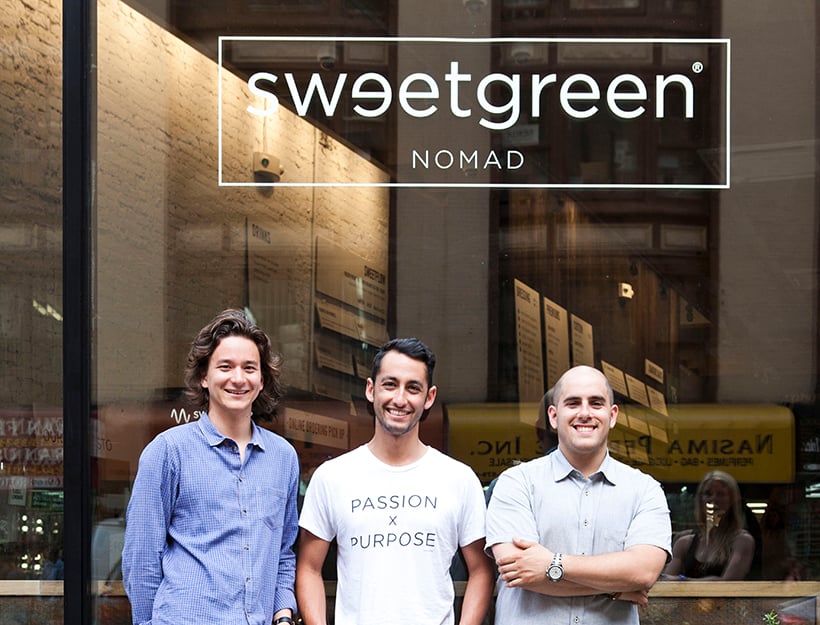 A Chat with sweetgreen
We're big fans of sweetgreen, and not just because we're suckers for a good salad. Founded in 2007 by three seniors at Georgetown, they're changing the way our country thinks about fast food. Yes, it's a highly successful fast-casual restaurant, but it's also a business with a conscience.
Working with a set of five core values, co-founders Nicolas Jammet, Jonathan Neman, and Nathaniel Ru set out to create a place where customers have access to delicious, healthy, affordable food while also supporting sustainability, local food systems, and their own community. To achieve this they work directly with local farmers to source as many ingredients as possible, prep whole produce in-house every morning so that the consumer gets the freshest product possible, and give back to each location's community through education programs and by working with local non-profits.
A business model focused on social consciousness is inspiring by itself, but what's particularly impressive about sweetgreen is that they're scaling this model—and fast. They've gone from one location in 2008 to almost 60 in 2016 and managed to keep their core values and commitment to sustainability intact. We asked the co-founders a little about how and why they started the business and what their plans for the future are—and we also got them to share the recipes for their favorite sweetgreen salads.
A Q&A with Nicolas Jammet, Jonathan Neman, and Nathaniel Ru
Q
What inspired you guys to start sweetgreen? Were you most excited about starting a business in general, or were you specifically driven to start this business?
A
NICOLAS: We started sweetgreen when we were seniors at Georgetown. We all shared a similar problem in that there was nowhere to eat that fit our values, and fit the lifestyle we wanted to live, that was actually delicious. We wanted to create a solution to make healthy eating more accessible.
Q
How did you come up with your five core values? Did you have them from the outset, or did they develop over time?
A
JONATHAN: From the beginning it was important to us to create a business that was guided by a strong value system. When it came to writing down our core values, we thought to ourselves, "What questions and filters do we ask ourselves when we are making the most difficult decisions?" The core values we have today are things that we have been saying from the early days, and they guide everything that we do.
Q
What are your sourcing practices, and how do you decide which farmers and purveyors to work with?
A
JONATHAN: We meet farmers before we meet landlords, and it's important that we're involved in every step of the supply chain. Our focus is building one relationship at a time, with partners and farmers we know and trust.
NATHANIEL: We want to change the food system from within it by asking questions and challenging conventions. Doing things the right way is not always the easy way.
NICOLAS: As we like to say, "Follow Mother Nature's lead." We want people to connect to their food and where it comes from, and to encourage farmers to grow what their land wants to grow; we create a market for these products to celebrate seasonality. Doing so is a true win-win-win for the company, the growers, and our guests.
Q
How do you develop the menus? Does each region have a different menu depending on what's in season there?
A
NICOLAS: We're constantly evolving the menu, and playing around with new recipes and ingredients, which is where our new warm bowls came from. When it comes to sourcing, we let our farmers' yields dictate our menu in each region rather than us dictating what they should grow. We know food tastes best when it's in season, and that the best food comes from healthy soil. We have a seasonal menu that changes five times a year with the growing seasons. The seasonal dishes keep the menu interesting and let us have fun with annual traditions.
NATHANIEL: And when it comes to actually cooking the food, we are big fans of letting the ingredients shine on their own. Our recipes are intentionally simple. We cook everything from scratch in each store every day with produce delivered that morning.
Q
You've collaborated with some pretty well-known chefs on bowls where a portion of the proceeds goes to charities. How did you come up with that model, and how successful has it been?
A
JONATHAN: Collaborations with our culinary friends allow us to try something new—a new style, a new ingredient, a new flavor profile. It's a fun way for us to spread the awareness of healthy eating. We like to mix it up, so we've done collaborations, like with Dan Barber from Blue Hill, and the "Beets Don't Kale My Vibe" salad with Kendrick Lamar.
NICOLAS: We believe food brings people together and creates community, and a big part of community is giving back. Working with chefs lets us be creative, but also gives us the opportunity to connect with each local community in a meaningful way.
Q
You've got sweetgreen locations in eight states already and are growing fast. What's your goal for the business?
A
NATHANIEL: Our goal for growth is impact. It's not about number of stores, it's more about communities we can be part of. We want to support local growers who share our ethos, hire more incredible team members and invest in their leadership skills, and support local non-profits who have a passion for real food. Every new store's opening day proceeds are donated to organizations like Edible Schoolyard and Growing Power, and we work with these groups on an ongoing basis.
NICOLAS: With each new community come our new guests, and we want to help connect our guests to their food and the people who grew their food. So we want to grow thoughtfully, in a way that enables us to create communities that span from the farm to our guests and have broad, holistic impact, which is really inspiring and incredible. We're nine years in, and we feel like we're just getting started.
Two sweetgreen Favorites

This warm mushroom rice bowl is co-founder Jonathan Neman's current fave. It has quite a few steps, but the result is totally worth the extra effort. If you don't have time to make all the components, plain roasted sesame seeds and a good marinated tofu from the grocery store work in a pinch.

This is the only sweetgreen item that's been on the menu all 9 years, which means it has to be good.