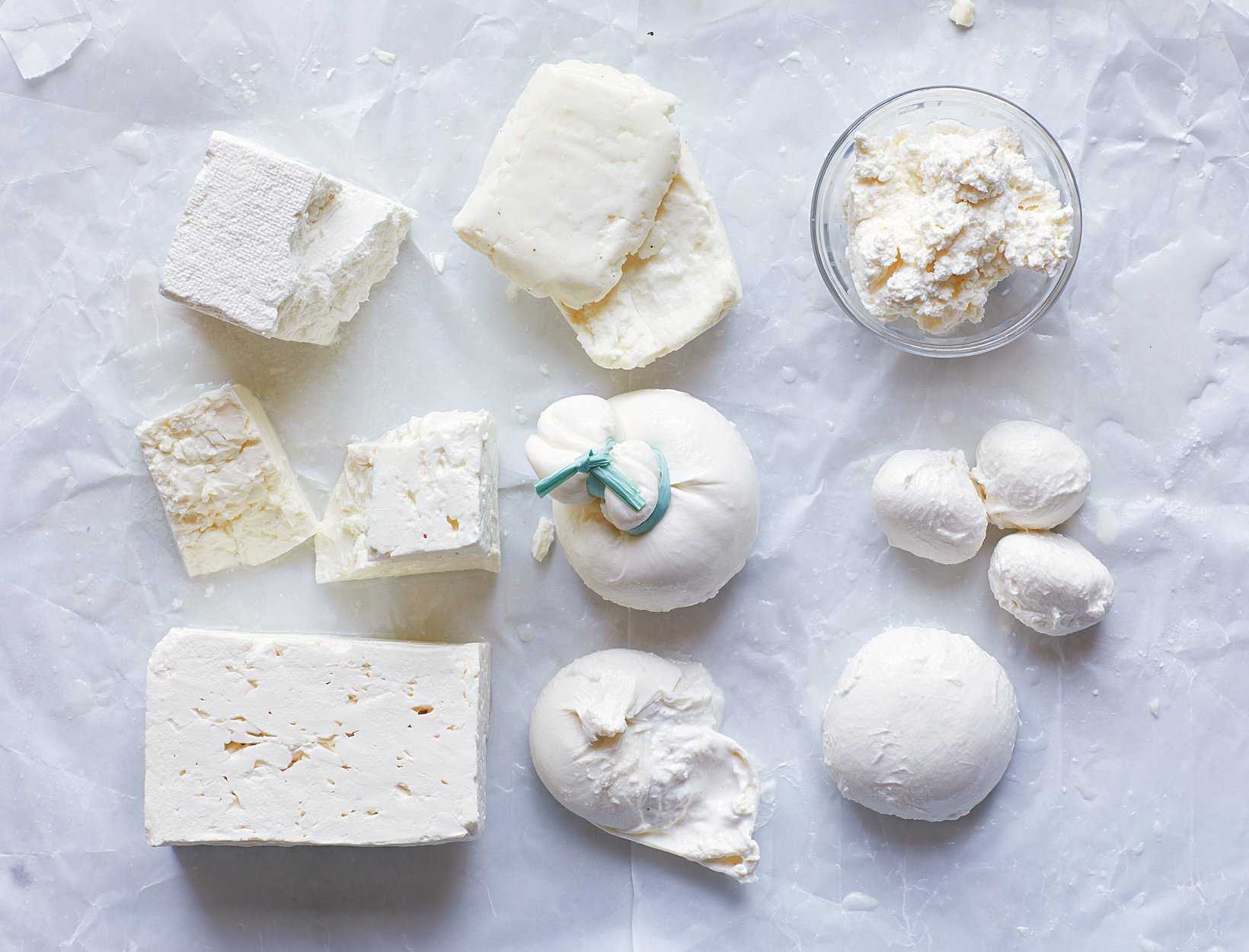 Simple, Delicious, and Sophisticated Ways to Serve Fresh Cheese
Photos courtesy of John Kernick
Simple, Delicious, and Sophisticated
Ways to Serve
Fresh Cheese
The studies are in, and the Mediterranean diet is still one of the world's healthiest, but Susie Theodorou, cookbook author and food stylist extraordinaire (she's responsible for all the gorgeously styled food in GP's cookbooks) sees it as a way of eating, rather than a diet. She centers her brilliant new cookbook, Mediterranean, around seasonal produce, with little to no processed food, lots of wholesome legumes and grains, small portions of meat, and copious amounts of both extra virgin olive oil and high-quality dairy in the form of yogurts and fresh cheeses. Throughout the book, Theodorou highlights multiple, seasonal riffs on the same dish, so they can be made each new season with a few swaps—but her ode to the fresh cheeses of the Mediterranean was our favorite. It'll change the way you cook.
"Growing up Greek Cypriot in London, the staple cheeses in the fridge were halloumi and ricotta," she says. "For a snack after school, I would have chunks of uncooked squeaky halloumi, black olives, and cucumber, and this simplicity is what I love about these ideas as toppings for all these white cheeses that cut across the Mediterranean." Rich and creamy ricotta with warm, oil-cured olives, Calabrian chili, and rosemary. Zucchini blossoms and mint over mozzarella. Perfectly ripe figs with honey, thyme, and feta. All share the simplicity of Theodorou's childhood snacks but make incredibly elegant starters and even light, sophisticated dinners. "All the toppings are seasonable and interchangeable," she says. Once you've chosen toppings that most are in season, pick your fresh cheese (check out our guide to great fresh cheeses below), pour yourself a glass of wine (in keeping with the Mediterranean theme), and you're practically halfway across the Atlantic.
THE GUIDE TO
FRESH CHEESE

By Susie Theodorou

Feta is a brined white curd cheese made from sheep's milk or a mixture of sheep's and goat's milk. Look for traditional feta made in Greece or Bulgaria; if it's made in the UK or the US, it's most likely made from cow's milk and is often saltier than usual.
Mozzarella and burrata are soft white creamy cheeses traditionally made with buffalo's milk. If you can find buffalo mozzarella or burrata, it's got an appealing tang and a slightly salty taste. When made with cow's milk, it has a clean, almost-neutral milk taste.
Halloumi is a semihard cheese made from goat's and sheep's milk and preserved in brine, so it's always salty. It is extremely versatile and can be crumbly or squeaky-soft. Serve it cooked or uncooked, sliced or grated.
Ricotta has a soft, creamy texture and a very fresh flavor. When buying ricotta, look for the type sold in a packet with an inner-draining container, and avoid ricotta stuffed in a plastic container with no drainage—the latter gets too gluey, sticky, and dense; the ideal, traditional texture is light.