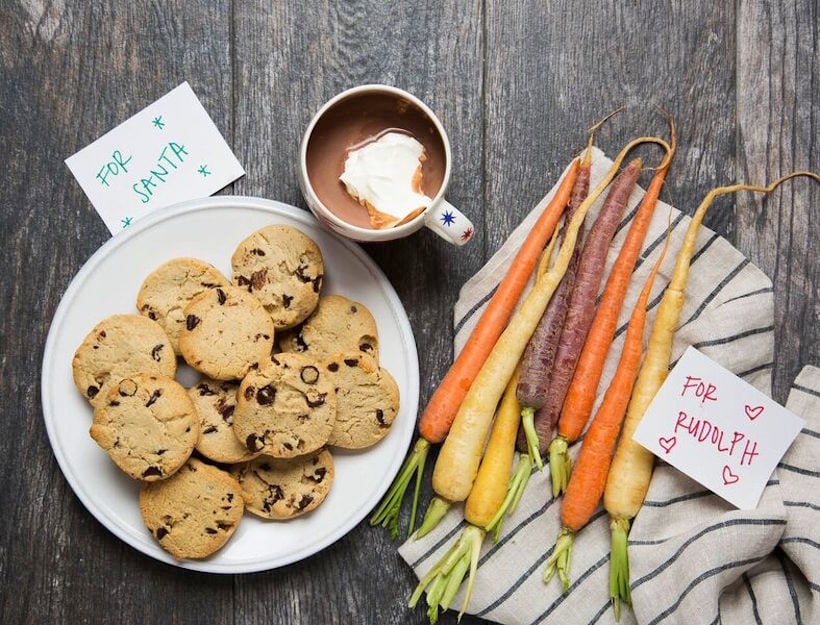 Time-Saving Treats for Santa
If you've got kids, you know that no Christmas Eve is complete (and no kid will go to bed) until treats have been put out for Santa Claus. But after all the cooking, cleaning—and in advance of all the wrapping to come—the last thing any parent wants to do is spend an hour in the kitchen whipping up gourmet treats for Old St. Nick. Below, some easy cheats that will still satisfy your littles.
Slice and Bake Cookies

Genius. Kids love them, and we love that the only effort required is preheating the oven and slicing. We particularly like Cappello's vegan and gluten-free ones, but use whatever brand you like.

Carrots (Duh)

Everyone knows raw carrots are Rudolph's favorite snack, and because they're for a reindeer, we don't even bother peeling them (extra fiber!). Get your kids to help scrub them clean and you're ready to go.

Hot Chocolate

This takes all of five minutes. Combine 1 cup whole milk, 2 tablespoons coconut sugar, 2 tablespoons raw cacao, and ¼ teaspoon vanilla extract in a small saucepan. Heat to a simmer, whisking to combine, and serve with marshmallows or a dollop of whipped cream.