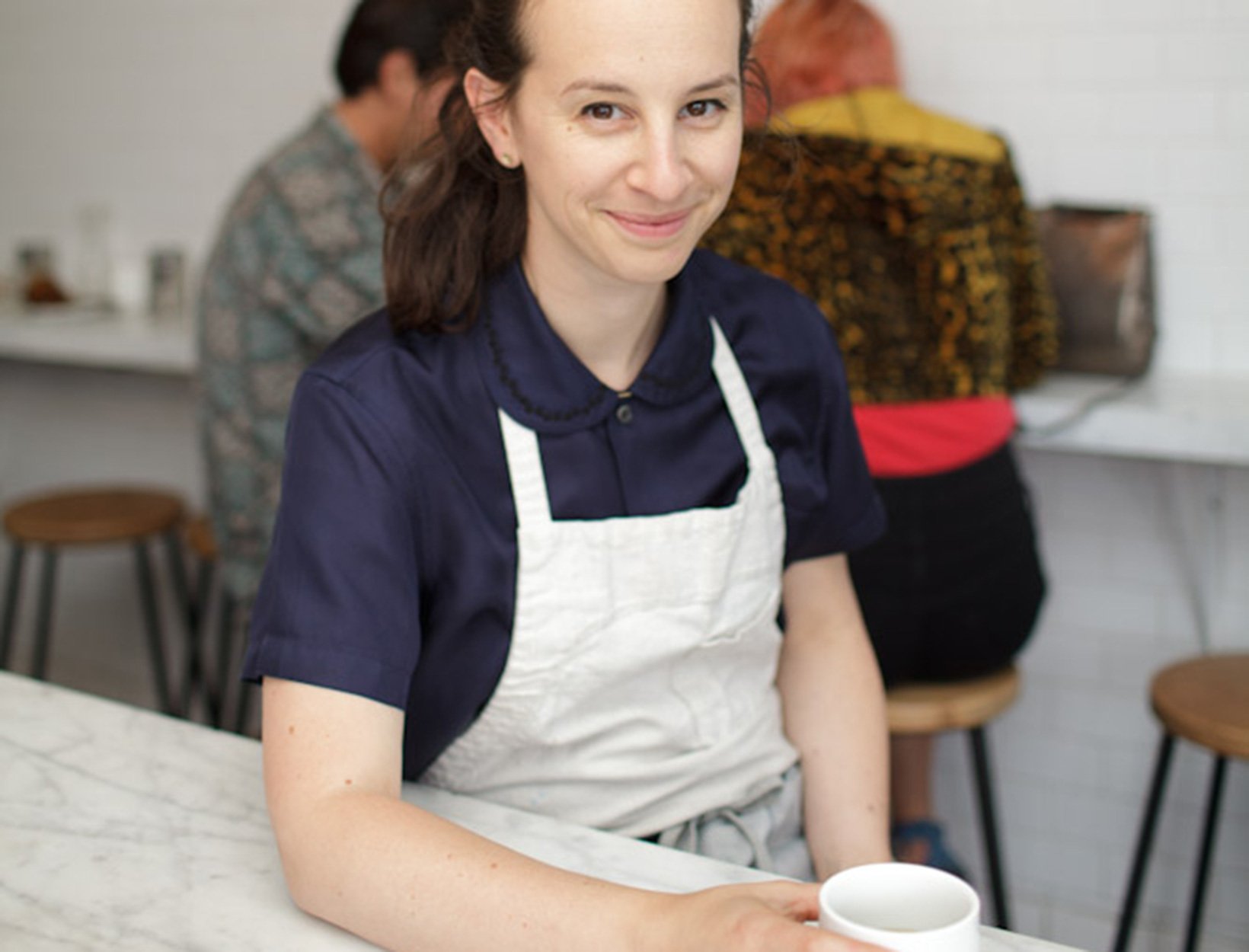 The Off-Duty Chef: Sqirl's Jessica Koslow
With their crazy schedules and even crazier culinary skills, we've always wondered what chefs actually cook for themselves when granted a rare (and much-deserved) moment of down time. So in our new series "Off-Duty Chef", we're polling some of our favorites, hoping their off-the-clock culinary lives are just like ours. (Spoiler alert: they're not.)
It's clear from the constant line around the block at Jessica Koslow's Sqirl in Silver Lake that she and her team have tapped into a certain LA food ethos. With famous dishes like the crispy rice salad, sorrel pesto bowl, and a pretty perfect turmeric tonic, most locals credit it as the birthplace of the ingredient-driven, fresh and healthy, grain bowl and avo-toast-centric dining scene that's basically synonymous with the city these days. But what does this chef and cookbook author actually eat on her days off? Apparently, it's a lot of tahini-based "nutella", which we're now addicted to. Get her recipe, along with her fridge confessional—and her current-favorite place to eat in LA—below.
What's the last thing you googled?  
"The Ballymaloe Cookery School in Ireland. I'm so predictable…"
Where do you eat on your nights off?  
"I do love to cook at home, but if I'm going out to eat, I really enjoy Mh Zh in Silver Lake. They've got great people running the restaurant, and it's just a good vibe with honest and technically delicious food."  
If you could cook dinner for any five people, who would you choose?  
"Jacques Pépin, Richard Olney, Julia Child, Nicolas Appert, Michel Bras."
What's one dish you'd be happy to never make again?  
"Great question.  Well, there's a dish on the menu right now (that shall remain nameless) that I will be taking off the menu soon. It will be a long time before I'm interested in even thinking about that dish…I think I need my space from it! LOL."
THE FRIDGE CONFESSIONAL
Aka the six things you'll always find in Koslow's kitchen.
1. Butter: "Specifically beurre de baratte butter."
2. Something fermented: "Sauerkraut, hot sauce, preserved lemon."
3. Nana Mae's Gravenstein Apple Cider Vinegar
4. A little wedge of cheese: "A great Comté or Piccolo from Andante Dairy."
5. Vegetables to nosh on: "Carrots, snap peas, cucumbers…whatever my hands can get on."
6. Bottles of Filtered Tap Water: "I like to have lots of cold water on hand."
Our new favorite breakfast treat, this not-too-sweet, non-allergenic version of the classic hazelnut spread is totally addictive. Delicious on fresh fruit or swirled into overnight oats, it's best simply spread on toast and finished with a big pinch of flaky sea salt. Just be sure to use a fresh container of tahini. (Jessica likes organic tahini from Kevala.)

GET RECIPE