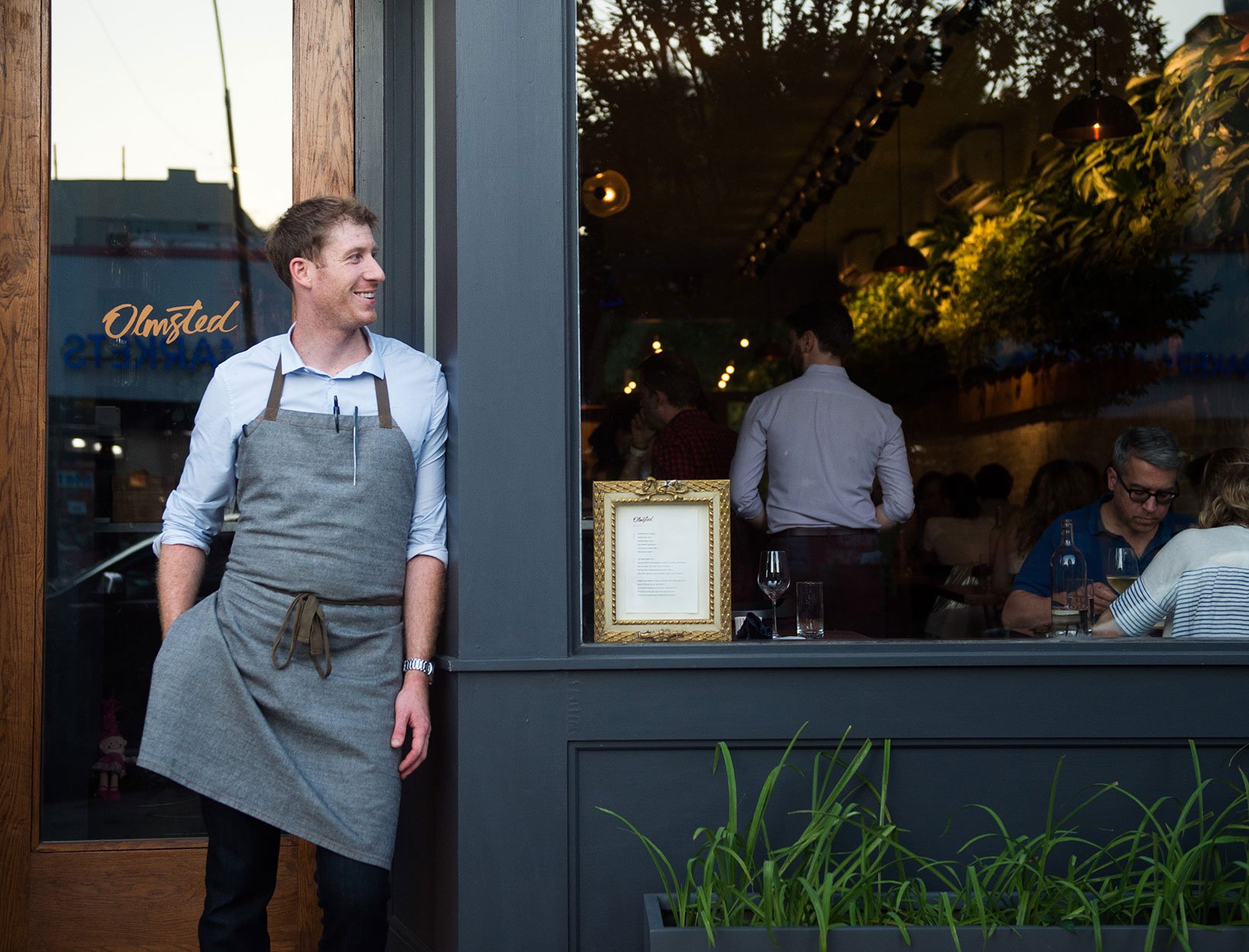 The Off-Duty Chef: Olmsted's Greg Baxtrom
With their crazy schedules and even crazier culinary skills, we've always wondered what chefs actually cook for themselves when granted a rare (and much-deserved) moment of down time. So in our new series "Off-Duty Chef", we're polling some of our favorites for their go-to recipe—everything from post-shift pantry staple dinners, to family favorites, to entertaining standbys. (We even threw in a quick what's-in-your-fridge confessional.) First up? Greg Baxtrom of Olmsted, the Brooklyn restaurant GP called her "best meal of 2016."
What's the last thing you googled?
"The new Spider-Man: Homecoming trailer."
Where do you eat on your nights off?
"Henry Rich's Rucola's my go-to, and I'm excited to try his new spot Metta, which is opening in Fort Greene."
If you could cook dinner for any five people, who would you choose?
"The cast of the Avengers (can they count as one?), chef Dan Barber, Barack and Michelle Obama, and Stevie Wonder."
What's one dish you'd be happy to never make again?
"It's not a dish, but I'm sick of cooking butter poached lobster. I was always the guy that had to cook it at previous jobs in other restaurants, so I tasted butter poached lobster basically every night for five years of my life. I still can't eat or cook it."
THE FRIDGE CONFESSIONAL
Aka the five things you'll always find in Baxtrom's kitchen.
"I don't usually have a lot of food in my fridge, and it ranges quite a bit," says Baxtrom. "Sometimes I'll have amazing charcuterie from a friend, or fancy chocolates I picked up from a local spot, but for the most part here are my staples:"
Eggs: "I get these beautiful Ameraucana eggs from the Union Square Greenmarket. The yolk is super rich and flavorful, and they make the best scrambled eggs in the morning."
Hot sauces: "As many different ones as I can get! Or I take one that we make here at the restaurant home. I have sambal, spicy giardiniera from this place in Chicago, Cholula, Tobasco, etc."
Champagne: "There's a couple of nice bottles in there, and a few cheaper ones. You never know when you're going to want to celebrate."
Butter: "Cultured butter from Vermont for my fancy popcorn. I love making a bowl of popcorn at night after service and watching cartoons. It's my guilty pleasure."
Citrus: "Limes from the bodega for a gin and tonic."
These quick and easy lettuce wraps are a warm weather standby for Chef Greg Baxtrom when he's entertaining on his days off. They're also delicious with grilled ribeye instead of the yellowfin. Using a mandolin to slice the veggies makes prep a cinch.

GET RECIPE