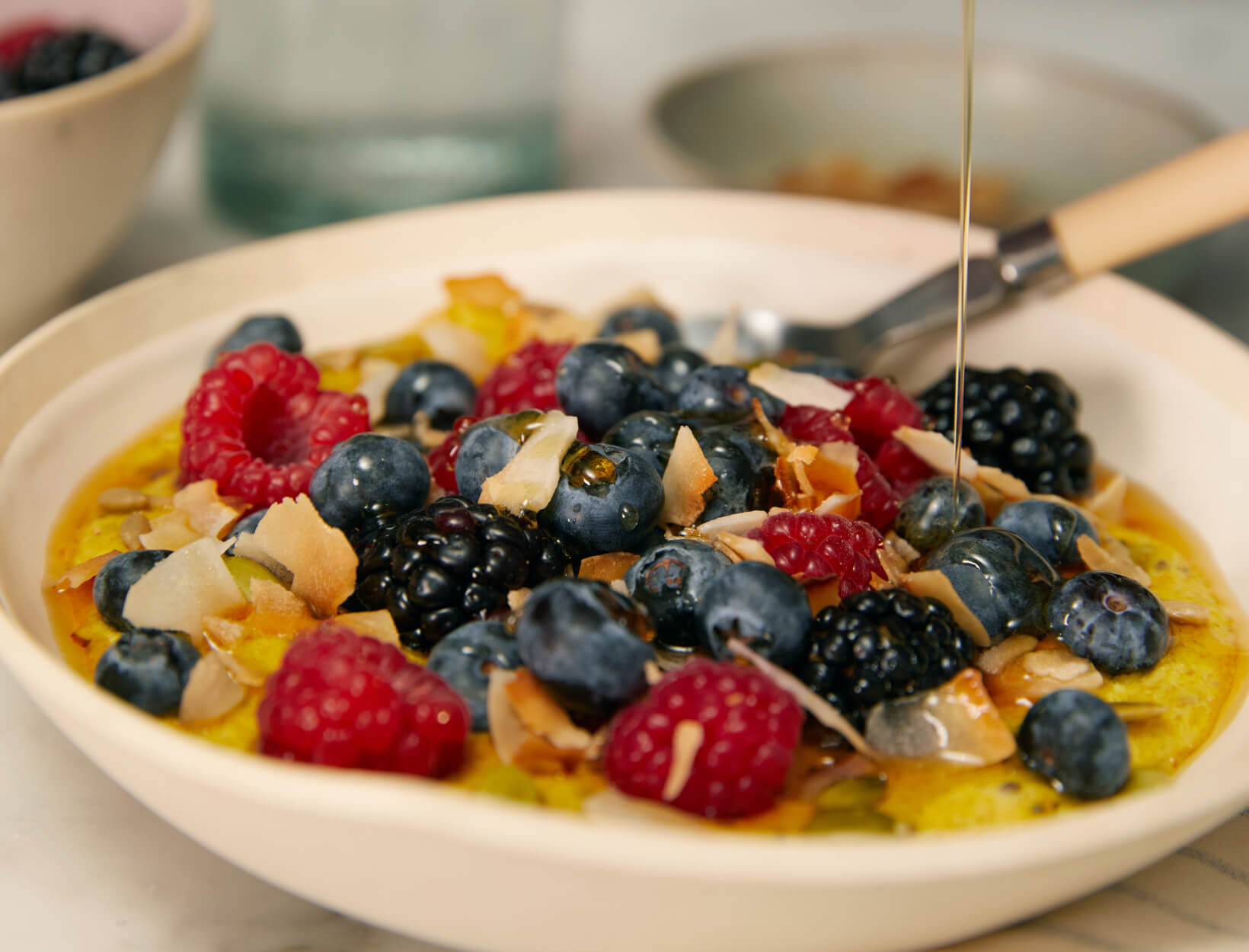 Porridge: The Universal Power Breakfast
Porridge is one of those universal foods. While the ingredients and method may vary from region to region and culture to culture, many things remain the same. Add your grains to a pot. Cover them with a liquid. Bring to a boil and reduce to a simmer until thick and creamy. Stir often. Add flavorful toppers and enjoy your bowl of oatmeal, polenta, grits, farina, jook, or kheer (to name a few). It can be sweet—think apples and cinnamon or maple and walnuts. It can also be savory, topped with jammy soft-boiled eggs, braised greens, or crispy fried shallots. The resulting dish can go a lot of ways, but it's always a comforting bowl that will leave you full and content.
When we set out to create our G.Tox 7-Day Reset Kit, we knew we wanted to include a daily meal that was easy to prepare and had more potential for riffing than your typical instant powdered food. We came up with the Reset Cereal Blend. It encapsulates all the things we love about a classic porridge—it's satisfying and simple to make, with lots of options for sweet and savory preparations. Our version is grain-free and compliant with elimination diet protocols, relying on nuts and seeds as the base, with coconut milk powder for richness and turmeric for that gorgeous golden hue. It's a core part of the reset kit and may become a welcome part of your routine long after those seven days are up.
HOW TO DOCTOR UP YOUR RESET CEREAL BLEND
Preparing the Reset Cereal Blend is simple: Just add ¼ cup liquid (water, bone broth, and nondairy milks all work) and ¼ cup of Reset Cereal Blend to a saucepan. Heat gently on the stove top until it simmers. Taste it and adjust from there. If it's too thick for your liking, add a bit more liquid. If it's too thin, let it simmer and reduce a minute more. You can enjoy it on its own, but playing around with different topping combinations is highly encouraged. Below are some that we love.
The Savory Toppings Formula:
Something Hearty + Something
Green + Alliums
Mushroom + Wakame
Sauté some mushrooms in ghee and a touch of sesame oil. Rehydrate the wakame in hot water, then drain and add to the mushrooms. Finish with toasted sesame seeds and thinly sliced scallions. Serve on top of the prepared cereal blend.
White Beans + Garlicky Greens
Sauté some thinly sliced garlic and red pepper flakes in olive oil for a minute, just until fragrant. Add the beans and cook for a few minutes. Just before serving, add a generous handful of greens (spinach, chard, kale, dandelion—up to you) and let wilt in the pan, then finish with a squeeze of lemon. Serve on top of your prepared cereal blend.
The Sweet Toppings Formula:
Fruit + Something Crunchy + Spice
Berries + Toasted

Coconut + Cardamom
Add a pinch of cardamom to the superfood blend before adding hot water. Then top with berries, coconut, and a drizzle of maple syrup.
Banana + Cacao
Nibs + Cinnamon
Add a pinch of cinnamon to the superfood blend before adding hot water. Then top with sliced banana, cacao nibs, and a dollop of almond butter.
OTHER NOURISHING PORRIDGE BOWL RECIPES