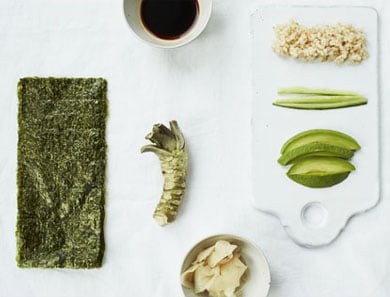 Superfoods
It's the New Year, and time for the annual fresh start. Now's the time for a healthy re-boot. Time to treat your body to a buffet of a different kind—one that's packed with health-supporting vitamins, nutrients, and phytochemicals. Think of it this way: We have three chances a day to boost our health or undermine it. Assuming you're interested in the former, the simplest path to vibrant health—and a spectacular New Year—starts with these 9 Superfoods. Superfoods are those naturally perfect foods which support the health, growth, and maintenance of your body, just by loading up your plate. Stock up on these 9 Superfoods (preferably organic) to give your body the gift of great taste, stronger immunity and better energy—all without a pill in sight. All the recipes are below.
Superfoods: Dr. Frank Lipman Weighs In
1. Avocado
There are a myriad of nutrients found in avocados—oleic acid, lutein, folate, vitamin E, monounsaturated fats and glutathione among them. Avocados taste great and are easily integrated into any meal—or even a fruit smoothie.
2. Beans
Beans deliver a powerful combination of B vitamins, calcium, potassium and folate to help you maintain a healthy brain, plus they deliver an excellent source of sugar-free energy through much of your day.
3. Blueberries
Blueberries help tame inflammation throughout the body and reduce 'bad' cholesterol.
4. Cruciferous Vegetables
Cruciferous vegetables are packed with health fortifying vitamins and minerals. They're low in calories, but in many cases these powerful veggies can provide at least 25% of your daily dose of fiber and protein in just one serving.
5. Spinach
Spinach is incredibly nutrient-dense and I'd suggest including it in just about every meal to help protect and support health from head-to-toe.
6. Walnuts
Just a few walnuts a day will deliver a healthy dose of omega-3's, alpha-linolenic acid, melatonin, copper, manganese and the hard-to-find gamma-tocopherol form of vitamin E, which helps protect your heart.
7. Wild Salmon
Wild salmon is a rich source of protein, vitamin D, selenium, B2, B3, B6, B12 and B3 and those all-important omega-3 fatty acids. The best salmon to buy? Wild caught Alaskan salmon, which routinely ranks low in contaminants and high in nutrients. Wild salmon's benefits start to kick in at about 2 servings a week, so there's no need to over-do it.
8. Chocolate
Dairy-free chocolate, in moderation, is a delicious treat that actually does the body good. It can help elevate mood, improve blood flow and even lower blood pressure.
9. Chia Seeds
Chia seeds are tiny, nutritional dynamos – they're loaded with antioxidants, protein and minerals, plus soluble and insoluble fiber to help keep your digestion moving in the right direction.