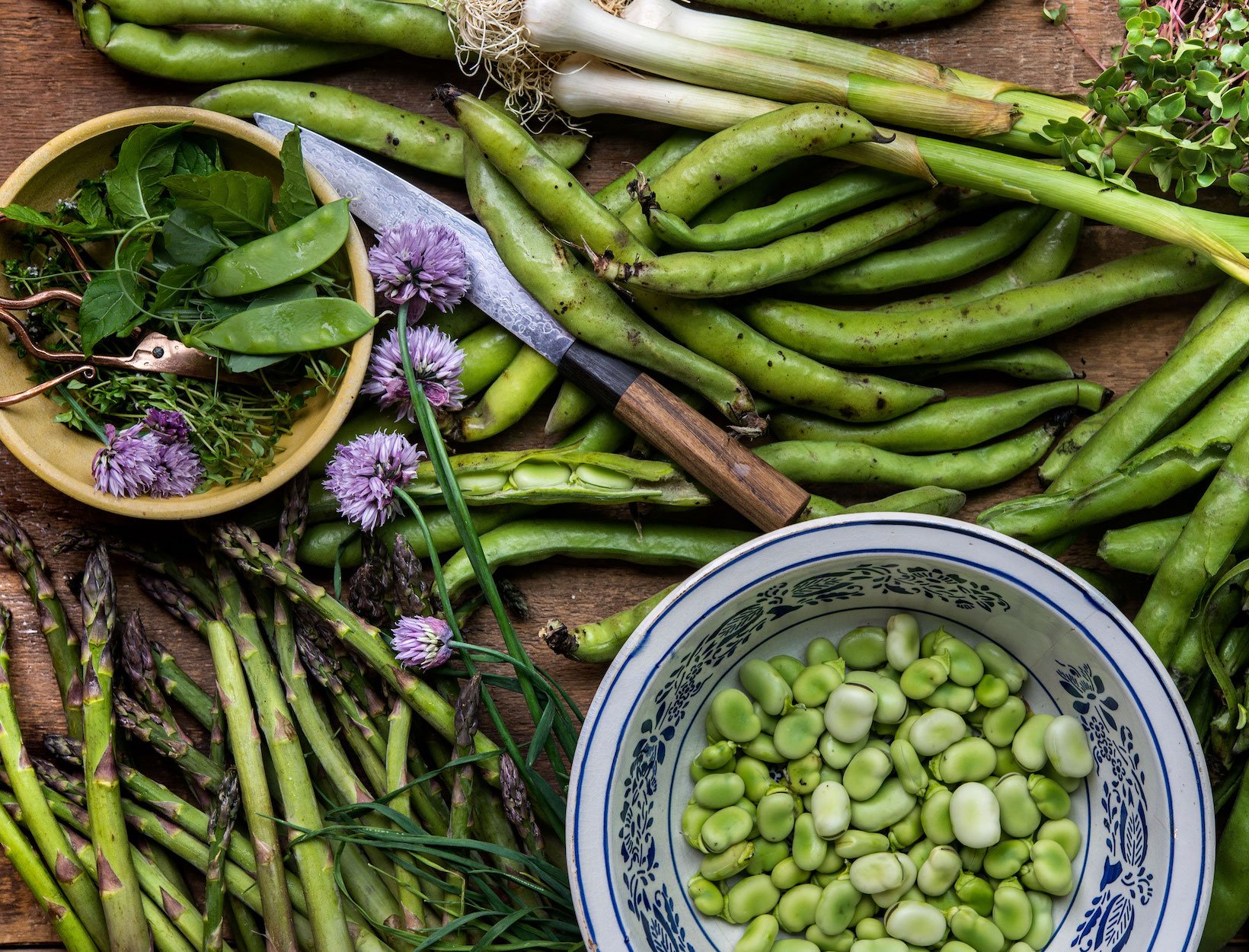 Crisp, Sweet, Tender, and Green: 16 Recipes for Spring
Is seasonal cooking the only thing helping you track the passage of time? We know we've arrived at spring because the produce is tender, delicate, sweet—a welcome change from the root vegetables and sturdy greens of winter. Unlike winter's hearty stock, these delights won't keep for very long. The sugars found in spring vegetables like snap peas and asparagus will convert to starch after a few days, so try to prepare and eat them soon after purchasing. The best way to stay ahead of the waste: Have recipes at the ready.
SNAP PEAS

A celebration of spring flavors: The bright herbs and lemon contrast with the rich cheese and sweet, crunchy peas.

Fresh, snappy vegetables are crucial to this salad, but that creamy horseradish dressing makes it.

The beloved Italian comfort food ("risi e bisi" means "rice and peas") in salad form. It's a refreshing combination of raw and cooked that works great as a side dish or with a seven-minute egg for a main.

ASPARAGUS

A retro side dish and one of our favorite ways to serve asparagus—for brunch, a light lunch, or as a dinner side. It's a classic combo for good reason.

From GP's kitchen: a simple dinner that leans on a few fresh ingredients from your local market, like asparagus, scallops, and lemons. But it can also make use of stuff you already have, like flour, butter, shallots, and frozen peas. And it all comes together quickly.

As easy as it is elegant, this scramble is pretty much guaranteed to become a permanent addition to your breakfast and brunch repertoire.

ARTICHOKES

The simple preparation allows the artichoke to shine.

The fried rosemary adds intense flavor, which is rounded out by the creamy artichokes. Feel free to add lots of freshly grated Parmesan.

ALLIUMS

All the best flavors of Italian wedding soup in a fraction of the time.

Celebrate the warmer months and beautiful produce by firing up the grill. These spring onions are so delicious, and you'll be glad to have extra romesco for spreading on sandwiches or dolloping onto grain bowls.

These citrusy and herb-laden clams are easy to make. Don't forget bread to soak up the juices!

RADISHES

One of the simplest yet most sophisticated lunches.

Radishes make a really nice pickle. We like this red wine vinegar brine, but have fun with it and try adding fresh herbs like rosemary, thyme, or even dried juniper berries.

STRAWBERRIES

Strawberries and rhubarb make a great spring duo, but this would also be excellent with berries or stone fruit in the summer months.

A spring twist on a Bellini, we use strawberry purée instead of peach.