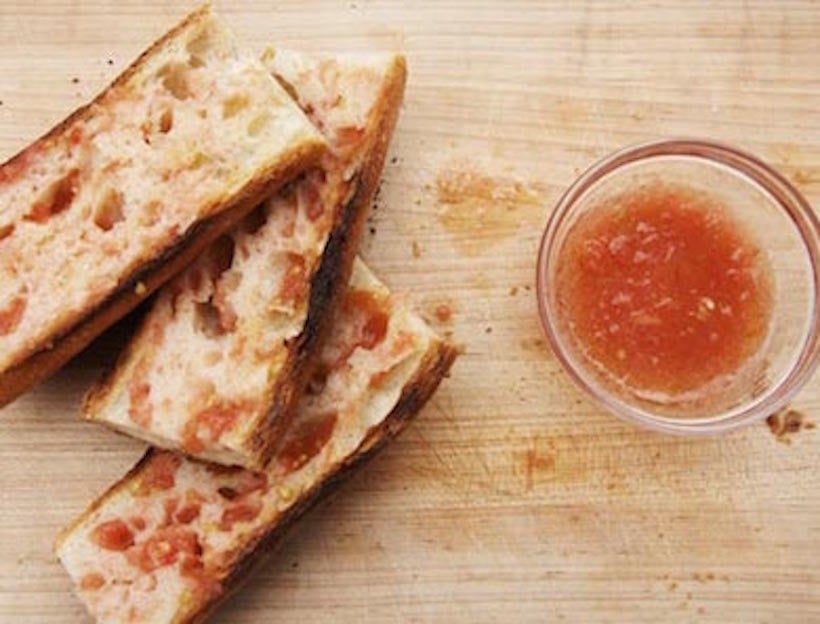 Spanish Recipes
When I was fifteen I lived in a little Spanish city called Talavera de la Reina with the Lazaros, my exchange family. My Spanish mama Julia is an incredible cook and introduced me to the cuisine of the Iberian peninsula—which is always best home-cooked. In the evenings, the typical Spanish dinner is lighter than the meat and rice dishes often found at lunchtime. This menu is what you would find at my family's house on a weeknight. Spanish tortilla cut into small pieces, some manchego, a glass of wine, gambas and pan con tomate. Perfect.
Love, gp
Notes
Good Spanish cheeses:
Manchego

Idiazábal

Cabrales (blue)

Mahon

Torta del Casar (my super stinky fave)
Good Spanish olives:
Malagueña (little ones)

Manzanilla (green ones)

Arbequina (buttery ones)
Good Spanish anchovies:
Ortiz brand "anchoas en aceite de oliva" (anchovies packed in olive oil)

El Corte Inglés (department store) store brand, "anchovy loins from the Bay of Biscay" packed in olive oil

Boquerones (white anchovy filets packed in vinegar)
Best online sources for Spanish ingredients:
* Also, Spanish cava is delicious and much cheaper than champagne. I always like a Spanish Rioja with my meal.
This tortilla is distinguished by its density because it's got a high potato-to-egg ratio. Flip it often for an even texture. This is best at room temperature, so definitely make it ahead.

This recipe is adapted from my "Spanish Mama," Julia Ruiz Blanco. Basically, this method calls for "poaching" shrimp in olive oil made fragrant with garlic and a bit of chili, and then just barely browning them.

This approach is genius. Instead of rubbing the tomato on the bread, as per tradition, you simply make a raw sauce by grating the tomato. It's a lot easier and a lot less wasteful.