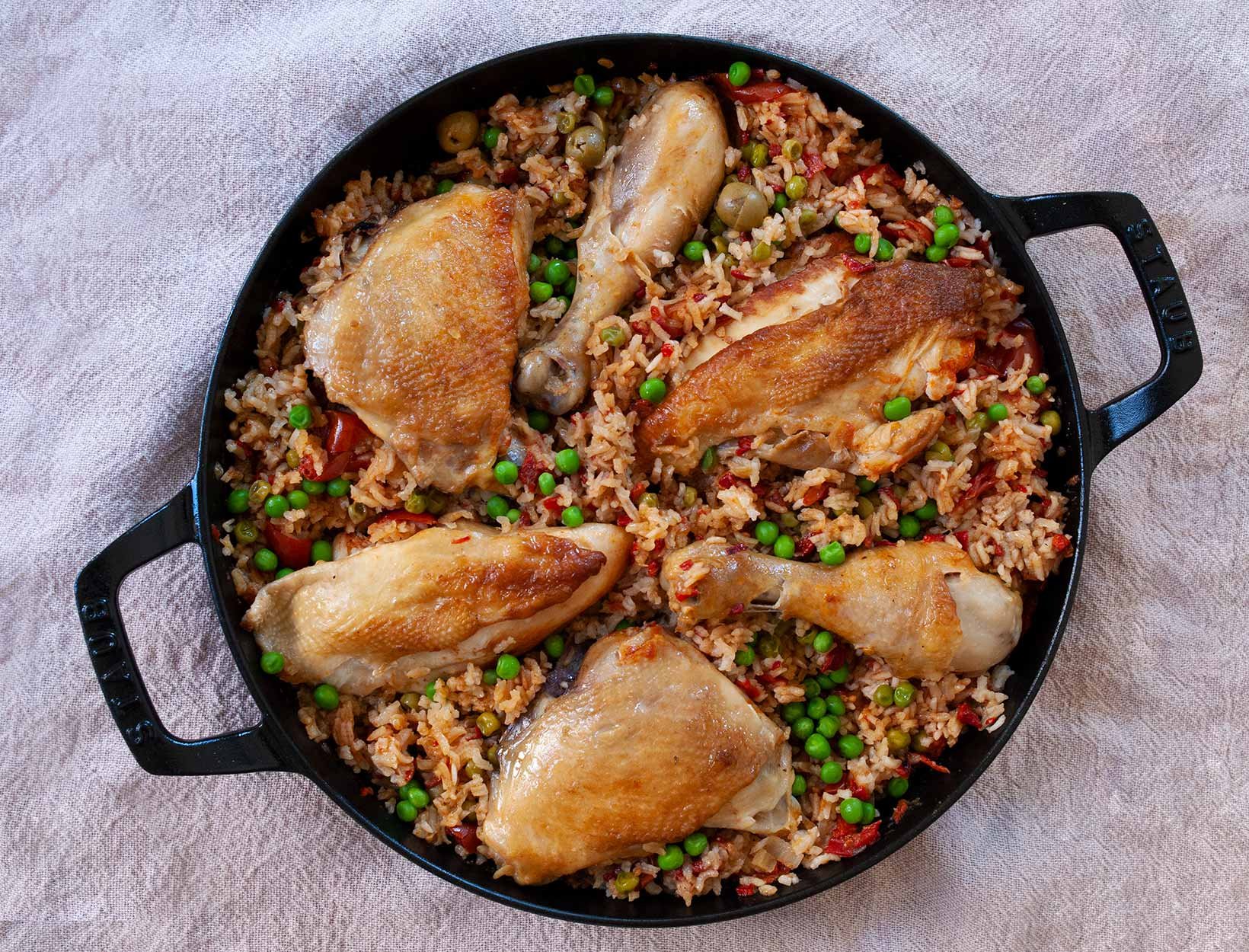 3 Inspired Pantry Dinners
It can be hard to get excited staring into your pantry—sometimes that can of beans is uninspiring, that jar of artichokes isn't calling your name, and the bag of rice is lacking a sense of occasion. But hear us out: Our food director, Caitlin, created three easy but still special-feeling dinners that rely on shelf-stable pantry items she keeps on hand and some common ingredients that are usually in the fridge or freezer (parm, yogurt, chicken, greens, eggs, and frozen peas). That can of beans—chickpeas in this case—gets quickly sautéed with super savory spices and served with arugula, olives, feta, and a pickled beet tzatziki. The artichokes get blitzed with capers and preserved lemon, tossed with pasta until rich and saucy, then topped with garlicky bread crumbs. Cook the rice with onions, garlic, roasted red peppers, olives, peas, and chicken for an almost entirely pantry-reliant arroz con pollo.
This pantry pasta feels extra special thanks to the gussied-up bread-crumb topping. Toasting them in olive oil and butter and adding garlic makes the humble pantry staple seem restaurant-worthy. Same goes for the artichoke hearts, capers, and preserved lemon—which become super vibrant and fresh-tasting when blitzed with garlic and parsley.

Arroz con pollo is a traditional dish you'll find variations of throughout Spain and Latin America. While the rice and chicken are constants, the ingredients and preparation styles can vary from country to country and region to region. Peruvian versions, like this delicious one from Adrianna Adarme (creator of A Cozy Kitchen), are often prepared with a vibrant green cilantro sauce instead of a bell pepper and tomato base. And Spanish versions tend to be closer to paella, calling for bomba or Valencia-style rice and saffron. Many Puerto Rican versions are cooked in aluminum Dutch ovens called calderos and seasoned with a deeply flavorful sofrito and annatto, which adds that orange-yellow color in lieu of saffron.

We were inspired by all of these different iterations and created a slightly pared-down version that relies on most of the traditional pantry-friendly ingredients. We used frozen peas and even opted for jarred piquillo or roasted red peppers (which we recommend always having on hand), so the only fresh produce you'll need is onions and garlic.

Pickled beets are incredibly flavorful—sweet, earthy, and tangy—but store-bought versions can get a little mushy. When they're finely chopped or grated, it's not an issue, so we took a cue from Hetty McKinnon and made a pickled beet version of her beet tzatziki. It would be a welcome condiment with almost any meal, and it's a nice cooling yet sweet counterpart to the savory spiced chickpeas, spicy arugula, rich egg, and briny feta and olives.